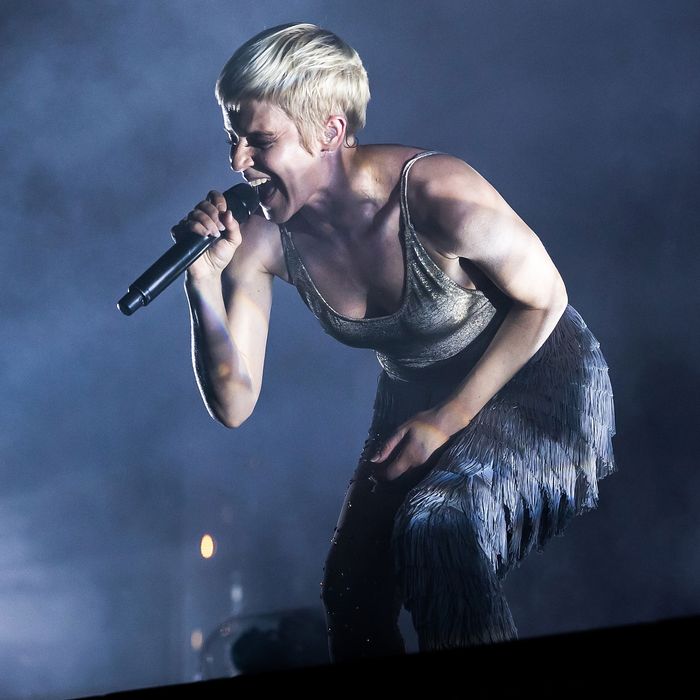 Who's that girl? (It's Robyn.)
Photo: Natasha Moustache/WireImage
Events to check out this weekend, March 7 to March 10.
1. Celebrate 25 years of the Armory Show.
Break out the comfy kicks, art lovers (and according our critic Jerry Saltz, pack snacks and breath mints), it's Armory Show week. The behemoth itself is now on Piers 90, 92 ,and 94 (with a shuttle running in between), but all the major players are still there, including this year's "Focus" section, curated by Lauren Haynes of the Crystal Bridges Museum of American Art. When you're done with all that head to the satellite fairs: cutting-edge works at the Independent on Varick Street; exhibits with the theme "fact and fiction" at Spring/Break, this year at the U.N. Plaza; 60 international exhibitors at Scope, at the Metropolitan Pavilion; and the self-explanatory Art on Paper at Pier 36. Buy tickets ahead of time to avoid lines.
2. Dance on your own, with pop queens.
Get your double dose of ladies who pop when Kelly Clarkson comes through Long Island tonight on her Meaning of Life Tour, joined by Kelsea Ballerini and Brynn Cartelli, the winner of the last season of NBC's The Voice. Also, remember when Taran Killam lip-synced "Call Your Girlfriend" one late night in the offices of SNL, with matching dance choreography and belly-bearing fuzzy top? (The part where exhausted Bobby Moynihan & Co. light the dance floor with flashlights is really the best.) This Friday you can be like Taran when Robyn, she of the deeply felt dance music, performs at MSG in support of last year's excellent Honey, her first album after an eight-year hiatus.
3. Catch talent on the way up.
When the long-running CMJ music festival shut down a few years ago, it left a guitar-shaped hole in our music-loving hearts. Through Sunday, the New Colossus Festival steps in, and for a $50 pass, you can hop between six venues on the Lower East Side and check out over 100 acts, many before they head to SXSW, like Glasgow's fast-rising the Ninth Wave, blending light and dark and sonic reverberations. Plus panels with names like "Navigating the Labyrinth: U.S. Visas for Artist"s and "Erasing the Stigma: Mental Health and the Musicians' Community." And if you're looking for some new comedy, this week at the Creek and the Cave is Jordan Temple, comedian and writer on The Marvelous Mrs. Maisel. Shows run through Sunday and tickets are only $5. In a tribute to Temple's late friend, comedian and bird lover Kevin Barnett (a.k.a. Bird Luger), all proceeds benefit the American Bird Conservancy.
4. Celebrate International Women's Day.
Friday is International Women's Day, a day of solidarity and recognition of gender disparity dating back to the early 1900s. While you probably celebrate it every day, there are a few special happenings tomorrow. Wake up early for country star Maren Morris, who performs a free Today show concert in honor of the day, then stop by DŌ (a female-owned desert shop with 85 percent female staff) for one-day-only ice-cream flavor called Glass Ceiling, with 20 percent off each scoop, and proceeds donated to the nonprofit Catalyst.org, dedicated to the progress of inclusion of women in the workplace. From 6 p.m. to 8:30 p.m., stop by the Marmara Hotel Park Avenue for a panel discussion with women leaders like Stephanie Prida, pastry chef at the Grill, the Pool and the Lobster Club, and CEO and co-founder of Unbound Polly Rodriguez discussing how they broke through barriers in their careers ($25 tickets include an open bar, hors d'oeuvres, and a silent auction). Then top it all off with Ladies First: A Dance Party Celebrating Badass Women of Music at Littlefield, featuring the beats of all of your favorite lady musicians. Tickets are just $10, and 100 percent of the profits go to Planned Parenthood.
5. Examine some really old stuff.
Calling all bibliophiles! Find something told to love at the Antiquarian Book Fair, happening through Sunday at the Park Avenue Armory. Learn to drink like our forefathers from the 1895 edition of The Mixicologist or How to Mix all Kinds of Fancy Drinks, which includes early on a recipe for a "morning cocktail" with absinthe, brandy, and whiskey. (Fun fact, 1895 was also the the first time the word brunch came into use.) Then take a gander at treasures like an inscribed first U.S. edition of Adventures of Huckleberry Finn by Mark Twain (going for $195,000), a first edition of Graham Greene's Brighton Rock with its original dust jacket ($115,000), and an architectural archive featuring Alexandre-Gustave Eiffel's sketches for the Statue of Liberty. On Sunday from 1 p.m. to 3 p.m., you can also bring your own rare works, Antique Roadshow–style, for experts to appraise for free.
6. Eat a hip-hop inspired meal.
Dust off the Timbs this Saturday at Ginny's Supper Club when Executive Chef Edward Brumfield hosts a Big Poppa–themed installment of his "Chef Ed's Mixtape Dinner," marking 22 years since we lost the Notorious B.I.G. Pay tribute with à la carte dishes like the "Mo Money, Mo Caviar" (smoked trout, "wonder bread," wasabi aioli, and beluga caviar), and the "Girls Used to Diss Me" cocktail (vanilla vodka, guava, pineapple, and sour sap). The night is hosted by Hot 97's Shani Kulture, with music by DJ Mister Cee, one of Biggie's original DJs, plus Darren Isaiah, Rian Wild, and '90s R&B hits by DJ Masai. We'd make a reservation, but walk-ins welcome.
7. Snack on pastries for a cause.
Enjoy pastries and like doing good? This Saturday from noon to 4 p.m. at the International Culinary Center is Pastryland, a magical-sounding charity bake sale benefiting Hot Bread Kitchen, a nonprofit social enterprise with a mission to create economic opportunity through careers in food. Have baked goods by chefs from Bien Cuit, Bâtard, Patisserie Chanson and more, with tickets sold in time slots for $15 (a portion of which you can use toward delicious goodies), or a $50 VIP ticket that also includes a meet-and-greet with some of the chefs. Bring your sweet tooth.
8. Set your intentions.  
Whether or not The Secret is your thing (even though you know you've watched it), there's a reason it helped so many: It focused them on their intentions. See how the Tibetans manifested positive change at "The Power of Intention: Reinventing the (Prayer) Wheel" at the Rubin Museum, bringing together traditional and contemporary art to form the link between intentions and actions, inspired by the ritual Tibetan prayer wheels, which contain written prayers and mantras. Then try your hand at activation with the interactive Wheel of Intentions exhibition. Hey, you never know.
9. Scratch a theater itch.
You may not have gotten tickets to Phoebe Waller-Bridge's Off Broadway run of Fleabag at the Soho Playhouse (but keep trying! More tickets may become available), but you can still see Suicide Forest at the Bushwick Starr, about identity and the power of the Aokigahara forest in Japan, notorious for suicides. There's also still time to catch Choir Boy, the mellifluous new play by Moonlight's Tarell Alvin McCraney, which closes this weekend, and the Wooster Groups's The B-Side: Negro Folklore From Texas State Prisons, at St. Ann's Warehouse. That runs through March 31.
10. Maximize Saturday night.
Don't forget, daylight savings time begins this Sunday. You'll lose an hour, which means maximizing every hour on Saturday night. Lucky for you, this week we published our Best of New York issue, with plenty of new eating, drinking, and dancing options, including top-notch non-boozy cocktails, an intriguing Japanese restaurant that turns into a nightclub on weekends, and the city's only sake brewery. Pick one or more, and make it count.