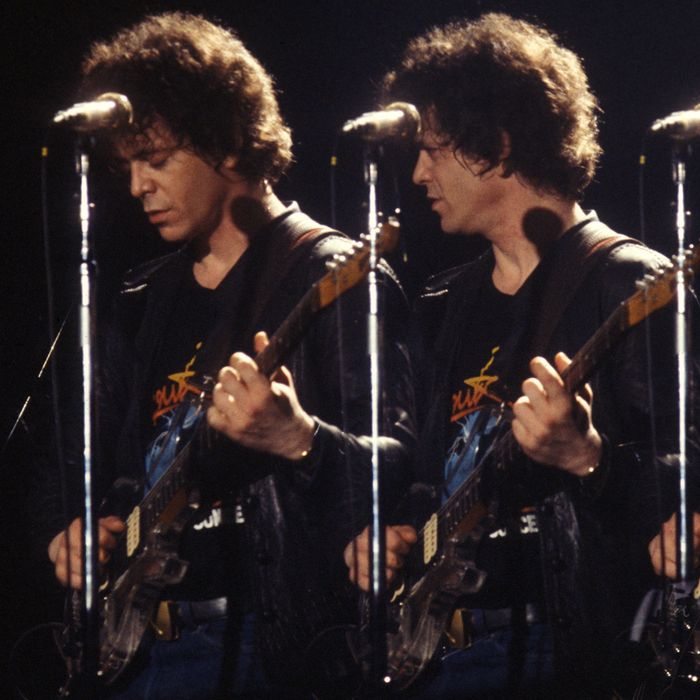 See the Lou Reed Archives at the New York Public Library for the Performing Arts.
Photo: Waring Abbott/Getty Images
Events to check out this weekend, March 28 to March 31.
1. See some boundary-pushing plays.
Next year, experimental theater group Mabou Mines — which can count Philip Glass as one of its co-founders — celebrates its 50th anniversary. Through April 14, they're staging Faust 2.0, a multimedia reimagining of Goethe's Faust, Part II, in their newly renovated space at 122 Community Center on First Avenue. Over at the Public Theater, they're pulling from life, with the vibrant and thrilling Ain't No Mo', a series of vignettes painting a portrait of African-American life today, eventually building to an exodus by way of government-funded flights back to Africa.
2. Take a trip to comedy town.
In May 2015, David Letterman signed off of late-night TV for good, with a six-week run of heavy-hitting guests like George Clooney, the Obamas, and the Foo Fighters (Letterman loves those guys). Tonight at the 92Y, Scott Ryan, the author of The Last Days of Letterman, discusses what went into the show's final weeks, with writers and staff members — including executive producer Barbara Gaines and supervising producer Jerry Foley. But sadly, not the Foo Fighters. On Friday see an example of where comedians get their start at Oh, Such a Good Show, at Union Hall, hosted by Ethan Beach and Josh Nasser and with guests including Jena Friedman, Ana Fabrega, Matt Rogers, Tim Barnes, and more. Tickets are just $8 ($10 day of show).
3. Eat some meat.
Nose-to-tail enthusiasts rejoice, Bar Boulud has recently rolled out their spring charcuterie menu, with crowd-pleasers and some new iterations by 24-year-old wunderkind chef-charcutier Arthur Dehaine, like pâté de campagne with kale and juniper berries, to usher you into the season. If you like your meat Hungarian-style, beginning this Sunday the Eddy in the East Village will serve a three-course, family-style Hungarian feast called "Sunday Dinner at Agi's," with dishes like short-rib goulash and palascinta (Hungarian crepes) with nuts and seasonal jams, for $45 a person. Get cozy, but just make sure you don't sleep through Monday morning.
4. Sex it up.
There's more than one way to get your meat this weekend (sorry). From this Friday through April 4 at Cinema Village and April 6 at Roulette is Dan Savage's HUMP! Film Festival, featuring porn spots under five minutes starring real folks, who illustrate that there's no one way to define sexy. But you already knew that.
5. Get colorful.
Wear white and trust no one, Sunday is the annual Phagwah Parade in Richmond Hill, Queens, where you'll get pelted with colorful powder and can return the favor, in honor of the Hindu festival of Holi and the welcoming of spring. Make it a Holi weekend with a Festival of Colors brunch party on Saturday at Stage 48, with complimentary appetizers and a cash bar and, says the event page, certified organic colors.
6. Catch some Brit alt-rockers …
In 2015, influential Oxford shoegazers Swervedriver returned with their first new album in 17 years, and released their latest album, Future Ruins, this past January. Catch them Friday at Warsaw with Failure, pierogies optional.
7. … Then see some New York OGs.
Who's the Boss fans may want to head to Cafe Carlyle where, through Saturday, song-and-dance man Tony Danza performs a set list of standards, charming reminiscing, and at least one story starring Ol' Blue Eyes. Then take a walk on the wild side at New York Public Library for the Performing Arts in the recently opened Lou Reed Archives, with extensive documents from his life as a composer, poet, writer, photographer, and Tai Chi student, beginning with his years at Freeport High School and his band there, the Shades. Baby Lou Reed!
8. Take Care of Yourself.
These days self-care is more than a buzzy idea, it's necessary. Beginning this week Face Haus makes it a little easier. The facial bar that has already established itself in Los Angeles and Dallas opens this Saturday on the Upper East Side, offering the first 50 people in the door gift cards valued from $10 to $75. This Saturday from 8 to 9 a.m., if you're one of the first 200 folks to bring an empty beauty or body care product to Whole Foods Tribeca, you can swap it out for a free bag of clean beauty products worth over $100. Throughout the day, the store will also host product demos, chair massages, live music, and more, including oyster shucking. And in travel news, if you happen to be going to Coachella in a few weeks, the new Dream Hotel in Hollywood is offering a pre-fest Desert Dreams pampering package which includes a festival hairstyling, a poolside cabana, a vitamin-infused body wrap treatment and, of course, a room, beginning at $429. Because #festivallyfe can be exhausting.
9. See some sizzling dance.
The contemporary Latino dance organization Ballet Hispánico is at the Joyce Theater through the weekend, with works including a restaging of Sombrerísimo by Annabelle Lopez Ochoa featuring the Company Women, and two world premieres: New Work by Edwaard Liang, a former dancer with New York City Ballet and Nederlands Dans Theater, and Homebound/Alaala by Bennyroyce Royon, a Filipino-American director, choreographer, and dancer based in Brooklyn.
10. Get artsy.
We all deserve some beauty in our lives. Find something new to love when the Affordable Art Fair takes over the Metropolitan Pavilion through Sunday, showcasing contemporary works from local, national, and international artists, along with workshops and talks. Tickets are $20 ($18 online), with free admission on Friday from 6–8 p.m.