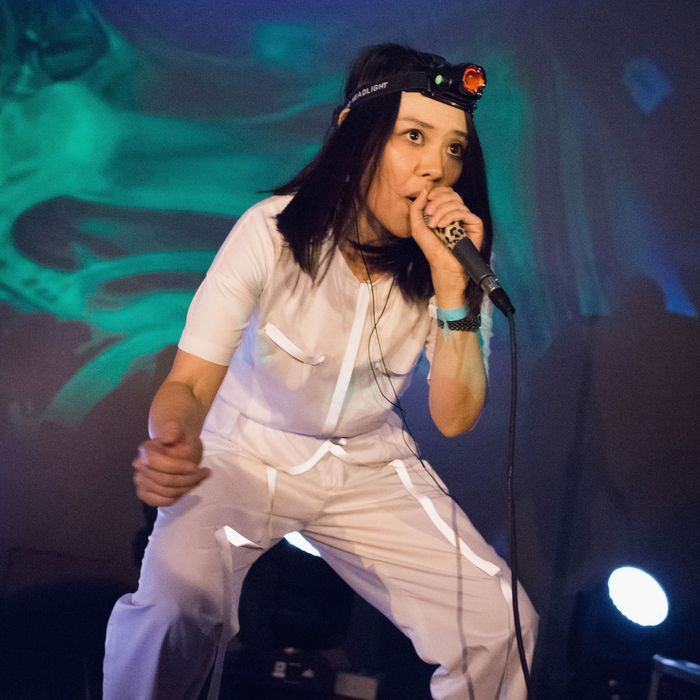 See Miho Hatori host a fake talk show this weekend.
Photo: Tara Ziemba/Getty Images
Events to check out this weekend, March 21 to March 24.
1. Delve into true crime.
"If it bleeds, it leads" has combined with our thirst for entertainment and instinct for self-preservation, and today the true crime genre has spread to whole television stations and new podcasts daily. Through Sunday we also get New York's first Death Becomes Us true crime festival, where you'll have opportunities to hear from investigator Paul Holes of Golden State Killer fame, author Billy Jensen, former FBI agent and pioneer of criminal profiling John E. Douglas in conversation with Damien Echols and Amanda Knox, a ladies of true crime author panel, a special edition of the comedy dating show Tinder Live with festival talent as guests, a screening of Zodiac, and much more. Tickets are sold individually with most events at the Gramercy Theater. Take notes, you never know when you may need them.
2. Rock and roll all night.
Don the face paint (but not too much hairspray — there's pyrotechnics). This week Gene Simmons, Paul Stanley, & Co. come through for the gigantic farewell tour of KISS. This Friday they're at Nassau Coliseum in Long Island, next Wednesday catch them at Madison Square Garden. If you miss them this time in August they'll be back at Barclays Center. Until then you can party every day.
3. Embrace the possibilities of film. 
You know you'll be seeing Us this weekend, so why not make it an extra horrror-ful experience with a themed menu from Nitehawk? At either location, you'll be able to order items like cocktails called the Wilsons and the Tethered. Just be sure you're not holding them during the scary parts. At Metrograph you'll be able to catch Larry Clark's 2002 film Ken Park in 35mm, based on Clark's diaries and provocative enough that it was banned in Australia. But you can see it on Sunday (and next Wednesday). Through March 31 is the Queens World Film Festival, with 200 films from 31 countries, screened at the Museum of the Moving Image and Kaufman Astoria studios; and through Sunday at IFC is What the Fest!?, where anything goes, including a panel on women in horror, fantasy, and suspense on Saturday and the closing night film, Why Don't You Just Die!, a zany violence-filled allegory straight out of Russia.
4. Objectify some dudes.
For 20 years, the Mr. Lower East Side Pageant has celebrated sweaty specimens, and while it's not always actually been held in the LES, this Saturday it returns to Manhattan, at Bedlam on Avenue C. All the faves will be there: downtown staple and host Reverend Jen, who's been hyping the debauchery since 1998, and contestants competing in three categories: talent, swimwear, and evening wear. Women and gay men who show up are automatically judges, with prizes given in categories like for "best male tits," and "best nutsack," and the grand-prize winner taking home the coveted crown — with a detachable bong — a slice of pizza, and a six-pack of Budweiser. Tickets are $10 but of course if you compete, it's free.
5. Be aware of your brain.
Brain awareness week is coming to a close, but there are still a few opportunities to increase neuroplasticity. Tonight at the Cooper Union's Great Hall is a free discussion on the social and human implications of AI, with a focus on engaging teens in STEM learning and careers. On Friday at the Intrepid is the free Astronomy Night: World Water Day talk, where NASA engineer Todd Barber and astrobiologist Laurie Barge from the Jet Propulsion Laboratory discuss the possibility of finding water and life on Europa, one of Jupiter's 53 moons. And on Saturday at the Rubin Museum actor Zachary Quinto joins neuroscientist Dr. Judith Grisel for a discussion on the power of addiction, with which Quinto has personal experience.
6. Get your art fix.
MoMA will close in mid-June to undergo renovations, before reopening in October with 40,000 more square feet of gallery, performance, and event spaces. Make sure you get your fill before it shuts down, and check out spring exhibits like "Lincoln Kirstein's Modern," with 300 rarely seen artworks alongside materials drawn from the Museum's archives showcasing the influence that the cultural tastemaker (along with New York City Ballet and the School of American Ballet with George Balanchine) had on the founding of the museum. And speaking of influence, at the end of the month the massive Warhol exhibit closes at the Whitney. Have you had your 15 minutes in there yet?
7. Celebrate women.
Women's History Month may almost be over but the New-York Historical Society has several exhibitions running through May, like "Betye Saar: Keepin' It Clean," an exhibit of Saar's washboards that reclaim images of Aunt Jemimas, Uncle Toms, and other derogatory representations; "Women's Voices: Shaping the City," a display at City Hall of women who have transformed New York, and "Signs of Progress," a display of signs from women's marches across the nation. That one closes at the end of March and is presented in partnership with Jane Walker by Johnnie Walker, but no word on whether there will be delicious Scotch to sample. Hey, it's protest fuel!
8. See a fake talk show hosted by indie rock royalty
Miho Hatori of Cibo Matto and Gorillaz is now a fake television host, and you're her audience. Inspired by Edouard Glisssant's theory of mondialité, this Friday and Saturday at the Kitchen she'll differentiate between globalization and globality in her piece Salon Mondialité, an experimental talk show with guests like Beck guitarist Smokey Hormel, avant-garde composer Patrick Higgins, and artist Melvin "Grave" Guzman improvising with Hatori for sound stories, plus a video installation.
9. Examine identity.
The title alone of Tori Sampson's If Pretty Hurts Ugly Must Be a Muhfucka is powerful, and the lyrical play, riffing on a Nigerian folktale, packs a punch. See it at Playwrights Horizons through March 31. And you may still be able to get tickets for Suzan-Lori Parks's White Noise at the Public, starring Daveed Diggs, who our reviewer says "crackles with such incredible energy in the role that he seems as if he might spark to the touch." That's an endorsement!
10. Embrace spring in France.
You may not be able to hop over to France to try their springtime bounty of white asparagus, but for the next three weeks or so you can try them at Harold Moore's cozy Bistro Pierre Lapin, in a dish called Asperges Blanc: peeled and poached white Provencal asparagus, served over chopped-egg mimosa and mustard vinaigrette, topped with hollandaise sauce. (Pro tip: They're also serving the famous carrot cake from Commerce, which alone is worth the trip). And for just a limited time longer the menu of French celebrity-chef Gregory Marchand, of Frenchie fame, will be available at the city's only luxury-car–sponsored restaurant, Intersect by Lexus. It is as odd as it sounds but it's also a pretty good restaurant.