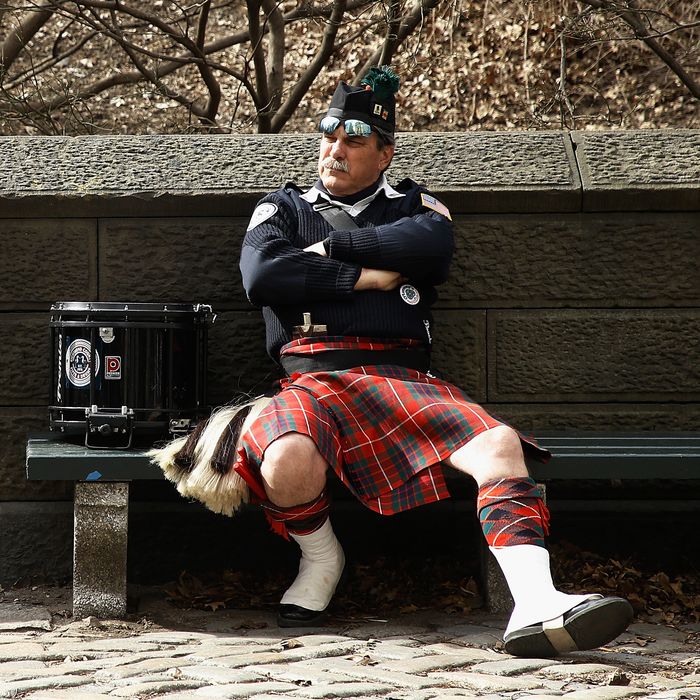 Photo: John Lamparski/Getty Images
Events to check out this weekend, March 14 to March 17.
1. Stuff your pie hole.
Happy Pi day! You don't need to be a fan of 3.14 (plus some other numbers) to reap its bounty of rewards. This afternoon the Museum of Mathematics is free from 4 p.m. to 6 p.m. for you to fulfill all your numerical desires, but if you're more about the other kind of pie, there's deals for you too. At Four at Twenty Blackbirds in Gowanus, score three slices for $14 and at Butter + Scotch in Crown Heights, all slices will cost you a mere $3.14. Or just pick a spot off our Absolute Best Pie list, and go crazy.
2. Get into Cuban hip-hop.
They may now be based in France, but Havana will always have the heart of Grammy-winning Cuban rap trio Orishas, who perform at Stage 48 tonight. If you want to dress the part, the show is being co-presented by Cubavera, a Latin men's RTW brand. No word on whether you can buy clothing at the show but they do sell it at like, Macy's.
3. Interact with some worldly women.
A cohort of Robert Longo, Richard Prince, and Cindy Sherman, Gretchen Bender was a pioneer of new media, with contemporary impact and not enough recognition in her lifetime. So Much Deathless, the posthumous retrospective of her life and work presented by Red Bull Arts, spans video, sculpture, computer graphics, photography, performance, set design, and new media installation, and runs through July 28th. And at the Apollo Theater through Sunday is the WOW: Women of the World Festival, with a comedy show tonight featuring JoJo Collins, Calise Hawkins, Barbara Carlyle, a talk by Suze Orman on Saturday, music, panels and much more.
4. See some jazz, then plan a trip to see some more jazz. 
This weekend it will be 100 years of Nat King Cole, and you can celebrate on Friday at Jazz at Lincoln Center, with the Johnny O'Neal Quartet, in a centennial bash that will be as smooth as it is jubilant. And if the idea of jazz in a tropical land appeals to you, think about planning a trip to St. Lucia this May, where Jazz at Lincoln Center will be programming the first inaugural St. Lucia Jazz Festival, with artists including Christian McBride, Ledisi, Gregory Porter, Dianne Reeves, Catherine Russell, Somi, and more. Fun in the sun never sounded so good.
5. Get in Harmony with spring.
It's almost the first day of spring with more opportunities to harmonize with nature. But first, get in tune with yourself with the new Harmony Massage from Haven Spa. Combining sound therapy, Ayurvedic massage, and aromatherapy, the treatment uses tuning forks, to restore your sense of balance and harmony, should it happen to be out of whack. For more wellness suggestions check out this year's Best of New York, Health and Self section.
6. Combine your love of beer and pastries. And wrestling.
You know what's delightful? Carbs. This weekend you can have a bunch of them, beginning from 4 p.m. to 9 p.m at Brookfield Place, for the final round of Best Brews of New York statewide competition. And Saturday you can combine your love of baked goods and beer at the inaugural Pastrytown event, from the Other Half Brewing Company, at Industry City in Sunset Park. Sample beers infused with sweet and savory flavors like the Cookie Kooks Imperial Stout from Other Half, brewed in collaboration with the Swedish brewer Omnipollo and inspired by your favorite breakfast cereals, plus peanut butter. Plu,s 30 breweries including Grimm, Evil Twin and more. Food from vendors including Bien Cuit, Cool Haus, Four & Twenty Blackbirds, Milk Bar, and Supermoon Bakehouse will be available and, possibly the best part, the NY Wrestling Connection will be there to entertain with facebusters and legdrops on your downtime between samples. And who knows, maybe they'll let you join in.
7. Immerse yourself.
You ever hear the soundtrack to a movie and thought: I wish I could be in that? This Friday at Carnegie Hall the New York Pops delivers, with a program of songs from the silver screen like "Over the Rainbow" from The Wizard of Oz, "Moon River" from Breakfast at Tiffany's, "The Rainbow Connection" from The Muppet Movie, and "Footloose" from, well, Footloose. They'll be joined by vocalists including Ashley Park from Broadway's Mean Girls and Storm Large from Pink Martini. And over at FIT beginning Friday you can get into the VR-verse with "The Future is Immersive," an art exhibition highlighting how virtual reality and augmented reality is used in creating fine art experiences for pediatric patients at Montefiore Medical Center. Fun, educational, and helpful!
8. Have some wagyu, whiskey and wine, baby.
It's been quite the week and you know what? You deserve some pampering, courtesy of the Wagyu, Whiskey, and Wine event on Friday at CUT by Wolfgang Puck, at the Four Seasons downtown. The three flavors will combine in a menu including items like whiskey-aged Japanese beef and cabernet-braised beef cheeks, and other things way too decadent to print here. Pricing is 5 courses for $165, with extra for beverage pairings. Reservations are open from 5:30 to 9 p.m.
9. Treat yourself to a Sunday Roast.
Calling all Anglophiles, this Sunday NoMad Bar reprises its Sunday pop-up series, this time as a Sunday Roast, inspired by classic Irish and English pubs. Nodding to their friends across the pond, the three-course prix-fixe features riffs on Brit fare like potted trout, roasted leg of lamb with Yorkshire pudding, and Banoffee pie, washed down with Guinness or perhaps a Gibson with a London dry gin. Reservations are $75, with supplements of black truffle and foie gras available.
10. Look for shamrocks.
St. Patrick's Day is Sunday but you can start tonight, with a free annual irish heritage concert at St. Patrick's Cathedral, with the St. Patrick's Cathedral Choir and Mick Moloney & Friends, starting at 7 p.m. On Friday all around town the Irish Arts Center (IAC) will distribute free books by celebrated Irish and Irish American authors plus this year, by Asian American writers. Pop-up stations span all five boroughs. On Sunday, the Poetry Society throws a St. Paddy's Day Drag Ball, setting burlesque and poetry readings in a bordello (costumes encouraged), and you're probably pretty well-versed in locating an Irish Pub but how about food specials? On Sunday, Boulton & Watt will be offering corned beef hash fully loaded for $16 as part of its St Patrick's Day brunch special, and Brooklyn Cider House goes all in with an all-day St. Patrick's Day brunch. Don't forget to wear green unless, of course, being pinched is your thing.