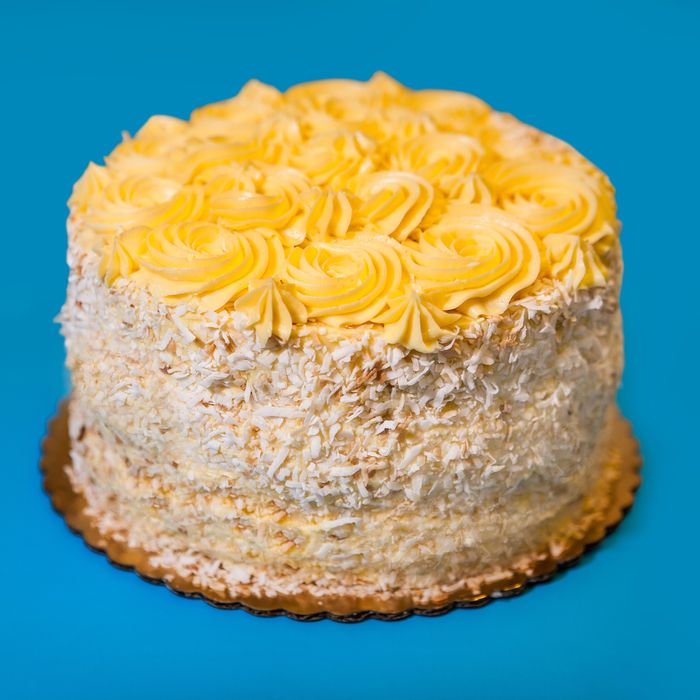 Pilar Cuban Bakery's Tropical Layer Cake.
Photo: Konstantin Sergeyev
Ricardo Barreras's No. 1 problem with Cuban bakeries and restaurants outside of south Florida is that most don't actually use enough Cuban ingredients. "Basically, every one of them uses Mexican ingredients or other Latin American ingredients," Barreras says. "Here, every Cuban place has tacos and quesadillas on its menu. I think Cuban food can stand on its own."
So, he's making the most of Cuban ingredients at his month-old shop, Pilar Cuban Bakery. Located right next door to his beloved Cuban restaurant in Bed-Stuy, the focus is on sweet and savory baked goods that make the most of Cuban ingredients, like the bakery's Tropical Layer Cake, which basically features a stacked deck of the best of Cuban fruit. Working from the bottom up, the cake goes coconut sponge, passion-fruit buttercream, dulce de mango (cooked down mango with sugar and vanilla), coconut sponge, passion-fruit buttercream, guava, coconut sponge, and more passion-fruit buttercream sprinkled with shredded coconut. It's not light and airy, but more like the taste of a tiki bar exploding.
"When I came up with my desserts, I wrote down all the ingredients I wanted to have: fruit, obviously. Pineapple is indigenous to Cuba. Citrus. Guava is a big Cuban thing. Sugarcane," Barreras says. "And I thought, Let's have a showpiece. Plus, passion fruit is one of my favorite flavors in the whole wide world."
It's a cake that pulls no punches, which is why the bakery only offers it by the $7 slice right now. But with 24 hours notice, Barreras says he could easily whip one up for a birthday party, anniversary, or last-minute celebration (for $60). Plus, he's not at all done with tropical bakes.
"We just came up with a mojito cupcake," Barreras adds. "It has a little rum in it and the frosting is made with lime and mint. It's really good."