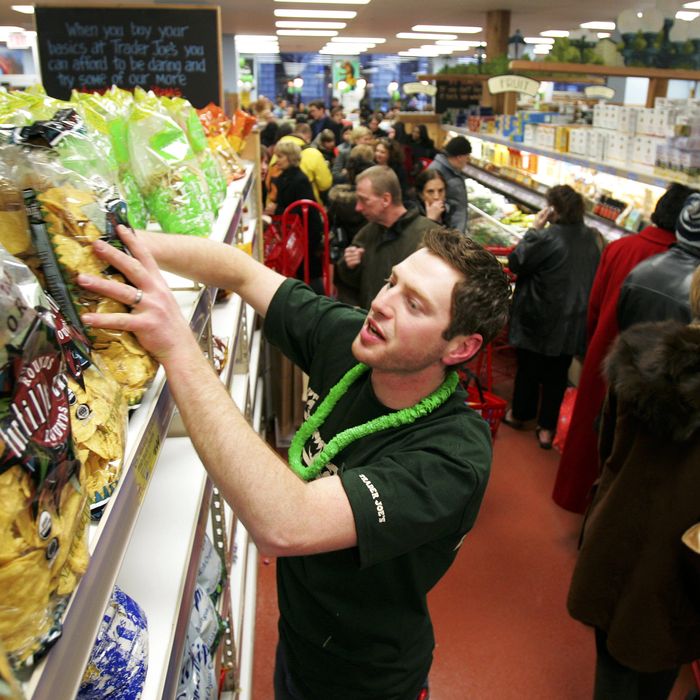 Trader Joe's: now with less plastic.
Photo: Michael Nagle/Getty Images
Following an online Greenpeace petition started late last year and signed by 91,000 people, Trader Joe's announced that it would be cutting back on plastic waste. The grocer is a widely known company with hundreds of stores, so this is not insignificant news in the world of pointless waste. Some of these plans went into effect late last year, and others are being enacted this year, as Trader Joe's goes about eliminating one million pounds of plastic from its stores. In an email to EcoWatch, the grocer's public relations director described the changes as "better managing our environmental impact."
Back in December, Trader Joe's posted a statement to its website explaining that it would no longer offer single-use plastic bags to customers, replace the plastic produce bags and Styrofoam packages with compostable alternatives, and avoid using compounds like BPA in packaging. But Trader Joe's says this is just the beginning. To eliminate what amounts to a literal mountain of plastic, the grocer will reduce how much produce it sells in plastic packaging, replace Styrofoam trays with recyclable ones, replace plastic sleeves and plastic flower bags with renewable ones, and eliminate non-recyclable plastic and foil from tea packaging.