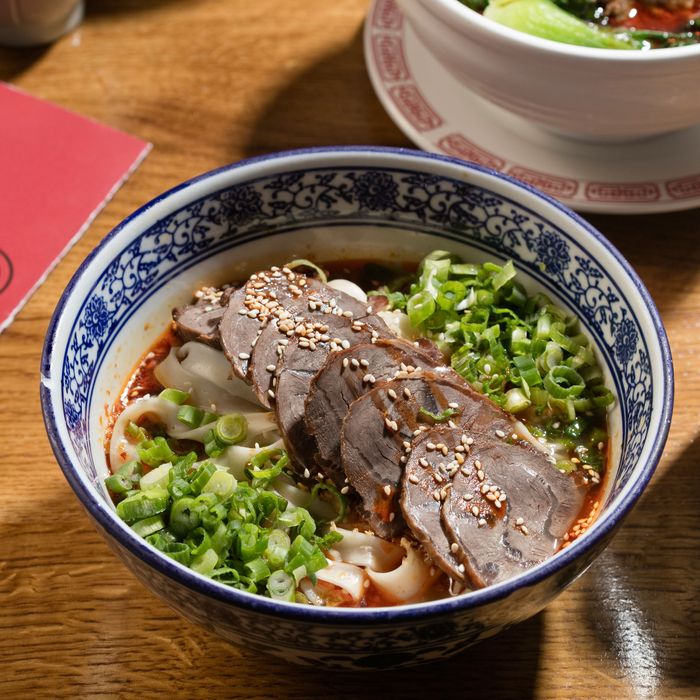 Drunk Noodles at the Tang.
Photo: Melissa Hom
In a city that could soon collapse under the weight of all the comfort food it has available — piles of mac-and-cheese, heaping bowls of spaghetti, never-ending buckets of fried chicken — it's hard to beat the sheer satisfaction of the Drunk Noodles at the Tang, a cozy noodle shop tucked on a block of First Avenue in the East Village. A bowl of rich beef broth is spiked with Momofuku's fermented, miso-like Hozon paste, pork, scallions, sesame, and a bit of chile oil.
The dish is unlike any other served at the Chinese noodle shops that dot New York City. And, until a few years ago, you probably couldn't find a similar dish in China, either. The Tang doesn't serve traditional Chinese food; they serve the kinds of foods that people are actually eating in China today, and more than anything, that means a break with tradition and a turn toward fusion and experimentation.
"We really created the Drunk Noodles — that wasn't really a thing in China," said owner Yu Li. "It was inspired by noodle dishes from different regions; by different food styles."
Li comes from a family of Beijing restaurateurs. When he and a partner opened their East Village restaurant in 2016, they wanted to serve the same kind of food that people were eating in China, which is of course quite different than most of the Chinese food that's currently available in New York. "People's appetites [in China] are changing fast these days," Li explains. "People are going for stronger, new flavors there. They are looking for foods that taste different, not just the same foods they have always eaten."
When the restaurant first opened, there wasn't exactly a line out the door. The core clientele was comprised primarily of Chinese students studying abroad in the U.S. The past couple of years, however, have seen a surge of interest in all manner of Chinese food, buoying the Tang's audience. Now, Li says, "more New Yorkers come in — we're more like a local spot than a foreign noodle shop." Now, Li is expanding to the Upper West Side, aiming to open a second location on Amsterdam Avenue this spring.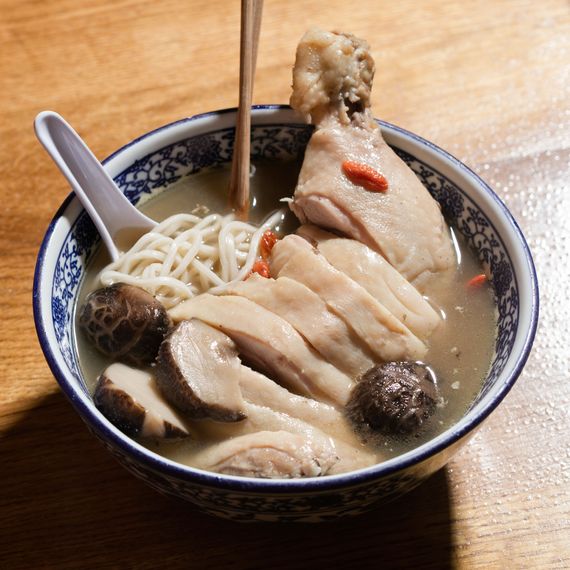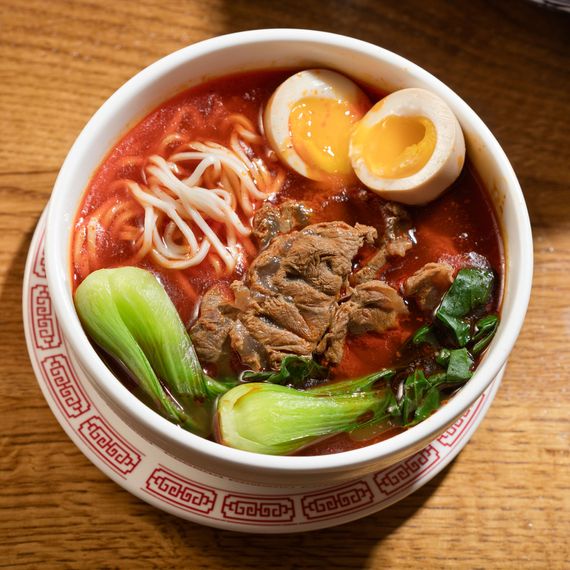 Li says his own restaurant's shift in customers mirrors the broadening palate found back in China, where, according to at least one expert, chefs "are entirely unconcerned with making 'authentically' Chinese food. This may seem counterintuitive, but it's helping give Chinese food more visibility and expanding the definition of what it can be."
As Li assembled the menu, he didn't consider regional specialities or staple dishes, and instead took a cue from the restaurants he knew from his own hometown. "If you go to China today, you see these noodle bars everywhere, there are little ones on the street, fancy ones in hotels," Li says. "We were going for a more casual street-style food, something everyone back in China knows — something that blends all the regional cuisines." Then, he says, "we wanted to make a more creative version, and we add our own little twists to fit the New Yorker's palate."
In addition to the options that American diners might expect to find at a New York Chinese restaurant — scallion pancakes, dumplings, braised beef noodle soup — there are dishes inspired by Mongolian cuisine (such as pork belly steamed noodles), as well as dishes from the Tang's Malaysian head chef, Kim Hui Teo.
Fried oysters arrive with spicy mayonnaise; the Mouth Watering Boneless Chicken Thigh is "bathed in Sichuan chili oil, topped with sesame seeds and scallions"; the Tang's take on dan dan noodles includes double-fermented mustard green stems to add salt and funk in addition to mouth-searing heat.
As Li explains, he and his chefs didn't want a menu constrained by any traditional or preconceived notions, which is what he says makes his restaurant more authentic to the cuisine of China. (He and his kitchen also use techniques, such as sous vide cooking for a short-rib dish, that Li explains are extremely rare in China.) In the end, Li says, "we want New Yorkers to see this as comfort food, too. We want to transform authentic Chinese noodles and cuisine into food for everyone."