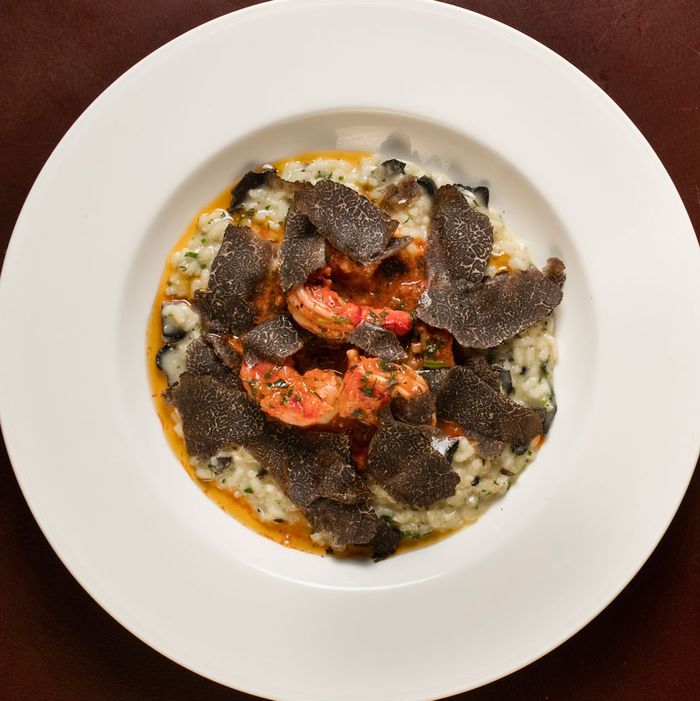 Truffle risotto with red shrimp.
Photo: Melissa Hom
Like most talented athletes or artists, great chefs tend to have careers with many stages, though the multiple chapters and side notes that make up the Rocco DiSpirito story have been more jumbled and dramatic than most. There were the long-ago prodigy years at forgotten '90s-era establishments like Annabelle, Dava, and, finally, the superb seafood restaurant Union Pacific, which vaulted the boyish wunderkind from Queens into the stratosphere of that chef-centric era. There was the dispiriting early celebrity phase of the Rocco story, in which our hero is lured away from the kitchen by crackpot reality-TV schemes (NBC's grimly watchable The Restaurant), the incessant siren song of a thousand dimwit money jobs (Bertolli frozen foods, anyone?), followed by the descent into a whirlpool of C-list projects (Dancing With the Stars, Rocco Gets Real, the QVC gig) that caused even his most fervent fans to write Rocco off for good.
I was one of these admiring fans who wrote Rocco off, I have to admit, and as a staunch non-watcher of QVC or Dancing With the Stars or much reality cooking TV in general, I even forgot he existed for a good 15 years or so. And why not? Many of his contemporaries have long since retired or been banished from the scene, and a few of them are dead. The lustrous, intricate style of cooking on which he made his reputation went out of fashion years ago, snowed under by an endless avalanche of leaner and more elemental forager, farm-to-table, and comfort-food fads. And so when I heard the news a couple of months back that Rocco was attempting to write a final comeback chapter to his star-crossed story by returning to the kitchen in, of all places, the Standard Grill in the Meatpacking District, I shrugged my shoulders like everyone else and prepared to avert my eyes from the inevitable train wreck.
But Rocco's latest gig turns out, somewhat astonishingly, to be the opposite of a train wreck. Ever since the hiring of another hypertalented chef, Angela Dimayuga, as creative director for food and culture, the Standard hotel empire has been updating its dining operations in all sorts of inventive ways. Lots of other top-line talent has been recruited in addition to Rocco (former Le Coucou maître d' Michael Cecchi-Azzolina now patrols the front of the house; the No. 2 man in the kitchen is Daniel Parilla, formerly of Union Pacific and the upper echelons of the Keith McNally universe), and those subtle keys one looks for in a tasteful, professional operation are evident as soon as you walk in the door. The lighting in the room is softer and more intimate than I remember, the tabletops have been re-covered with expensive leather instead of white linen, and the menus are printed daily on brightly colored gold-edged paper and folded atop each place setting when you sit down, like invitations to a private party.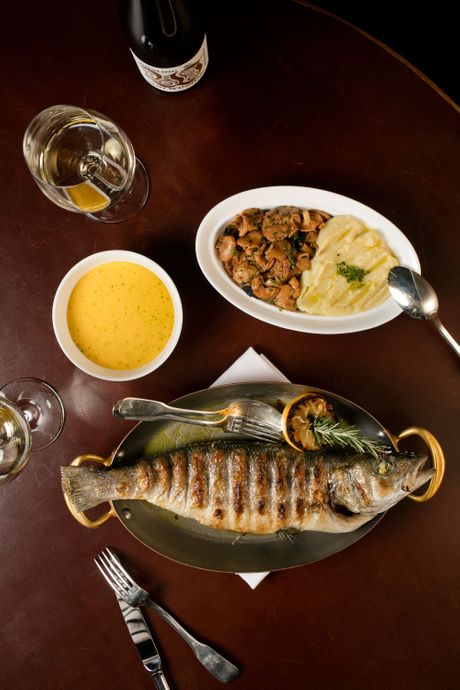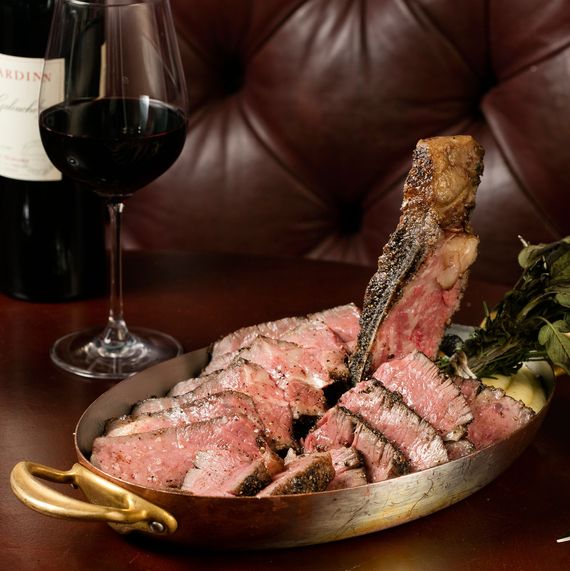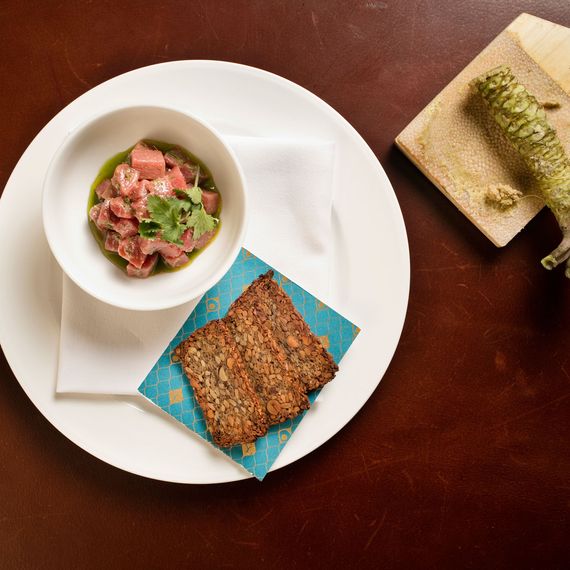 The theme of this carefully orchestrated Rocco curtain call is nostalgia — for cream-drenched pastas, white-jacket service, and old-fashioned steaks and chops — although the classic grillroom experience has been updated in various subtle ways. There is a tableside binchotan service, featuring a rolling Japanese-style charcoal grill, from which baby "firefly" squid and plump chunks of Kobe beef and quail are served as appetizers on little skewers. The only holdover from the Union Pacific glory days is his famous raw-bar creation Peconic Bay Scallops & Uni, which tastes, with its splash of tomato water and wasabilike mustard oil, like it was invented yesterday. And the rosy wheel of off-the-menu steak tartare I ordered one evening was accompanied by a fan of healthful, speltlike "grain toast," which, according to our loquacious server, Rocco bakes in-house.
If there's a signature dish at Rocco's Standard Grill, it's the richly textured, ruby-red-shrimp-and-truffle risotto, which I'm still dreaming about days later and which (again, according to our loquacious server) the chef spends long hours stirring himself. I'm also still dreaming about the grilled baby chicken (plated over a mound of butter-puréed potatoes, with another sinfully rich Périgourdine sauce loaded with more truffles, and soft enough to eat with a spoon), the best of the pastas (get the twirling parsley-colored fregola with Manila clams instead of the heavy genovese ragù), and the sliced short rib that Rocco, who hails from a generation of unabashed sous-vide pioneers, softens in a plastic bag for 72 hours, cures in a cloud of "cold" applewood smoke, and serves in tender, fatty cubes touched with habanero-vinegar sauce and balanced on a curving short-rib bone.
There are four other cuts of beef on the menu (try the 60-day-aged New York strip), although if you want a taste of the kind of subtle seafood magic that made this chef's reputation, I recommend that locavore favorite black sea bass, which is served as a starter in crudo form (with goji-berry juice and lemon-herb oil) or as a delicately poached entrée (with green olives). Dessert, should you have room for it, is a predictable hodgepodge of premillennial classics (my favorite being a citrus baked Alaska lit aflame tableside). But the real attraction here is the one that's playing out in the kitchen, hidden from view, where, for once in the long, eventful Life of Rocco, there are no cameras, no microphones, no antic producers running to and fro. So catch the show while you can, because our restless hero never seems to stay in one place for long.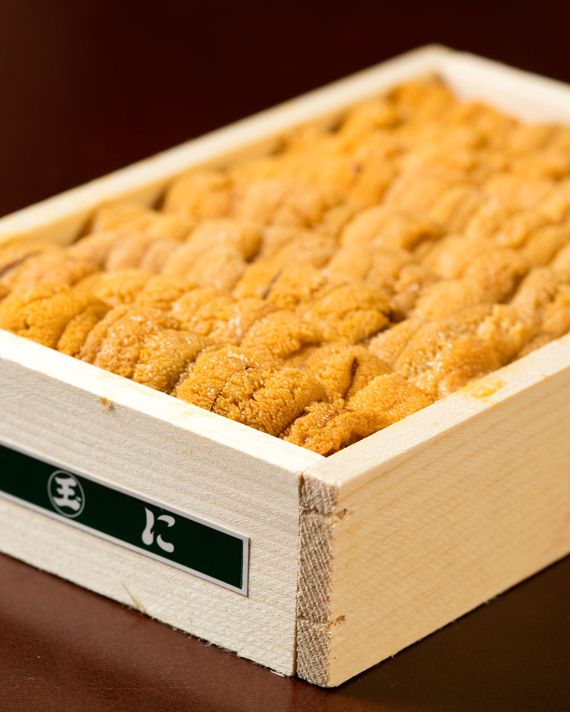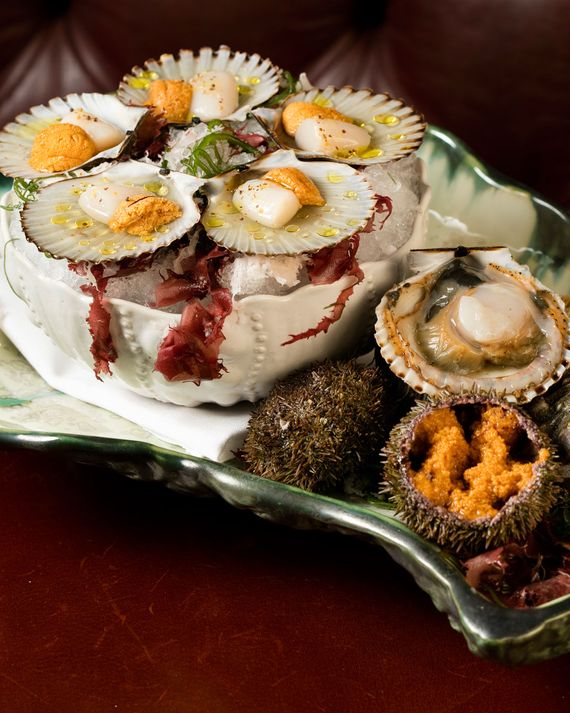 The Standard Grill | 87 (out of 100)* | Very Good
848 Washington St., at 13th St.; 212-645-4100; thestandardgrill.com
Open: Dinner Tuesday to Saturday.
Prices: Appetizers, $16 to $95 (for an ounce of Osetra caviar); entrées, $29 to $49; large-format dishes for two or more, $62 to $139.
Ideal Meal: Scallops and uni and/or truffle risotto with red shrimp, whole truffled chicken and/or sliced short rib of beef, baked Alaska.
Note: Rocco is not a household name these days, which may be why there were plenty of tables available on my visits.
Scratchpad: The combination of occasion, technique, and general old-fashioned deliciousness adds up, for as long as Rocco's actually in the kitchen, to a very good 87.
*The rating scale of 0 to 100 reflects our editors' appraisals of all the tangible and intangible factors that make a restaurant or bar great — or terrible — regardless of price. See The Thousand Best for 999 more great places to eat and drink.
*This article appears in the March 18, 2019, issue of New York Magazine. Subscribe Now!