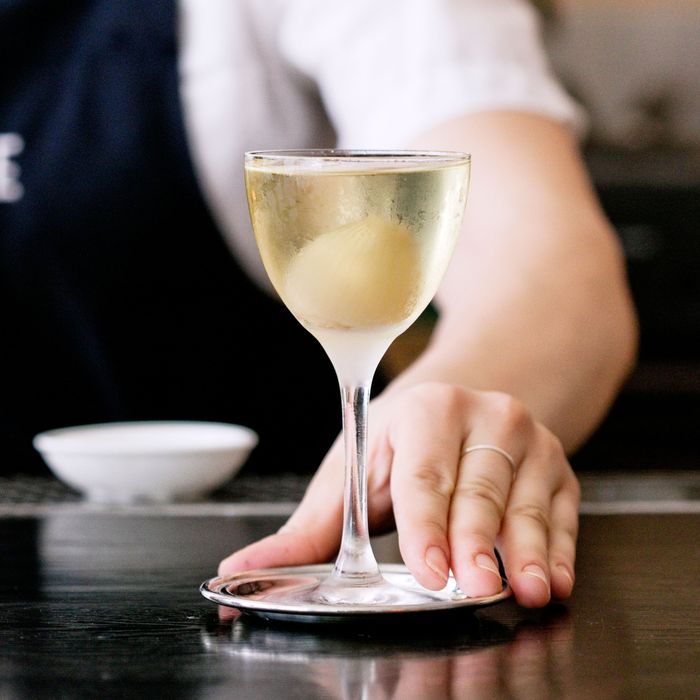 It's Gibson time at Dante.
Photo: Melissa Hom
Every month in New York, there are a bewildering number of new dishes to eat, drinks to imbibe, and food-themed events to attend. Often, the hardest part is just figuring out what's really worth your limited time. So Grub kicks off each month with a curated selection of dishes, drinks, and events that should absolutely be on your agenda. Make your plans now.
1. Drink a whole menu of martinis at Dante.
Dante is an elegant, fun place to drink, especially if you're obsessed with gin. For the last couple years, the bar has had a whole menu called the Negroni Sessions of variations on the classic bitter, red drink. (Granted, some without gin.) Now, bartender Naren Young has switched it up with the debut of the Martini Hour. The eight-drink, all-Martini menu features an Upside Down Dirty Gibson ($16) with pickled onion brine and wormwood, a Tuxedo No. 2 ($16) with dry vermouth and maraschino, and other cocktails. Don't go trying to drink all eight of them in one sitting, but if you've ever said to yourself, "I just want to drink Martinis and Martini-esque cocktails all night," well, here's your chance!
2. Go to a festival that's all about food books and magazines.
This weekend, the Food Book Fair returns to New York. The event this year will be thrown together with Egg and Smorgasburg and the Brooklyn Flea, plus new collaborators Riverhead Books and Queer Soup Night. The main event (RSVP here) takes place from 11 a.m. to 8 p.m. on Saturday and 11 a.m. to 5 p.m. on Sunday, when publishers and magazines like Chronicle Books, Jarry, Kitchen Table, and Whetstone will gather at the Atlantic Center. On Sunday from 6 p.m. to 8 p.m. at C'mon Everybody, Queer Soup Night and Jarry will host (RSVP here) the Big Queer Chili Cook-off to benefit the RAPP Campaign.
3. Check out the new drinks at a great Greenpoint bar.
Tucked away into the back of a Greenpoint ramen restaurant, the Hidden Pearl was one of the most exciting new bars to open last year. The offshoot of Williamsburg favorite Donna takes a tropical Japanese-ish approach to cocktails, and if you've been meaning to go back, you've got yourself a few new reasons: Head bartender Luke Evans has added four drinks to the list. His additions include Hasekura Goes to Spain ($15) — which mixes Japanese whisky with amaro, Amontillado sherry, and Castilian bitters — and a Hot and Buttered Rum to share ($30). The latter drink pairs overproof rum with Californian brandy, as well as Grand Marnier, spiced compound butter, Angostura bitters, and figgy pudding bitters.
4. Get at least a dozen King Cake doughnuts.
Can't make it down to New Orleans for Mardi Gras? The next best thing if you have a big sweet tooth anyway might be going to Underwest Donuts. The doughnut experts there will serve a King Cake–inspired creation ($3.75) on March 4 and 5. A vanilla-and-citrus-infused cake doughnut, it gets dipped in Bird Dog whiskey for a sweet, boozy touch that should cure at least a little of your FOMO.
5. Attend a party for a new food magazine's launch.
Tonight from 6 p.m. to 8 p.m., the wonderful Cobble Hill food bookstore LizzYoung Bookseller will host a party for a new food magazine. Brett Warnock, who founded comic-book publisher Top Shelf, is in town for the launch of his new food rag Kitchen Table. There will be copies of the magazine, which promises a strong visual element, along with wine, beer, and bites to eat.
6. Go to the East Village for a lunch of popcorn chicken and stir-fried Taiwanese sausage rice.
Looking for a good lunch deal in the East Village? Taiwanese restaurant 886 now has you covered. For just $15, you'll get a little bite, a stir-fry, a main dish, and a soft drink. Options include small bites like honey-glazed popcorn chicken, stir-fried tomato and egg, and mains like a stir of Taiwanese sausage rice with cured egg yolk. The deal is available Tuesdays through Fridays from noon to 3 p.m.
7. Then for dinner, go eat sticky rice pork meatballs.
New York's Adam Platt deemed rice-noodle shop Hunan Slurp one of 2018's Best New Restaurants, noting that many of the non-noodle dishes "are worth a special trip." The chef-owner Chao Wang keeps fiddling with his menu, and this week added lotus meatballs made with pork, water chestnuts, and cured duck yolk. And instead of bread crumbs, they're coated with sticky rice. Why stop at these meatballs, though? While you're in the East Village, check out newer spots like cocktail bar Mister Paradise, Vietnamese barbecue spot Madame Vo BBQ, and grilled pizza specialist Violet. Or, comb our always updated list of New York City's Thousand Best restaurants for other recommendations in the neighborhood.
8. And a bagel sandwich made in collaboration with a New Orleans favorite.
A bagel collab? With a restaurant from outside New York, America's bagel capital? It could've been blasphemy, but the bagel-collab enthusiasts at Black Seed Bagels made the wise choice of teaming up with New Orleans's Turkey and the Wolf. A sandwich shop that was named a Bon Appétit Best New Restaurant in 2017, its bagel sandwich ($13) comes with griddled meat loaf (made with bagel crumbs), melted American cheese, pickled cherry peppers, slow-cooked tomato cream cheese, red onion, and basil. It's served on a fennel-seed bagel, and available at all locations.
9. Hang out with Talib Kweli while eating J.J. Johnson's food.
Some big names are coming together for the second Brownsville NOW! Benefit on March 12. Talib Kweli and John Forté will be performing and J.J. Johnson will be cooking for the event, benefiting the Brownsville Community Culinary Center. (Ticket info here.) The night will be hosted by activist and actor Malik Yoba and Love City Church pastor Nelvern R. Samuel, and DJ Niara Sterling will be keeping the music going. If that's not enough, it's going down at Brooklyn Bowl, which means, yes, bowling.
10. Pop by a charming new Bushwick taqueria.
There's no shortage of taquerias in Bushwick, but Tacos Molly (157 Central Avenue, near Suydam Street) offers customers a warm, neighborly experience. The space was last home to Seven Sushi Cafe, but the owner and his wife revamped the menu and changed themes to increase business year-round. The tortillas are made in-house and plated without pretense. Simple and delicious. They also serve aguas frescas like Jamaica, sweet, purply from the hibiscus. The owner, Brian, handmade the bar and tables from pallets, the light fixtures from industrial piping, and the benches from milk crates. If you're lucky, you'll be served by his wife, Monica, with her 6-month-old, Aina, in a baby carrier. —Mathew Silver
11. Get a lunch with a side of a charitable cause.
Instead of a sad desk lunch, what about a charitable lunch? Starting this month, the Smile to Go in Dumbo will start selling chef collaborations to benefit No Kid Hungry. Ten percent of proceeds will go to the organization, and a different chef will introduce a different boxed lunch for $15. Kicking things off is former White House chef Sam Kass, who worked with the Smile to Go on the series. His menu includes a beer-braised pork-shoulder sandwich; a canned salad with white beans, artichokes, hearts of palm, and celery; deviled egg with chipotle lime aïoli; and a mini coconut-cream pie.
12. Drop by a talk for a Bon Appétit editor's cookbook.
To celebrate the release of her cookbook Where Cooking Begins, Bon Appétit food director Carla Lalli Music will head to Books Are Magic. On March 20 from 7:30 p.m. to 8:30 p.m. (RSVP here), she'll talk with Bon Appétit video star Claire Saffitz about recipes for very busy people.
13. Go to a dinner at Racines celebrating Provence.
Tribeca wine bar Racines has a bunch of events slated for this month, including a dinner on March 22 for the Goût de France or Good France festival. Celebrating the food of Provence, the dinner (tickets are $195 for four courses and ten wines) will feature chef Diego Moya's riffs on classic dishes and all Provençal wines.