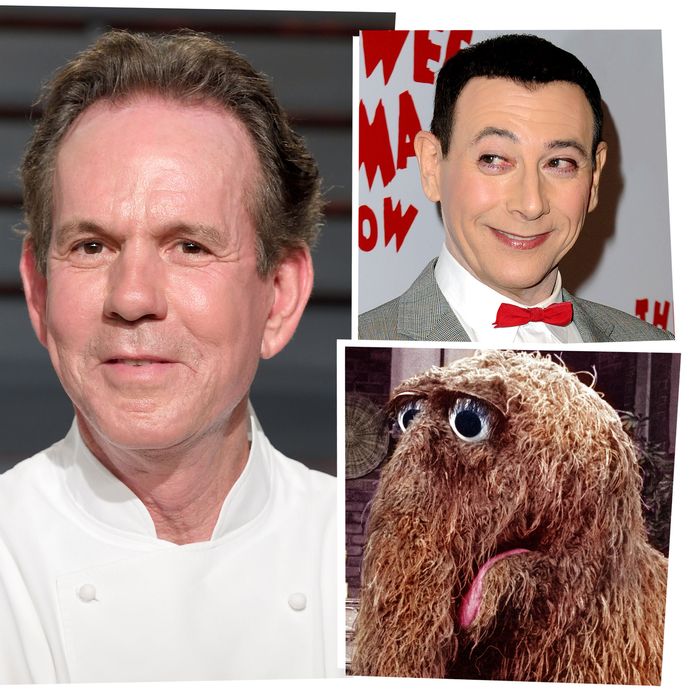 What do Thomas Keller and Snuffleupagus have in common?
Photo: Clockwise from top left: Ray Amati/NBAE; Karwai Tang/Getty Images; Kevin Winter; PBS; Alex Ehrenzweig
Despite the food media's 'round-the-clock coverage of the opening of the Shops & Restaurants at Hudson Yards, one story — perhaps the essential story — has gone untold: What's up with the name of Thomas Keller's restaurant, TAK Room — pronounced "Tack Rüm" — which opens for business tomorrow? According to our kitchen mole, the name does not refer to a place where you might store a collection of small, short, sharp-pointed nails usually having broad, flat heads, but instead stands for, yes, Thomas A. Keller. The "T" is for Thomas, the "K" for Keller, that much we were able to puzzle out on our own. But what about that "A?"
At first it seemed that no one but the chef himself actually knew, and he wasn't talking. After some Woodward-and-Bernstein-level sleuthing, we can now report that the "A" in "TAK" is for "Aloysius" — an undeniably funny but nevertheless good old-fashioned name that seems fitting considering the restaurant's tagline: "Throwback flair, timeless fare." A little light Googling reveals that Keller is in fine company. Some famous folk who share the name include James Augustine Aloysius Joyce; French Romantic poet Aloysius Bertrand; former Knick Patrick Aloysius Ewing; Pee-wee Aloysius Herman; and, of course, Sesame Street's Aloysius Snuffleupagus. Also, the French name is derived from the Old German "chlodovech," and means something along the lines of "famous warrior, glorious in battle." That sounds about right for someone like the indomitable Keller, who's triumphed in the dog-eat-dog restaurant world for decades, and even survived Pete Wells comparing his mushroom bouillon at Per Se to bong water.