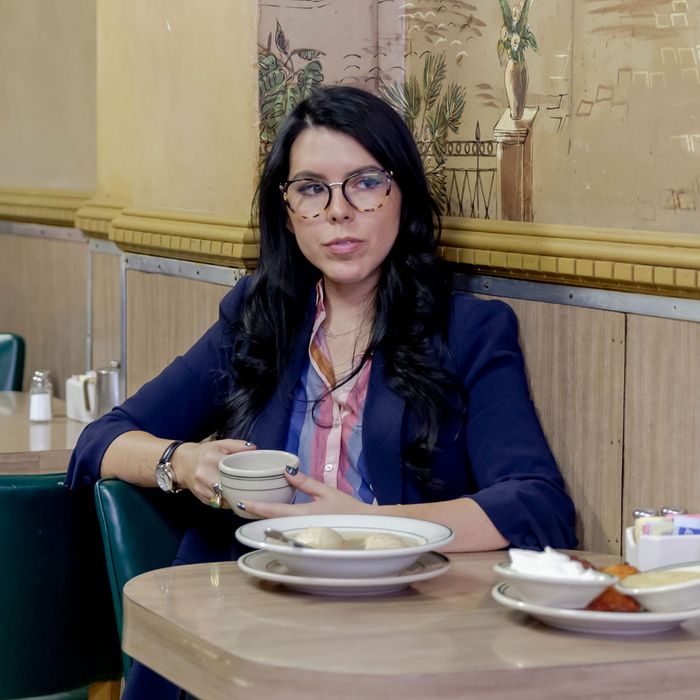 T Kira Madden at Barney Greengrass.
Photo: Mark Abramson
In her grittily poignant new memoir Long Live the Tribe of Fatherless Girls, first-time author T Kira Madden writes about what she calls her complicated relationship with eating. As an adult, however, she's found it to be "therapeutic and forgiving" and has become an active, ambitious cook. "Now, it's just kind of become my balm," she explains. "It's helped me open so much, culturally, within my identity and where I'm from." And while Madden says she normally "loves making fastidious and impossible grocery lists," she's been eating out more these days while juggling interviews, editing her magazine No Tokens, and gearing up for her book tour. Still, she kept her priorities straight this week and had one of her favorite breakfasts at Okonomi; made her pretty much weekly trip to Flushing; and got in her Friday appointment with some latkes at Barney Greengrass. Read all about in this week's Grub Street Diet.
Thursday, February 21
Got moving to Port Authority to take my fiancée's teenage brother to the Greyhound. I prepared a thermos of Kettl genmaicha tea and drank it, solemnly, while I listened to a repeat broadcast of Phil Schaap talking about Charlie Parker before I realized how bored this teenager was in my front seat. "This is a repeat?" he asked. "And you still want to listen?" At Port Authority I searched for a breakfast hot dog, but decided against it. I stood at George Segal's The Commuters statue and stared at the wintery grumpiness of the statue faces.
I sipped my tea like, "Same."
I drove the West Side Highway to pick up my friend James and then headed to my favorite Japanese breakfast joint, Okonomi. It was Nina Simone's birthday and the sun was playing on the East River and everything felt alright as Nina sang "Just Like Tom Thumb's Blues."
At Okonomi, we drank barley tea, and — fuck it — some Kikumasamune sake for breakfast. We discussed the power of negative thinking and discomfort as we ate swordfish sashimi in a plum yuzu, radish and leek miso soup, salted tilefish, and yes, more sake (this one Izumo Fuji; briny and perfect). We made our way upstairs to Kettl after breakfast so I could stock up on tea for the tour. Kettl tea is my everyday must; I take the bags with me everywhere. Zach Mangan, the owner of Kettl, let us sip on a bancha late-harvested tea from Kyoto that tasted the way I wish cigarettes tasted. I bought some kukicha, grassy and bright and the smoothest green tea you'll ever taste.
Back home, I ate from a pint of Van Leeuwen vegan mint chip ice cream. I'm lactose intolerant, and for last two years I have spent every day complaining about my fate — a life with ice cream that tastes like '90s Mentadent toothpaste — but Van Leeuwen isn't bad. It does the trick.
Recorded an interview with the fabulous Reading Women, and we talked about Furbies and Moon shoes while I quietly chewed on some Ferrero Rocher chocolates that my sister sent me in the mail, while hoping the hosts wouldn't notice. When my fiancée, Hannah, got home, I made us one of our favorite meals: Samin Nosrat's Indian salmon and Persian rice. I was lucky enough to recipe-test these items for Samin's brilliant cookbook, Salt, Fat, Acid, Heat, and this particular fish prep was love at first taste. For the first time, I really fucked up the tahdig. I made Hannah flip the pot over as I recorded a video, hoping for the crisp rice cake to slip out, but instead I got some golden crumbles and burned bits that tasted good but looked so bad it wasn't even funny-bad. I made a yogurt sauce with it (I've made this yogurt sauce to accompany everything for seven to ten years: yogurt, cumin, squeeze of lemon, za'atar, olive oil, salt, and turmeric).
Friday, February 22
Acupuncture, a new thing I'm trying for sinuses and digestive issues. Sipped on ginger tea as my sweet doctor shook her head like, Why am I even bothering? as I described my week full of hot pot and Sichuan peppercorns and "accidental" dairy. She gave me Acid Blocker tablets (which Hannah would later tell me taste like raisins and hay), describing them as the "Chinese herb version of Tums" with hopes that they'd help as I continue to destroy my stomach lining with food considered "dangerous spice" by the kind waiters in Flushing. She told me to eat more fat to protect my stomach, a request I gladly accepted.
I walked over to Springbone Kitchen near Washington Square Park. I ordered chicken broth with ginger and garlic, and a beef "umami" broth with literal chunks of butter (I had just promised my doctor more fat, ok?). I sipped a black coffee in the café before I double-fisted both cups of bone broth down Mercer Street. I can eat the shit out of soup — it's my favorite food — so two cups felt just right. I stopped by the hair salon where my mother works and hugged her. I like to bring her flowers once a week. She said, "Are you drinking coffee?" and I said, "No, it's butter broth," and she shrugged.
I met my lovely publicist at Barney Greengrass so she could attempt to coach me through interview questions. We ordered latkes and matzo ball soup, plus a sturgeon plate and 8,000 cups of black coffee. Every Friday, I pair therapy on the Upper West Side with Barney Greengrass, where my favorite waiter reminds me that I always eat two plates of latkes, so why kid myself ordering one at a time? I started going to therapy after my father — a Jewish man who loved a Jewish deli — died. We never went to Barney Greengrass together, but I like spending time thinking of him there, how this could have been our Friday thing, the two of us eating whitefish in some other Jewish dimension. It has become this day where I really feel like I'm with him.
Around nine I went to Mister Hot Pot in Flushing, Queens, with Hannah (we try to eat in Flushing once a week) and my friends Marisa and Tony. Tony is the only person who orders more than me, and this night was no exception. We got a dual-sided hot pot with spicy broth on one side and the boring juniper berry kind of broth with which I rarely fuck on the other. Standout was the fish balls with roe inside. Truly weird. Truly terrific. Pea shoots, too. I nursed a Tsingtao beer and we talked about how classist and weird and no-fun weddings can be, since Hannah and I are planning our wedding.
Saturday, February 23
Woke up and made the kukicha tea while I worked on edits for my magazine, No Tokens. I had early lunch plans with the author and overall badass Danielle Lazarin, but got hungry first and ate a handful of Ferrero Rocher chocolates again. When I met Danielle on the corner of 215th, she said, sweetly, "You have something in your hair," and sure enough I pulled out a full chocolate wrapper, sticker and all. That wasn't embarrassing.
We walked over to the Inwood farmers' market and then La Nueva España, a local Dominican haunt. I got a fresh orange juice and a glass of Patrón tequila, and switched off between the two. We shared mofongo with crispy pork pieces that were absolutely delightful. We also devoured sweet plantains, rice and beans, and a beautiful chicken, as we talked about tattoos and female magicians and Inwood opera singers, some publication anxiety too. It's nice to have a cool neighbor.
At home I went back to work on edits and interviews before I drove to Jersey City with Hannah and our dear friend, João. We ate at the vegetarian Indian restaurant Sapthagiri, a three- or four-year-old routine of mine and Hannah's before we hit the Landmark Loew's Jersey movie theater. We shared perfectly crisp and delicate dosas (João Googled how to eat them properly; the verdict is still out), gobi masala curry, and a vegetable biryani. This place is the real deal, so well and deeply seasoned, with full cinnamon sticks and cardamom pods still hiding in every dish. At the crumbling, gorgeous theater, I ate a box of popcorn as we watched the organ player descend onto the stage dramatically, and had none left by the time Goodfellas began.
Sunday February 24
Hannah and I spend most Sundays with our horses up in Clinton Corners. We pulled off 87 to stop at Dunkin Donuts and ordered our usual: a sugary coffee for her, hot water for me and my Kettl tea bags (back to genmaicha today), and two baggies of hash browns. (It's been a long time since I've had a McDonald's hash brown, but I think I prefer the Dunkin' hash brown. I like that they're little nibbles.) They were disappointingly not as greasy as usual.
After riding horses in the blasting cold for several hours, we always want something heavy. Usually, it's this old-school Italian joint, Villa Nigrelli, in Hopewell Junction. People stared at us in our riding attire and we felt kind of bad because we stunk like barn but we did our thing anyway: two goblets of Malbec wine and angel-hair pasta with meat sauce and extra meatballs for me. The olive oil was new, we decided, and totally sublime. Hannah ate something cheesy and we wondered, as we always wonder, how to stay awake for the warm car ride home. I never do.
Worked on more interviews on my computer while the Oscars droned on. More chocolates for dinner, and a few bites of leftover salmon, several bites of kimchi for dessert. We turned the Oscars off after Olivia Coleman because we knew it wouldn't get better than that.
Monday February 25
Genmaicha Kettl tea on my way to Women's World of Boxing. Scolded by my coach, as usual, for not eating before class. At home, I poured more tea and ate a single Ferrero Rocher chocolate while interviewing for the local paper. At this point, I cursed my sister for sending me the jumbo box of chocolates the week before pub; who does that? Only a person who wouldn't act this way.
Ordered delivery from Cơm Tấm Ninh Kiều, a Bronx joint that makes the best beef pho broth in New York. I'm not even as interested in the fixings anymore; I just drank the broth out of a mug all day long. Worked more on interviews and articles until I went cross-eyed. Resisted more chocolate.
Went to meet my friend Adam Dalva, book editor of Guernica, but I was an only-child-hour early and it was fucking freezing, so I holed up nearby in the NoMad hotel. I once wrote a big chunk of my book in the NoMad's library café before work every morning, so I wanted to do just that — curl up and write with some tea.
Unfortunately/fortunately, the library is closed at 4 p.m. to everyone but hotel guests, so I went to their bar instead and had a North Sea Oil cocktail and read Miriam Toews's latest book. After I asked what "aged aquavit" tastes like, the bartender gave me a whole tasting flight. The summary: like rye bread, in a good way. The licorice-y, anise-forward ones freaked me out. I got accidentally drunk and wrote down some nonsense like, "Next book vibe should be Missy Elliott/fisting."
Arrived at Cote, a fine-dining Korean steak house, to meet Adam. We'd been planning a nice, celebratory dinner for about a year, and I felt guilty for arriving a little buzzed and then got lost going to the bathroom. Of all the fancy beef we ordered, I loved the banchan best, particularly the pickled chayote squash with jalapeños. The waitress seasoned our little grill with a block of fat, which felt luxuriously extra. Adam and I talked about our slow but solid and kindling friendship as we scooped beef cheek tartar in pieces of fried tendon that were so fatty and delightful it made me want to pass out. The kimchi stew was warm and bright and sour and mesmerizing. Paella was a knockout. The kalbi was some of the best either one of us had ever had.
Tuesday, February 26
Black coffee this morning to work on more articles and interviews. By the time I had a phone interview at 10 a.m., my sentences were spiraling, because I am not used to coffee after a few days without it. Mentally devolved. Ate half a jar of kimchi.
I smashed some avocado in a coffee mug and ate it with a spoon (on the avocado: olive oil in glugs, way too much Maldon salt, pepper and, of course, chile flakes). Vanessa Friedman of Autostraddle came over to bake me pub-week cookies and brought a bundle of orange roses that about made me cry. I have never baked before, so Vanessa showed me how to burn butter properly while I talked too much about the glory of cast iron. Sweet friend, she let me relax as she wrapped cookie dough around frozen balls of Nutella and then we baked them until they became something wildly evil.
Guested at NYU with a Starbucks green tea and a cookie-sugar-spike-and-crash.
Met the Bloomsbury crew at Kabab Cafe in Queens, run by Ali El Sayed. My older brother introduced me to this gem, and it's one of my favorite meals in New York or anywhere. It's a one-man operation with no menu. I've been there maybe five times, but Ali and I developed an immediate, really close friendship. I was there when I was really nervous about my book being picked up. He gave me his phone number and was like, "I want to be your first call when your book comes out." I was like, "I have to call my mom first, Ali." But he was my second call.
We had hibiscus tea, roasted artichokes with mint, baba ghannouj, lamb chops, a whole branzino, and the saltiest, loveliest mackerel. We talked about the worst questions people like to ask us and promised to never ask those questions. We also got down and real about J.Lo's best film, Enough. "Meals are about conversing. Food's just the garnish," Ali said, before my editor, Callie Garnett, added: "But it's also, sometimes, about the food."
Wednesday, February 27
I slept three hours, and my acupuncturist/miracle healer could tell. She shook her head again — "I think you might be beginning to crash" — as I gulped down more Kettl tea. I wish I crashed quickly enough to sleep through the treatment, but instead I continued to bitch about the needles. "They can hurt more when you're exhausted. Try to eat something good for you today," she said, before she stuck some magic points in my ears.
I then took a Lyft to Real Kung Fu Little Steamed Buns. "I heard those dumplings are the real deal," said my driver, Hasani, and I agreed, "My therapist says so, too," because I hadn't yet tried them myself. Inside, I ordered six pork and crab soup dumplings and two large Peking duck buns. Reader, MY THERAPIST AND HASANI KNEW. These were some of the most beautiful soup dumplings I'd ever tasted. Rich and sweet; a perfect, fatty broth; just the right weight and temperature. The duck buns were so good I had to stop myself from ordering two more (because yes, I downed all eight items very fast). Have you ever eaten something so good and right you feel literal tears wobbling in your eyes? Maybe I was just tired. But that's what happened.
Brought my publicist steamed pork dumplings from Real Kung Fu. They came in an adorable to-go box with little individual squares, so I felt accomplished for bringing such a cute treat. She ate a few before we left to tape a radio interview near the office (the remaining ones made a perfect late-afternoon snack).
The spectacular Mitchell Jackson read from his latest book of essays, Survival Math, at Drew University, where Hannah's also on faculty, and I drank some burnt black coffee and wolfed a Drew University complimentary cookie (Drew doesn't mess around with their cookies; they are WTL: Worth. The. Lactaid.)
Once upon a time, before I came out as a lesbian, I had an older boyfriend who lived in the West Village, who treated my heart like a garbage disposal. The one thing I won from that relationship: an introduction to Gene's Italian Restaurant on 11th Street, a green linoleum jewel of New York since 1919. Hannah and I met Mitchell Jackson and writer and Drew creative writing director Courtney Zoffness there. I both apologized and bragged about how totally un-posh the place was. Mitchell ate their iced radishes like apples. I ate some prosciutto before a seafood pasta. I forced Hannah to try the fettuccini alfredo, my favorite dish before the Great Dairy Crash of 2017, and she agreed — it's fire. We talked about book birthdays and our various anxieties over a bottle of red, and it was like we were remaking a very corny movie in the best way possible.
Finished the night with Hannah at our spot: the Stonewall Inn. Here's a tip, queers: after 9 p.m., on weekdays only, a bartender named Chuck will call you "Baby" and give you free popcorn with hot butter sauce, gently sprinkling M&M's over it until the whole thing melts into chocolatey, salty sublimity and one feels a sense of being truly loved for the first time. H. & I shared a nightcap on the barstools and ate our popcorn by the handful as Chuck carefully measured kernels with shot glasses.