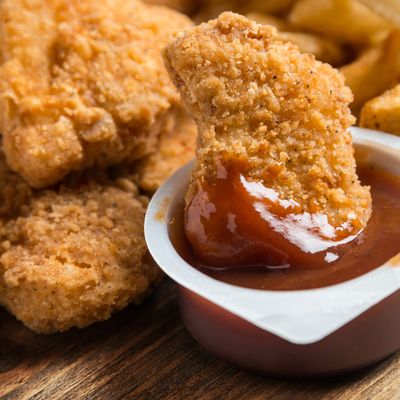 What's your problem, America?
Photo: Juanmonino/Getty Images/iStockphoto
It's been two months since Tyson Foods and Perdue were forced to collectively throw out 52,000 pounds (or 26 U.S. tons) of chicken nuggets, sparking a chicken nugget crisis the likes of which this country had never previously seen.
But that was only the tip of the chicken-nugget-crisis iceberg: According to a study from industry analytics firm NPD, chicken nugget options at American restaurants fell 3 percent between September 2017 and September 2018. Meanwhile, according to the same metric, chicken strips are up by 16 percent. (NPD points out, though, that there's very little overlap between chicken strip consumers and nugget consumers, so don't blame the strips.)
While NPD doesn't give specific reasons as to why nuggets are falling out of favor, CNBC suggests that it's because consumers don't know "what is in a chicken nugget." The explanation is here, but if you want to keep eating chicken nuggets in blissful ignorance, maybe don't click through.