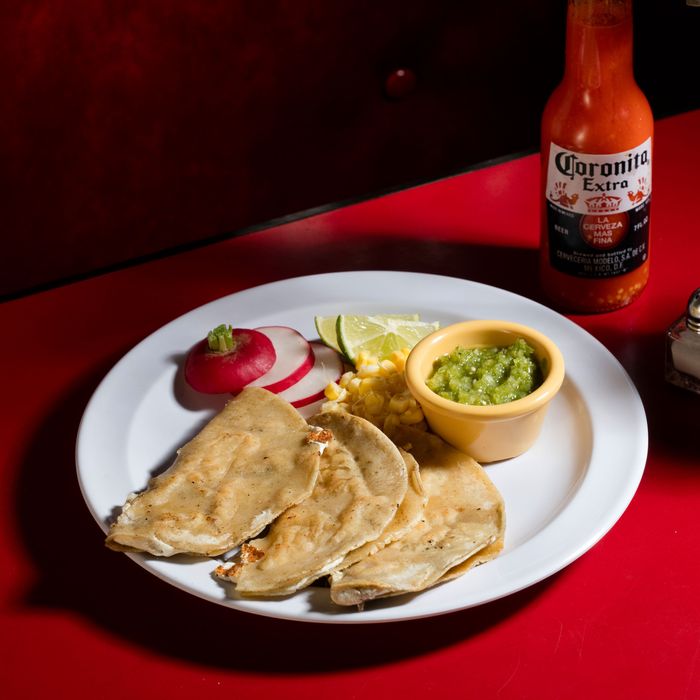 A trio of cheese quesadillas, with house-fermented hot sauce in the background.
Photo: Melissa Hom
Only a few weeks after leaving Mettā, the pyromaniacal chef Norberto Piattoni has resurfaced — at a bar in Red Hook. The former Francis Mallmann co-conspirator has traded in his grill fanaticism for the taquero trade, which he's plying at the two-week-old San Pedro Inn. Having taken over the former home of the wild and wildly loved Bait & Tackle, you could say San Pedro Inn's owners want to fill the neighborhood's Bait & Tackle-sized hole — but the bar is much more than that.
The San Pedro Inn came out of a bar conceived for a massive installation called "Grand Ole Opera" at the nearby Pioneer Works. "I had this idea to build this bar inside of it as a piece of this art show," says Gabriel Florenz, one of San Pedro's owners and Pioneer Works' founding artistic director. So he tapped his friend and Other Times Vintage owner Jason Grunwald, who, Florenz says, "had this project that was like this underground roadhouse." That project — "a motorcycle clubhouse that became a sort of after-hours spot," Grunwald says — inspired the installation's bar. With Deth Killers of Bushwick's Greg Minnig, Grunwald created a biker bar and plastered the walls with — as Hyperallergic wrote — "a lifetime's supply of leftover junk." The success of the project made Florenz and Grunwald think, why not just do it for real?
Having only been open for a couple of weeks now, the San Pedro Inn already gives a convincing illusion of being long lived-in and draws an eclectic, neighborly crowd. Walking in feels like stepping into a roadhouse, and the space is more tavern than dive — in part because of the wide and handsome mahogany bar that first catches your eye. There's also just much more that's deliberate in the design than at many kindred establishments; the owners didn't want to open just another bar with brick walls and old family photos.
"Jason, you know, is an expert in kind of refinishing and furniture design and just scavenging like a maniac," Florenz says. Grunwald ripped the mahogany bar out of a "200-year-old house in Bushwick," he says, and designed around it . They built their own booths, brought in bar stools from the '50s, took out three layers of plywood to get to the original floors, added in a few psychedelic-looking skulls, and created a sort of ceiling mosaic of tin from five different houses. On the wall across from the bar, there's a patchwork of images like an old photo of the Harlem Globetrotters and an owner's manual for the 1990 Honda Prelude.
"These are all pieces I picked up over the years, from the clubhouse, and mashed together and made like a quilt of American society," says Grunwald, who calls it a sort of living wall. "It's like a collection of memories and things that inspire us."
The bar, Florenz and Grunwald say, is very much a work in progress. They'll add more psychedelic skulls to the elevated back area, which they'll also decorate with motorcycles and a living wall of succulents. That area will also be used for music from Thursdays through Saturdays. "It's a project that's always moving and shifting," Florenz says. "It's a living sculpture … This psychedelic mix of culture."
Just as the design is more thought-out than at your above-average neighborhood tavern, so is the food. Piattoni, to refresh your memory, worked for Mallmann for four years and also spent time at San Francisco's now-closed Bar Tartine. He has a pedigree, in other words, but the cooking isn't complicated. Posted above the kitchen window in the back, the menu includes three kinds of tostadas, four tacos, a cheese quesadilla, salsa with chips, and tamales.
"Norberto's just been trying to evoke this very simple, very specific style of Mexican food," says Florenz, who partially grew up in San Miguel de Allende. The chef, though, couldn't help but add a few fermented flourishes from his own playbook. Take the tomato salsa, which is classic except for the addition of some fermented tomato, or the sour cabbage and sour cream tostada.
Like the cooking, the drinks are without pomp. Along with a few wines, there are 8 beers on tap and 20 cans and bottles, with an emphasis on "super-drinkable pilsners." The cocktails are all $10 standards like margaritas, and they're still working on those. Piattoni will help with fresh juices, and Florenz wants to serve a from-scratch michelada that the chef has made.
"Our bar manager is like, 'You guys told me it's going to be a dive bar, but it's evolving into a cocktail bar,'" Grunwald says. It's like we want to add this, add this. It's all with the clientele. We're trying to do the best of both worlds."
San Pedro Inn, 320 Van Brunt St., nr. Pioneer St.; 718-576-3916