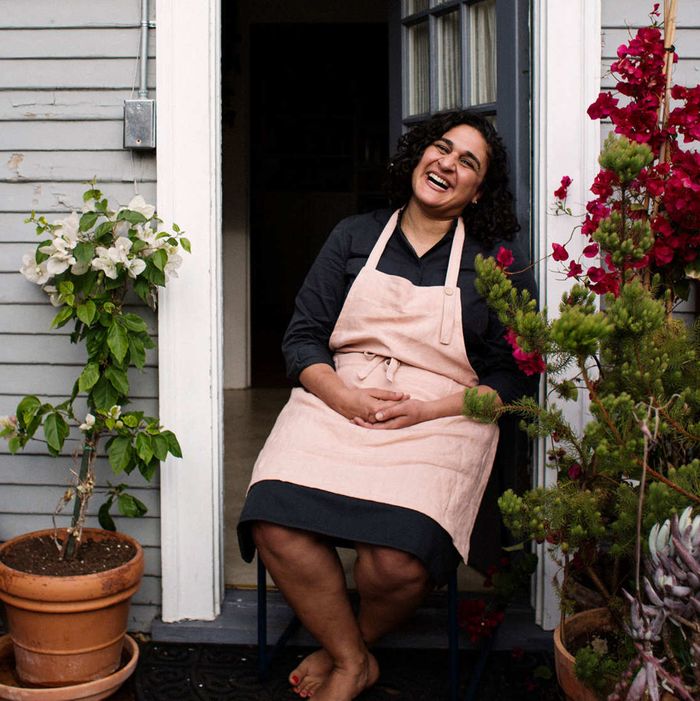 Nosrat at her home in Berkeley, California.
Photo: Talia Herman
Next month marks two years since chef and writer Samin Nosrat released her debut cookbook, Salt, Fat, Acid, Heat. For those living under a culinary rock, the book was a hit, landing Nosrat a column in the New York Times; multiple feature stories, including one on our sister site the Cut; a James Beard Foundation Book Award for General Cooking, and a multipart documentary series on Netflix of the same name.
Today, Nosrat announced via Instagram that she is officially hard at work on a follow-up entitled What to Cook.
Interestingly, it looks like Nosrat has switched publishers. Salt, Fat, Acid, Heat was published by Simon & Schuster, but What to Cook will be a production of Ten Speed Press, a subsidiary of the Crown Publishing Group. Why Nosrat switched is unclear, but she promises that her new book will be much like its predecessor: "beautiful, educational, functional, smart, and most importantly, very, very fun!" (She's also sticking with her previous illustrator Wendy MacNaughton.) Sounds like another recipe for success.