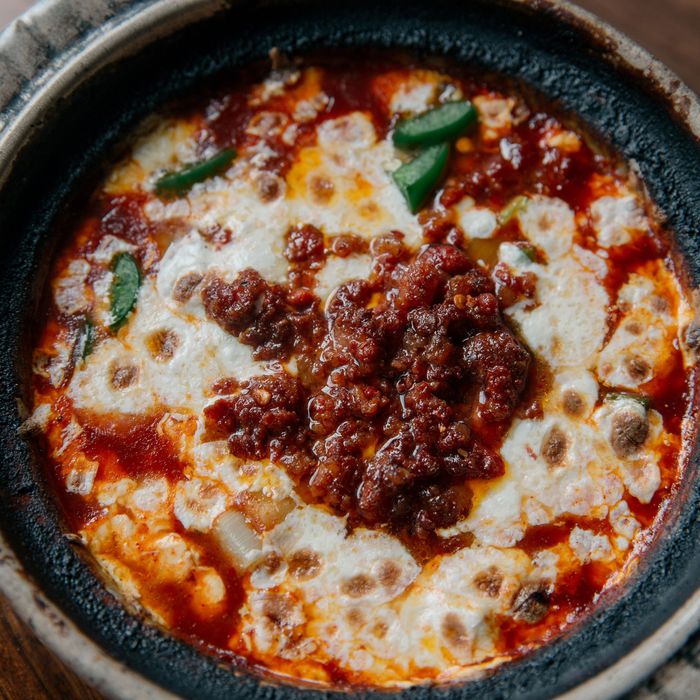 As comforting as fondue, with spice and sweetness you'll crave.
Photo: Scott Heins
At Haenyeo, a new corner restaurant in Park Slope, the menu description "saucy and spicy rice cake fundido" is intriguing, but it cannot entirely prepare a diner for the dish that will arrive: a deeply flavored bowl of ingredients topped with a bubbling sheath of cheese. Somehow, this shared appetizer manages to be Korean, Mexican, Spanish, Swiss, and maybe even a little Japanese, all at once.
The dish is the multicultural brainchild of chef Jenny Kwak, who spent much of her professional cooking career preparing hypertraditional Korean food at her mother's restaurants, Dok Suni and Do Hwa. (Though they are now closed, they gave many New Yorkers their first tastes of gochujang and kimchi away from the bustle of Koreatown.) Haenyeo is Kwak's first restaurant of her own, named for the female divers who have spent centuries catching and selling seafood on South Korea's Jeju Island. And, along with restaurants such Atoboy, Atomix, Hwaban, and o:n˚, Haenyeo is helping to shape the decidedly contemporary direction that Korean cuisine is taking in New York.
Yes, Kwak's food is rooted in Korean flavors — bibimbap and kalbi are both on the menu — but there are also oysters dabbed in seaweed butter and grilled, as is done in New Orleans, the hometown of Kwak's husband. A seafood stew, meanwhile, marries the classic onion and fennel aromas of bouillabaisse with simply steamed seafood. And then there are the rice cakes fundido, the most memorable dish on the menu and one with a surprisingly complex backstory.
The dish started out as tteok-bokki, a Korean staple of rice cakes stewed in a spicy sauce typically made with gochujang — a dish that Kwak had ideas for improving and updating. First, she thought about a starter that would have the homey, hearty feel of fondue, which Kwak tried in Zermatt, Switzerland, and now makes for her family every Christmas. Her next thought was queso fundido, the Mexican dish of melted cheese and chorizo. She had also recently visited her sister, who lives in Spain, and eaten a dish called cocido madrileño, in which pasta, shrimp, and chorizo are pressure-cooked, yielding a rich, flavorful broth. Rice cakes, she realized, are just like pasta, with their impressive ability to soak up sauces and flavors.
On paper, it might sound like a lot, but to Kwak, it all made perfect sense. "When you go to Seoul, the food has evolved to be so playful," she says, noting that even melted cheese has become increasingly common at food stalls in Seoul, as a topping for dumplings, pork ribs, and plenty of other snacks.
Kwak also wanted to buck a frustrating trend: as Khushbu Shah noted in GQ in 2017, while white chefs tend to be rewarded for cooking other cuisines, when chefs of color have stepped outside of the foods of their own heritage, it has historically not been well-received. "People are like, 'Why would you do something to Korean food when it is already great?'" she says. "They are more critical, definitely."
Kwak doesn't mind the critics, though, and besides, she adds, "This is my food now."
The dish itself starts out like traditional tteok-bokki, with a sauce of gochujang, gochugaru (a mild chili powder that acts as a thickener), soy sauce, garlic, and toasted sesame oil. Kwak hydrates rice cakes in beef broth, and mixes in the sauce.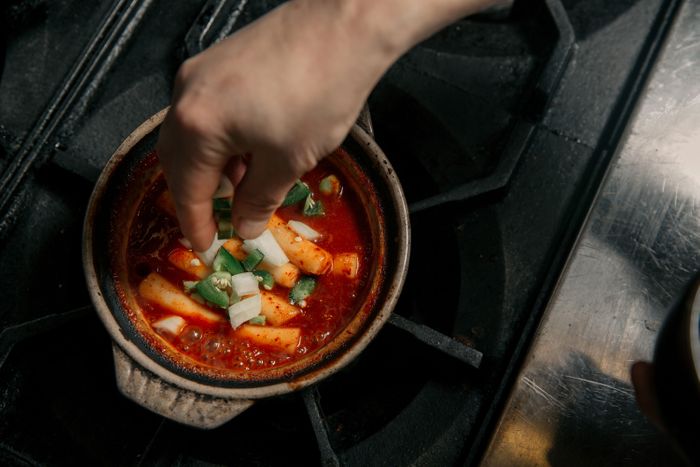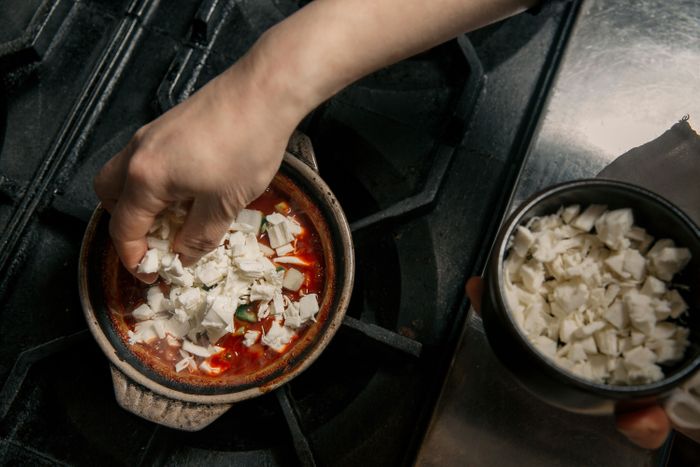 Then things get creative. Over the top go onions, jalapeños, and a healthy amount of Oaxaca cheese, which Kwak prefers because it tastes "fattier" than other melty cheeses like mozzarella, she says. The finishing touch is the crumbled chorizo, which Kwak gets from Mi Barrio Tortilleria, a local purveyor. "We are their only Korean restaurant client," she says, with a laugh. The dish is then placed under the broiler until the top is golden and bubbling.
Kwak initially tried to serve the dish in a ttukbaegi, a Korean clay pot often used for bibimbap, but it was too deep. She instead uses a Japanese donabe, which is much shallower.
The finished dish looks distinctly Mexican: bright-red sauce, crisped bits of chorizo, bubbling Oaxacan cheese. But when you dig into it, the rice cakes and the sweet, intense gochujang are undeniably Korean. The smoke and spice of the chorizo is a perfect compliment to sweet, spicy sauce, while the onions and jalapeños add some much-needed freshness and bite. It's the kind of deeply comforting dish that's impossible to stop eating — intensely crave-able, with a sauce that makes you want to lick the bowl. (If you ask nicely, the kitchen will also provide a bowl of rice for soaking up the saucy remnants.)
From the Japanese serving dish to the Mexican cheese to the Korean chili paste, Kwak admits her inspiration is "kind of all over the place," but she wants to make it clear that she has evolved past her days of cooking strictly traditional Korean food. "I have traveled more, she says. "These are things that really change you as a person," and just as importantly, as a chef.