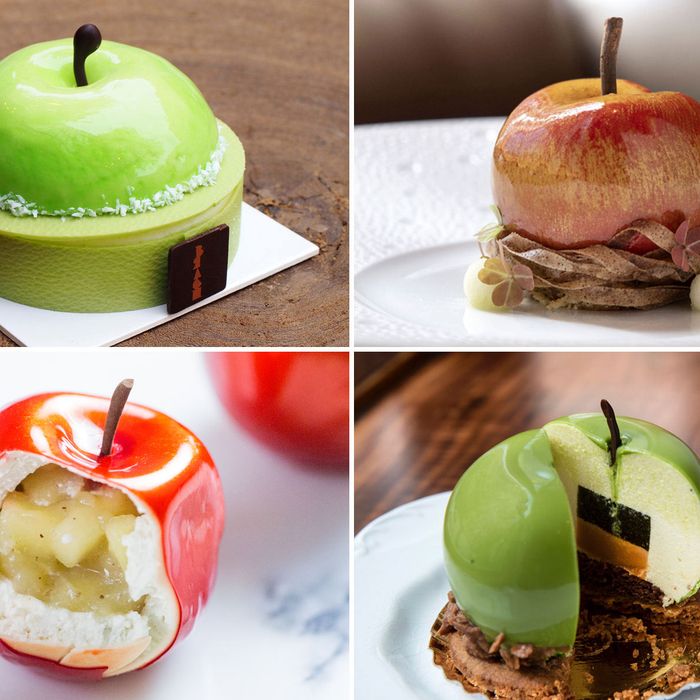 Apples from Fou de Pâtisserie, Le Bernardin, Restaurant Le Meurice, and Patisserie Fouet.
Photo: Clockwise from top left: Anne Fashauer, Liz Clayman (2), Courtesy of Cedric Grolet
At the midtown fine-dining temple Le Bernardin, a dessert called, simply, "apple" arrives at the table looking like a perfect McIntosh just plucked from an upstate orchard. Cut into it, though, and you find a wall of brown-butter mousse surrounding a core of armagnac sabayon and apple roasted with caramel; the outer shell is painted and given a cocoa butter–apple cider glaze. It is showstopping, and it manages to feel both antiquated and forward-thinking at the same time, trompe l'oeil for the Instagram age. It is also just one take on this particular idea, but look around and you'll find similar faux-apples from pastry chefs in England, France, Australia, China, and beyond.
In fact there seem to be as many takes on this dessert as there are varieties of apples. Take the one at Patisserie Fouet, the underrated Japanese bakery near Union Square. Here, the apple is made green with the addition of a green-tea glaze. It's wobbly to touch and earthy to taste, with white chocolate mousse enveloping caramel and a jiggly basil-apple jelly inside. The dessert is an evolution of something that Fouet's chef, Yoshie Shirakawa, first made at another restaurant. "It first started out as a plated dessert, but after looking at our petit gateaux cake display case, she needed something bright and eye catching," says Erica Liang, an operating partner with Fouet's parent company Cloud Nine Hospitality Group. "It's the first time she's used a cake mold that resembles a real fruit."
Ultimately, Liang says, Shirakawa wanted something "appealing for customers, but also just as delicious to eat." She is not alone: You'll find a shiny red apple in Shanghai at Nian's Bakery, while a chef at Sydney's the Star Casino has shown off his mint-y green version gently placed on a kataifi nest. In Paris, Fou de Pâtisserie serves a Jolly Rancher green tartelette pomme that looks like a Granny Smith sliced in half and placed atop a basket. Hungarian pastry chef Balazs Enzsol, who worked at Albert Adrià's Hoja Santa, makes glossy and reflective apples that are glazed black, lipstick red, or caramel brown. And perhaps no pastry chef has become so closely associated with the dessert as Cédric Grolet, who has made his own trompe l'oeil fruit since he was named Restaurant Le Meurice's pastry chef in 2012, and the chef that many others — like Italy's Alessio Padiglione or the chef of Sydney's Koi Dessert Bar — credit as their original source of inspiration.
Grolet (who says he started sculpting with chocolate as a teenager) is indeed something of a fake-fruit savant, turning out "Mandarin oranges" with skin that's as dimpled as the real thing; and, of course, all manner of apples. Some are freckled and yellow, others red and shiny, and yet more are green and tucked into a crust like an individual basket. All of Grolet's apples look delightfully real, with an impossibly thin shell of white chocolate that, when cracked open, reveals ganache and a core not of seeds but of — what else? — diced, spiced apple.
No matter which chef turns out the dessert, there is something particularly appealing about the apples, because of the fruit's perceived mundanity. Diners at Le Bernardin, for example, justifiably expect fireworks. You do not go there for … apples. No disrespect, but apples are like the New England of fruit, they're kind of reserved, and intrinsically sort of overly wholesome and boring. Which is why they are perfect for this particular trompe l'oeil treatment. Just watch a video of Grolet cut open one of his apples, while some of the filling gently spills out. It's soothing and exciting, like an ASMR video, in dessert form. Grolet himself has parlayed these desserts into more than a million Instagram followers (not bad for a non-Kardashian).
While Grolet has gained huge popularity for his creations and been able to broadcast them worldwide on social media, mimetic pastry isn't actually new and this specific thread, as a trend, probably didn't start with him.
"Cédric Grolet's is probably the most popular one," says Le Bernardin pastry chef Thomas Raquel, but he wasn't the first. Instead, Raquel attributes the apple (and much of his own inspiration) to Albert Adrià. In the dark ages Before Instagram (B.I.), Adrià was at El Bulli, making desserts inspired by the natural world: one that looked like toadstools on a forest floor, sorbet that looked like strawberries, and, yes, even an apple. And the version of the dessert that appears in Adrià's seminal 2002 cookbook, Natura, is something like the proto-apple, more abstract than the desserts being offered now, but nevertheless rooted in the same idea.
"El Bulli was very good at taking old ideas and making them modern," says Alex Stupak, the former pastry chef who offers his own false avocado at Empellón. "But if you want to talk about origin, Chinese and Japanese culture are really good at making things look like something from nature. Think about wagashi. Or even marzipan sculpting."
The acclaimed pastry chef Jordi Roca started experimenting with blown sugar in 2002, and has created apples that look charmingly ornamental. The French pastry chef Jean-Charles Boucher, too, was making his "blown apple" before Grolet became Le Meurice's pastry chef, and filled it with apple flambéed in calvados. But like Adrià's apple, Roca's and Boucher's don't look as realistic as the ones being made today. What sets the new crop of trompe l'oeil apples apart is the way the chefs seems to strive for verisimilitude: these forms don't merely nod to apples, they are the Platonic ideal, the kind of thing Johnny Appleseed himself could only dream about. And Grolet would argue he, for one, is doing something new.
"All the fruits are my creation, I started with nothing, the way to do it, the techniques such as the brushing of the chocolate, the sculpture of desserts," Grolet writes over email. "No one before me did this, it is really a personal creation."
Of course, other pastry chefs have taken the basic premise and expanded it to other fruits: a faux-orange shows up on the dessert menu at Jean-Georges, and Eunji Lee, who worked with Grolet for four years at Restaurant Le Meurice, serves a trompe l'oeil banana at Jungsik. Whatever the fruit, in a restaurant world filled with too many panna cottas and formless mousses, these desserts grab your attention. "You only eat pastry for pleasure, so presentation and manipulation become critical," Stupak says. Raquel concurs that he always tries to do "something a little more rambunctious." That these particular objets happen to look like everyday ingredients only underscores the skill and precision required to transform them into something so deliciously sophisticated.