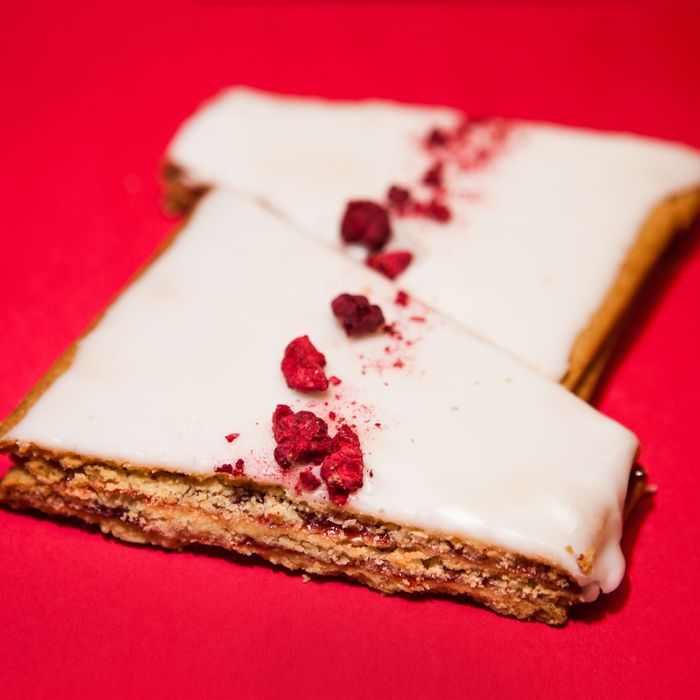 It'll ruin all non-Danish Pop-Tarts for you.
Photo: Konstantin Sergeyev
On the list of things that Danes are generally known to be very, very good at, "bakeries" certainly rank toward the top. So, it was a very welcome development when Ole & Steen, a chain of Danish bakeries (or "bageris") with locations in Denmark and the U.K., opened its first American outpost in Gramercy in January.
The bakery offers some excellent baked fare, including cinnamon rolls and cardamom-rich kløben buns. But Ole & Steen has a ringer in the form of their $5 Raspberry Slice, a rich shortcrust pastry featuring two layers of raspberry marmalade with a thick ribbon of lemon icing on top. To complement the sweetness, the slice is topped with not-too-sour freeze-dried raspberries. When cinnamon rolls feel too indulgent and, say, a croissant won't satisfy your sweet tooth, a raspberry slice is the perfect compromise.
In Scandinavia, the pastry is known as hindbærsnitter (and there's a version at Claus Meyer's' Great Northern Food Hall) — but Ole & Steen's alternating rows of pastry and marmalade is a little lighter and fruitier with just the right amount of chew. Imagine a Pop-Tart, painstakingly made fresh each day by master bakers.
According to head pastry chef Malou Bennes, who moved to New York from Denmark four months ago to run the American outpost, the kitchen team starts by rolling out sheets of shortcrust made with Danish margarine that are 3 millimeters thick. From there, they spread each sheet with an even layer of homemade raspberry marmalade. Once it's baked, the team drizzles each sheet with white icing made with lemon, water, and powdered sugar and slices the pastries into kind of elongated rhombus shapes.
Danish pastries, Bennes says, are "all about the stuff that's inside, the gooey stuff. The cinnamon, the butters, and the creams — this is our version of soul food."