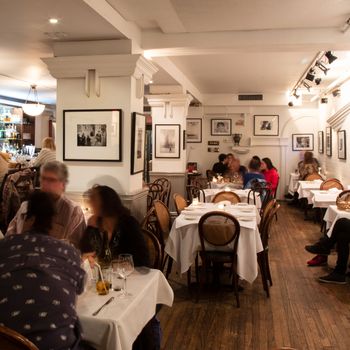 After being served a Corpse Reviver this past fall, the West Village's literary bistro Café Loup was seized by New York's state government again last week, sealing its doors for the second time in a year due to nearly $500,000 in unpaid taxes.
It was Groundhog Day for the restaurant's many devotees this past Tuesday, when patrons — who flocked to the French restaurant upon its reopening last September after the first seizure — passed the secured doors on West 13th Street.
"I'm a fucking mess — it's the second time in six months," says Ardes Quinn, who co-owns Café Loup with her husband, Lloyd Feit. In recent years, the two gave the power of attorney and executive management privileges over to Harry DeBari, an investor and longtime friend of Feit's who has managed the restaurant for several years. Over the telephone the day after the seizure, Ms. Quinn adds, "I was sick to my stomach and literally threw up when a customer called asking why it was closed again."
That is, she said, "the million-dollar question." How did Mr. DeBari get the New York State Department of Taxation and Finance to release the lien in the first place if the debt remained unfulfilled? Grub reached out to the department, but the message has gone unanswered as of press time.
Ms. Quinn says that she was told Mr. DeBari "had deep pockets," and ate at the restaurant thrice weekly with his family. Now, she says, Mr. DeBari is behind on the building's rent and an official eviction has been issued. "He was leaking money and not paying the taxes he owed. He's an arrogant Cheetos-head, going around town saying that it's my past debts. He doesn't keep any books. He doesn't have an accountant."
Calls to a company that lists a Harry DeBari as its CEO and founder were automatically disconnected.
Employees tell Ms. Quinn that on the day of the seizure they received a phone call from Mr. DeBari saying nobody would be paid and wishing them "good luck." That includes the dry-witted, dry-martini-pouring bartender Dien Huynh, who every regular knew and loved.
Presenting a gentle grace at the hostess stand for decades, the always stylishly dressed Ms. Quinn says she knows how passionate her patrons are. "Yeah, yeah, yeah," she drolly adds. "But the staff was my family — I was their guardian. I'm finally starting to believe they will find other jobs."
Sighting the January closing of the 41-year-old Cornelia Street Café and other bohemian West Village reliables, Ms. Quinn says to "chalk it up to another casualty for Jeremiah's Vanishing New York."