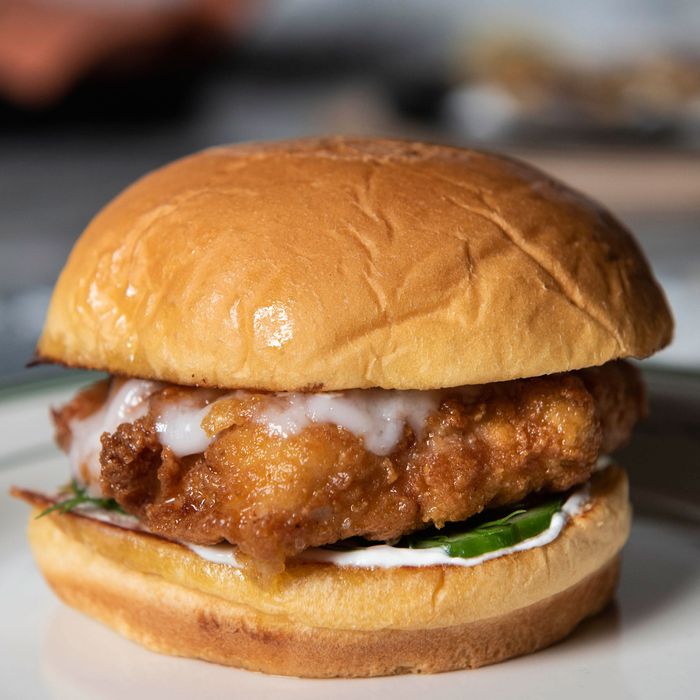 Empellón al Pastor's sandwich is a winner.
Photo: Liz Clayman
A few years back, the chicken-sandwich overlords at Chick-fil-A said they were done donating to anti-LGBTQ groups. This was welcome news to fans of the chain's food who did not also love its politics. Alas, a new report shows that as recently as 2017, the chain donated nearly $2 million to organizations with anti-LGBTQ stances. (This is only made slimier by the fact that the chain itself says the donations were made to "support causes focused on youth and education." So, exactly what are they trying to teach America's youth? Well, the Fellowship of Christian Athletes, one recipient of Chick fil-A's generosity, is pretty transparent about its feelings: "Neither heterosexual sex outside of marriage nor any homosexual act constitute an alternative lifestyle acceptable to God." Yikes.)
Though the chain is largely seen as southern, New York City also happens to be home to the chain's largest location. Will the uproar affect the demand there, or at other locations in NYC? Probably not, but you have no reason to go there. If you're the type who likes a squishy bun with juicy chicken, you can find better sandwiches all over New York — and without the lingering aftertaste of discrimination. Here are 17 options that you can eat without fear that you're also, however indirectly, supporting our nation's hate-mongers.
Fried-Chicken Sandwich and Buffalo-Chicken Sandwich
Where: Bobwhite Lunch & Supper Counter
How Much: $12.75
You have pickings here, between a southern-style fried-chicken sandwich with pickles or a northern-style Buffalo-chicken sandwich with breaded tenders and ranch dressing.
Fried-Chicken Sandwich
Where: Blue Ribbon Fried Chicken
How Much: $8.25 to $10.25
Blue Ribbon's fried chicken was so popular that it got its own shop, where sandwiches with fried or grilled chicken are served, including the basic Blue Ribbon, a bacon-and-ranch variation, and another topped with aged cheddar, smoked bacon, and barbecue sauce.
Hot Breast (or Medium)
Where: The Commodore
How Much: $10
Pun aside, the sandwich here is no joke. It's a spicy white-meat sandwich, topped with coleslaw, pickles, and hot sauce.
DIY Egg-Cheese-and-Fried-Chicken
Where: Egg Shop
How Much: $14
This is not a menu item, but an Underground Gourmet hack. Add a side of fried chicken to your egg, cheddar, and hot sauce on a roll, and work some magic. But you can, now, order an actual spicy fried-chicken sandwich a sunny-side-up egg, pickled carrot, cucumber, cilantro, pickled jalapeño, and chili aïoli.
Chicken Buddies and Fried-Chicken Torta
Where: El Cortez
How Much: Both are $12
Have your chicken, and your chicken, too. The Mexicanish sister bar to the Commodore's chicken buddies is a set of four chicken sliders with lettuce, mayo, and pickles, which you can have to pregame your fried-chicken torta with beans, avocado, Oaxacan cheese, and other toppings.
Spicy Chicken Sandwich
Where: Emmy Squared
How Much: $15
One of a couple chicken sandwiches offered here (the other is an excellent chicken parm), this comes with salsa pico, pickles, radish, bok choy, and ranch. It's served on, as all the sandwiches here are, a pretzel bun.
Fried-Chicken Sandwich
Where: Empellón al Pastor at Murray Hill
How Much: $8
The fried-chicken sandwich at this second location of Alex Stupak's Empellón al Pastor looks like a dead ringer for Chick-fil-A's, and like that sandwich, it's topped with thinly sliced cucumbers. Unlike that sandwich, it's given a flavor boost from the pugnacious Lebanese garlic sauce called toum.
Chicken Sandwich
Where: The Fly
How Much: $13
Certainly the greatest addition to New York's chicken-sandwich cannon so far this year, the version is deliciously messy, like an idealized version of a backyard barbecue sandwich. It's made with dark meat, celery, radishes, and aïoli.
Spicy Fried-Chicken Sandwich
Where: Fuku
How Much: $8 to $11
David Chang's budding chainlet recently expanded to Hudson Yards, its third location in Manhattan. (There's a fourth in Brooklyn's Barclays Center.) This one is a love child of Chang and Chick-fil-A, but the apple falls far from the tree: It's marinated in habanero, giving it a fiery heat; offered in variations like "Koreano," and served on a sweet King's Hawaiian roll.
Chicken Sandwiches (Available Grilled or Fried)
Where: Hill Country Chicken
How Much: $8.25 to $10.25
You have your pick of the coop at this spinoff of the Texas barbecue specialist Hill Country, where there are five sandwiches, including one topped with just sour pickles, the chicken minimalist's choice; another with spicy honey and butter pickles; and an option for buffalo sauce, carrot, and celery slaw.
Crispy Chicken Sandwich
Where: Mighty Quinn's
How Much: $8.75
Another barbecue specialist, another chicken sandwich. Here the bird is smoked before being breaded and fried, and offered in three variations (spicy, barbecue, or honey-chili) on a brioche bun.
Hot Chicken
Where: The Meat Hook at Threes Brewing
How Much: $15
Eat two birds in one sandwich. This advanced version of Nashville's hot chicken (it's made with meat glue) is fried in spicy duck fat until crisp, and served with bread and butter slaw.
Fried-Chicken Sandwich
Where: Nitehawk Cinema
How Much: $16
It's a fried-chicken sandwich and a movie. The bird is brined in pickle juice, and toppings include citrus slaw and pimiento aïoli.
The Best Chicken Sandwich Anywhere
Where: Peaches HotHouse
How Much: $15
New York's first noted importer of Nashville-style hot chicken serves its fried chicken on a sandwich with red and white slaw.
Chicken Sandwich
Where: Pies 'n' Thighs
How Much: $14
At this southern restaurant, your bird comes with a panoply of toppings, including bacon, Jack cheese, ranch, avocado, mayo, lettuce, tomato, and onion. All on a toasted bun.
Spicy Fried Chicken
Where: Root & Bone
How Much: $13
Chicken thigh is given a guajillo-pepper rub and fried, then topped with coleslaw, herb ranch, and pickles.
Chick'n Shack
Where: Shake Shack
How Much: $6
Danny Meyer's burger chain keeps it simple, serving quality chicken dressed up with buttermilk and nested on a sesame-seed bun.