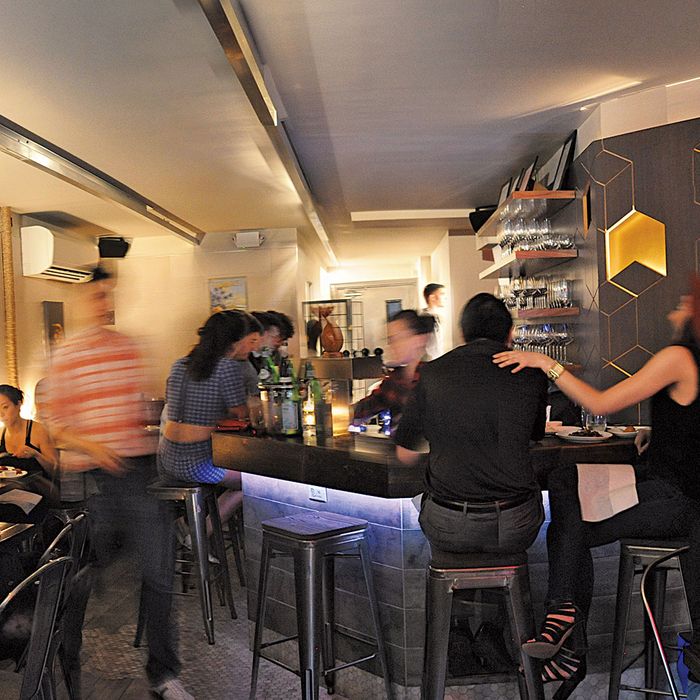 Uncle Boons's Ann Redding can't get enough of Noreetuh.
Photo: Tirzah Brott
New York is home to 24,000 restaurants — and chances are good you're tired of hearing about the same ones, over and over and over. But what about those under-the-radar gems that, for whatever reason, don't get the love they deserve? Grub Street asked chefs from around the city about the restaurants they feel are some of New York's best kept secrets. Here are New York City's most underrated restaurants, according to chefs.
Ann Redding
Co-owner and chef, Uncle Boons
"Noreetuh serves modern Hawaiian fare with Japanese and Korean influence. You really could just walk by and not even notice it in the busyness of the East Village, but it really is a hidden gem. It's a refined and lovely experience. Not sure why I think it's underrated other than I feel like I don't hear about it as much as other places."
Max Blachman-Gentile
Chef de cuisine, Narcissa
"One of my favorite underrated restaurants is Karasu in Fort Greene. The super-talented chefs, Elena Yamamoto and Yael Peet are friends of mine. Their food is simple and delicious and really well-sourced. I always love the pickles and anything they do with seafood or noodles. They get creative, while keeping traditional Japanese techniques and recipes in mind. Even in New York a lot of people still think Japanese food just means sushi, but what Elena and Yael are doing is much more of a 'seasonal izakaya,' as they would say. The space is beautiful, and I think it's a great place for people to try Japanese food that will feel familiar but also might be something new for them."
Chintan Pandya
Head chef, Adda Indian Canteen
"The taste of Indian-Chinese food at Spice Symphony is something very similar to what I have eaten in Mumbai, India, and takes me back there. They do serve regular Indian food, which is also great. The restaurant is very cozy and tucked in a corner. But I feel lot of the general population don't understand the concept of Indian-Chinese food. That's why it is underrated. I love to get the chili chicken, paneer chili dry, and the vegetable manchurian dishes. "
Alex Raij
Owner and chef, La Vara, Txikito, Saint Julivert Fisherie
"Yopparai has for years served some of the most compelling food in my neighborhood, the Lower East Side. It's a sensational place to go on a date, by yourself or in a small group. (Do not exceed four people or your experience will be underwhelming.) They specialize in sake and foods that pair well with it. The slimy bomb — homemade natto-fermented soybeans with mixed Japanese vegetables and fish — is probably one the most delicious things I've tasted, and this is from a person who jokingly used to reply 'natto' when asked if there was anything I don't eat at a tasting menu. Yopparai made me love natto! There is nothing there I wouldn't recommend. Its modest trappings and quiet manner make it the sleeper hit that it is."
Umber Ahmad
Owner, Mah-Ze-Dahr
"One of my all-time favorites, which definitely does not get its just due in recognition, is a small Pakistani restaurant on Lexington Avenue called Haandi. The food is primarily from the province of Punjab in Pakistan, so definitely meat-centric, but also with lots of fantastic vegetable dishes and amazing naan and parathas from their tandoor oven. What I also love about Haandi is that the food is prepared mainly from the women and men of one family so it has preserved the traditions on which so much of the Pakistani cuisine is based. It's not for a romantic night out. The dining area is filled with lots of Pakistani cab drivers and large families, and with Pakistani music videos alternating with Pakistani news program. But when you want to eat well, experience authentic and beautifully seasoned Pakistani food (unless I invite you to my home), this is where you should go."
Chris McDade
Owner and chef, Popina
"Birds of a Feather is always spot-on and exactly what you want. What I like best is the way they layer flavors. Super-simple in presentation with a wonderful depth of flavor. The okra with Sichuan pepper sauce is a perfect example of this, as is the beef and tripe. Plus, okra year-round speaks to my southern sensibility!"
Gabi Vigoreaux
Culinary director, Smith Canteen
"I find myself trekking to Queens (I live in South Williamsburg) for brunch at LIC Market every other week. The duck hash! There is also a dirty rice frittata with chicken livers and chorizo. I'll just let you process that. Amazing natural wine selection too. Runner-up: Bessou in the West Village. They never make the fancy lists and are doing really incredible things! I go to bed dreaming of their smoked daikon pickles.
Missy Robbins
Owner and chef, Lilia and Misi
"Four Horsemen is sophisticated, clean food, with a great intimate vibe. And of course, they have fantastic wine and a very welcoming, knowledgeable staff. My favorite things on the menu are the tuna tonnato, which is just a great twist on a classic dish, and the half sasso chicken with polenta and squash, which I think they just added and is great for this late-winter weather. I think because everyone talks about the wine program there, people don't realize how great the food is."
Markus Glocker
Head chef, Augustine and Batard
"I am not a big fan of the term underrated in connection with restaurants, but, for me, 'old New York' restaurants and restaurant spaces should not be overlooked. I love checking out new places and seeing what's out there, but I often return to places that have consistently offered great food and service for more than 25 years. Elephant & Castle in the West Village is one of those restaurants I have admired for years. I specially go there for breakfast because it's simply delicious and it reminds me of Austria, where I grew up."
Chao Wang
Owner and head chef, Hunan Slurp
"The most underrated restaurant for me is August Gatherings in Chinatown. It's unassuming in the looks — the location, decoration, and dish presentations might suggest that it's a traditional Chinatown-style restaurant, but it's far more than that. Many of its cuisines incorporate a deep understanding of the culinary concepts and fuse many French elements. My must-order dish is the fish maw and shredded-duck soup. It has an incredible amount of umami, and the marriage of the two ingredients is a miracle I've never seen anywhere else. Other noteworthy dishes are steam egg with matsutake and dry scallop, house signature chicken, and stir-fried Berkshire pork jowl. This place is the best-hidden secret in town."
Katie Jackson
Chef-partner, The Fly and Hart's
"Ferdinando's Focacceria is just your classic old-school Italian place. It's Sicilian and has been open forever and everyone is super-warm and inviting. You feel like you're sitting in someone's home. They have a bunch of great classic small plates, but my favorite are the panelles. I always get the linguine and clams there, too, because I can't not order that everywhere!"
Jimmy Ly
Co-owner and head chef, Madame Vo and Madame Vo BBQ
"Khao Nom is hard to get to just because it's far. Being from Queens, I feel like most people in Manhattan don't often trek to Elmhurst, Queens. I always get the Chan's Noodle, their version of a pad Thai, but it's more authentic with stir-fried noodles, prawns, chives. It's served more wet than the usual pad Thai, which comes dry. I also think the chicken yellow-curry noodles is one of the best Thai curries I have. It's super-spicy and flavorful, and not for the weak. They have so many different options and regional dishes and I love the wide variety."
Brooks Headley
Owner and chef, Superiority Burger
"Shopsin's is still great! It's one of the most NEW YORK restaurants in all of New York. It is important and crucial and the food is always delicious. As the city gets bludgeoned by Sweetgreens and $20 Impossible burgers, we should all be excited that fiercely New York places like Shopsin's still exist."
Lucas Sin
Head chef, Junzi Kitchen
"Hop Shing in Chinatown might not be one of the first destinations people think of when they think of dim sum, but this is the first place I go. I love how old school it is. Any restaurant teeming with elderly Chinese aunties and uncles, quietly yapping the morning away, is the restaurant for me. Dim sum at Hop Shing is traditional, established, unadorned, but not at all lacking in flavor or quality. Their small selection of bread also features my favorite Cantonese cocktail bun in the city."