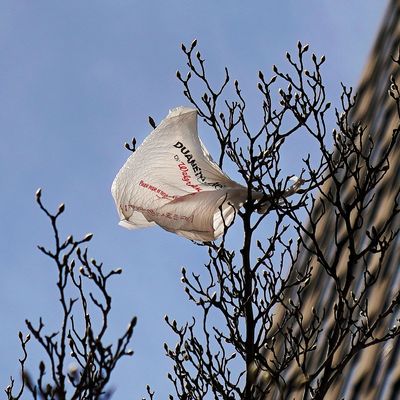 Goodbye and good riddance.
Photo: Drew Angerer/Getty Images
Two and a half months after New York City officially banned plastic foam containers, the state has doubled down on banning plastic bags as well. As the New York Times reports, state officials have agreed to ban all single-use plastic bags at retailers. There's a lot of minutiae to wade through, but Grub is here to help. Here's everything you need to know about the impending plastic bag ban.
What will the rules be exactly?
If and when the new law passes next week as part of a budget bill, it will ban retailers from providing customers with single-use plastic bags of the non-biodegradable variety. That means you'll still be able to get your reusable bags with the plastic shell, but say goodbye to the many plastic bags that end up in sewers, trees, and on the subway tracks.
Will there be any exceptions to the new rules?
Yup. Restaurants that use plastic bags for takeout will be allowed to continue doing so, as will delis and markets that wrap their food in plastic bags or use plastic bags for bulk items. Trash bags and clear/blue recycling bags will also be allowed.
What about paper bags? Won't people just use those instead of reusable bags?
The law will give counties the right to impose a five cent paper bag fee. The funds from that fee will go toward New York State's Environmental Protection Fund and efforts to make reusable bags more accessible to everyone. Representatives from the Environmental Advocates of New York told the Times that paper bags should also be banned and that, in not doing so, lawmakers "came up short."
When will the ban go into effect?
March 2020. This is state government, after all. And retailers will need some time to adjust.
Are retailers angry about the change?
Of course. Plastic is, above all, convenient and cheap. State trade groups representing grocery stores and other large retailers say the ban will have a major effect on their members' bottom lines. They've even suggested that part of the proposed bag fee should go toward their coffers. But that seems highly unlikely.
Didn't the State Senate try to do this already?
Yeah, they did, just last year. But Republican lawmakers in the senate killed a similar bill. They were able to do this, in part, because they received support from a Brooklyn Democrat, Simcha Felder, who had taken to caucusing with Republicans.
Why was the ban approved this time?
Because the makeup of the New York State Senate drastically changed after last year's election, with Democrats taking control for only the second time since World War II. Senator Felder tried to rejoin the senate's Democratic caucus shortly after the switch, but was very publicly frozen out by his colleagues in December.
Have any other states banned plastic bags?
California became the first state to ban plastic bags in 2016 and Hawaii has banned single use plastic bags at the county level. Meanwhile, here in New York, Suffolk County (a.k.a. Long Island) imposed a plastic and paper-bag fee in January 2018 that didn't ban plastic bags, but charged people for them. Within six months, grocery bag use fell by 80 percent.