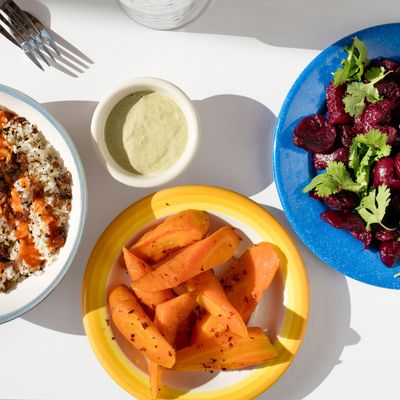 "Greens & Grains" at Gertie, featuring beets, carrots, and everything-spiced rice and beans.
Photo: Melissa Hom
It's a fact that the New York diner continues to die a slow death, with the number of late-night omelettes and brightly-lit dessert displays continuing to dwindle. In their place, though, a new type of diner has started to appear with noticeable frequency: cafés placing a heavy emphasis on plants — both in their Instagram-friendly interiors, and in their blue plate specials.
Last year, the team behind Bushwick's Champs Diner and the vegan pizzeria Screamer's opened the joyfully kitschy Hartbreakers, a '70s-style diner serving dishes that pull from a global pantry of ingredients with an exclusive emphasis on vegetables. There's a Dream On salad (chickpeas, "merguez sausage" made from artichokes, beet-dyed Israeli couscous, olive tapenade, and a vegan aioli), as well as a Rocket Burger made with a beet patty and seitan bacon. "We have seen the New York restaurant scene evolve to be more vegan-friendly," says Champs COO Jillian Rothenberg. "We think this inclusive shift is fantastic for veganism," she says, adding that she hopes the familiar, diner-like setting will help convince even non-vegans to try its offerings.
That shouldn't be too difficult. In addition to a number of vegan-centric projects (Market Hotel's monthly Vegan Market; the annual Vegandale festival; Pine Box Rock Shop's Vegan Shop-Up; a planned 24/7 East Village vegan diner, called Dollface, from Ravi DeRossi), even new cafés that don't offer exclusively vegan menus make a point of celebrating this style of eating, and offer lots more for vegetarians and vegans than simple salads. In Prospect Heights, for example, MeMe's Diner held a family-friendly celebration with Elmhurst alternative milks, serving versions of strawberry milkshakes and other vegan-friendly fare at a sock hop-style ice-cream social (the regular supper menu also includes old-school faves like an eggplant-and-feta moussaka, as well as a veggie burger).
At the just-opened Gertie, in Williamsburg, the veggie melt with Buffalo-spiced cauliflower and pickled peppers is a menu standout, as is a platter of rotisserie-roasted winter vegetables, served, in true New York fashion, with red sauce and white sauce.
All of these restaurants share some traits in common: colorful interiors, of course, and food that aims to be adaptable to a variety of dietary restrictions so that everyone can finally take part. Perhaps more notable is their shared ethos to be as inclusive and welcoming as any of New York's classic luncheonettes. "We do believe that providing a modern yet comforting diner environment," says Hartbreakers's Rothenberg, "has the ability revitalize the 'diner' as it was once known."
But for people who grew up in New York — like myself — classic diners have long been essential parts of the city, and it can feel, at times, like these new-look cafés are replacing the charm of the true old-school spots. "I have not yet visited any of the newfangled vegan diners to this point," says the anonymous founder of EV Grieve, the blog that documents openings and closings around the East Village, who prefers to eat vegan food at places like Souen and Caravan of Dreams. "I still prefer my diners with the authentic '50s-'60s-'70s interior intact, coupled with a comfortable, unhurried vibe and a surly waitstaff — and actual diner food."
It does seem that one hurdle these new diners face is to be seen as more than destinations for gentrifiers. If they can, however, figure out how to maintain the accessibility and diversity that are so crucial to real diner culture, they may be able to carve out a bright future — one that will no doubt look great on Instagram.