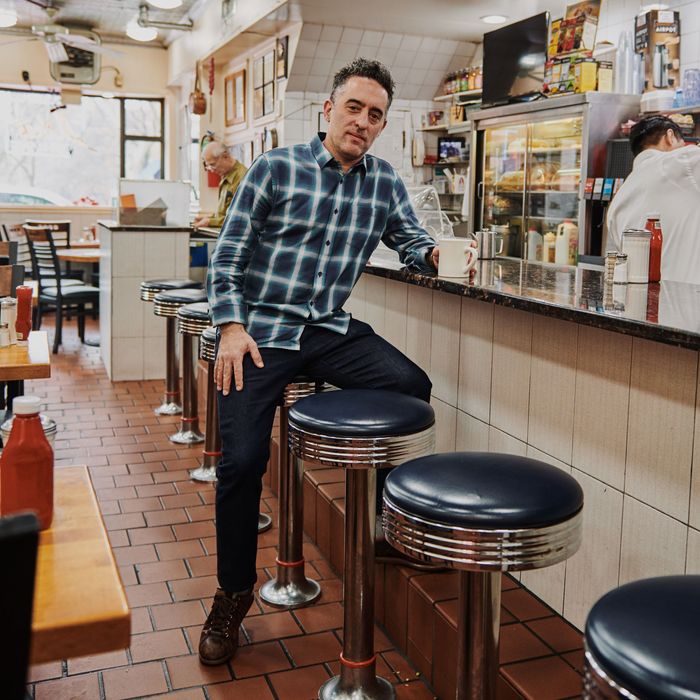 At Mike's Coffee Shop in Clinton Hill.
Photo: Christian Rodriguez
At 30, Nathan Englander was the youngest ever recipient of the PEN award for "excellence in the art of the short story," and this week he published his fifth book, the comically probing kaddish.com. His writing has been called "genre-hopping" and several variations on "playful," descriptions that might also apply to his relationship with eating. Like many food lovers, Englander can appreciate a great restaurant as much as he can a well-written recipe — but he also isn't above eating his daughter's leftovers. "My wife can't believe it," he says. "I'm like, 'Oh, yeah, I am definitely more than happy to find myself eating the kid food.'" Over the past week, he also had time to eat stoop pizza, consider the qualities that make a neighborhood diner great, and think, wistfully, about bagels. Read all about it in this week's Grub Street Diet.
Thursday, March 21
I wish this had started Wednesday night. My wife and I actually got a babysitter, and went to a grown-up restaurant with another couple. One half of that couple was our friend JJ, who writes cookbooks, and when you go to restaurants with him, things you didn't order just appear — "lamb chops, compliments of the food mafia!" — and I think that would have been a fun meal to share. But my Grub Street Diet started this morning! And I was doing drop-off, and was late getting our 4-year-old daughter to preschool — as I am every day.
While I packed her lunch, I ate a piece of wheat toast and drank a gallon of Kitten Coffee's Tandem blend. I don't like that super-black, melt-your-tongue coffee. I drink way too much coffee for that, and Kitten's is just the perfect live-on-it-all-day roast. Also, I was once leaving the coffee shop on our corner, and the Kitten guy was delivering, and I screamed, "Hey, I love your coffee." And he said, "Try this, I think you'll like it," and he threw me a pound of something new they were making, and I swooned with neighborhood good cheer.
So, my book was coming out on Tuesday and I was in prelaunch madness. I was stuck in the house, doing assignments, like 500 words on fingernails for Fingernail Digest, and I had a half-hour phone interview that somehow ran to an hour and a half and I was going to miss eating lunch. But JJ checked in, as he does about a million times a day. He was over on Henry Street, and he texted me a picture of the sandwiches chalked up on the board at Lillo, and offered to deliver. And, as with the Kitten coffee, it's that kind of neighborly niceness that just kills me. He brought me the Mediterraneo, as ordered. It's Italian tuna, arugula, sweet marinated onions, and tomato. It was delicious. (He also brought a couple of desserts, which I put aside.) And we both worked on our laptops at the table for a while.
Also, while I was waiting for JJ to show up, I ate the cold tortellini from Olivia's dinner the night before. I'm all about the cold kid noodles from yesterday's dinners. I enjoy that stuff. It's not just that I'm eating it, I actually love it. I am definitely more than happy to find myself eating the properly aged fish sticks, and the apples with bites missing. I think that's a big parent thing, to be like, "Now I'm going to have a second meal that I found on the counter."
A friend I hadn't seen in years was in town visiting, and she was coming by for dinner. So, at the end of the workday, I ran over to Mekelburg's for a loaf of She Wolf sourdough (which we're crazy for). I also got Firehook sea salt crackers, and some cheddar and manchego and our favorite cheese, Délice de Bourgogne, which is about one inch away from just eating butter with a spoon. I got olives and radishes, and I also got all the fixings for my red lentil soup. I served it over brown rice, and finished it off with wilted spinach and some Greek yogurt, as the recipe recommends. My wife, Rachel, made a butter lettuce, endive, and grapefruit salad.
Also, it was Purim, and Rach got some hamantaschen that we served along with the desserts that JJ had brought. One was a kind of Italian version of a Boston cream doughnut, and there was a blueberry tart with a lattice top.
Friday, March 22
I made Olivia French toast, which was not at all a weekday thing, but she asked for it, and getting to school on time, as I've said, is not my strong suit. I had Greek yogurt, banana, and honey. And coffee. And Rach had a version of the same.
It was Friday, which was a gym day. So we do speed things up as best we can. We've been working out at CrossFit South Brooklyn for years, even though it's over in Gowanus. But we love it, and it feels like family now. And we're pretty religious about our Monday-Wednesday-Friday class, which is a kind of body-weight-centric thing that we love.
When I need to do busywork before writing, I often head to Three's Brewing, one street over from the gym. It's not for a post-workout beer. The brewery is closed during the day, but they have a cozy little outpost of Ninth Street Espresso inside that uses the space during the daytime. I headed over and got a coffee and, to ruin any gym-related gains, a cheddar and chive scone (which is just to say, I should have had the French toast).
Let's sing the praises of leftovers. I cook so much more lately,, and the more complicated or ridiculous, the better. That, is I like to make the things where people say, "Ummm, you know, they sell that at the grocery store. You can buy that a lot more easily than you can make that." I was recently cooking Middle Eastern food and I was like, "Well, I should also make the pita," and there were a million steps, and I was really proud, but, man, that dinner would have been a lot easier if I'd just run to Damascus Bakery, or, you know, any supermarket in the whole city. I think it ties in to the writer brain. If I need to fix something I'm writing, I will stay up all night, and I will do it again and again until it's where it needs to be.
Anyway, there was the leftover lentil soup and the cheese and that giant loaf from She Wolf waiting. And I had plans to meet my publicist, Jordan. We were both swamped, and so she swung by, and we set up shop at our dining room table (by which I mean, our only table), and we had a super nice lunch, but with screens out, typing away.
Rach and I are nutty for Ethiopian food. It's a favorite. And, luckily, there's a fantastic restaurant over on Fulton, across from Greenlight Bookstore, my local. It's a big corner for me: books and Ethiopian food. The restaurant is called Bati. And the owner, Hibist, is an old friend. Back when I started writing and lived on the Upper West Side, I used to go do my work at the Hungarian Pastry Shop. I mean, I sat there all day, every day, and often closed the place down. And Hibist used to work behind the counter. And I love when a person's dreams come true. That is, I remember Hibist pouring coffees in the '90s and now she owns her own restaurant — and it's the best. Also, they're really nice to our daughter, who has gone from eating everything to a very beige-focused food phase (possibly inherited from my suburban, white-bread roots).
Anyway, we packed her a little dinner of her own as an emergency backup, which they were really nice about. And as for ordering at Bati, Rach and I haven't touched a menu there in years. We always, always get a vegetarian combo for two — which had a bunch of things on it, gomen, and buticha, and key sir, and — what really matters to us — always lots of shiro. And, at Bati, I don't even need JJ for special treatment. They always keep an eye on us and make sure there's shiro on the tray.
Also, they were out of St. George beer that night, so I had a Walia, which was equally great.
Saturday, March 23
If I'm being honest here, this was a record amount of time for me not to have eaten a bagel. This diary should have already had five dozen or so in it. Anyway, I ate the She Wolf Sourdough toast, day 400 on that bread. If you amortize the initial investment, I was pretty much making money on that loaf.
After dance class (my daughter's, not mine), we headed over to Tacombi with friends. It's a great Mexican place with locations in Manhattan, but now we've got one across from BAM. I spotted one grown-up couple having beers in the main room when we got there, but otherwise there were lots of kids, and lots in tutus — it seemed to be the new post-dance hangout. We had a big order of kid-friendly plain versions of things, which the staff was really nice about (that is, quesadilla with nothing, rice and beans with nothing). As for this grown-up, I had the seared fish tacos and their Naranja, which is a papaya, carrot, pineapple, and orange juice.
So, it was the Montclair Literary Festival — go NJ! My event was near the end of the day, and, after it was over, I went straight into Joyce Carol Oates's. Then there was a cocktail party for the festival, and I ate I don't know what, some hummus and pita, and had a glass of white wine. And Joyce had invited me to dinner with friends, and we headed to a place called Scala del Nonna. The joint was jumping, it was packed out and loud and Saturday night-ish, and one table kept knocking over the wine bucket.
As for wine, apparently Montclair has some ancient liquor law thing, and the restaurant was dry. So my friend Julie ran out to the store next-door and bought a bottle of Gavi, and Joyce's friend ordered porcini risotto with peas for the table. I got the branzino alla griglia, which was marinated sea bass lightly grilled with scarola Siciliana. And, well, if you replaced all the fish I ate this week with candy and bagels, once again, it would better represent my normal diet.
Sunday, March 24
The day was packed with playdates, which was lovely. My daughter and I headed over to a friend's who has twins and lives right next to the bagel store — my chance to make a move. But when we got into their house, Melissa had already made a mountain of whole-grain silver dollar pancakes, and a fruit plate with strawberries, watermelon, and pear. And, as always, she put a cup of coffee right into my hand.
We all headed to the park. As the twins headed off, another friend of my daughter's showed up with her dad. After another couple of hours of wildness, we took the girls for a slice of Luigi's Pizza and sat on the stoop outside. My slice turns into two, and they keep their seltzers properly freezing in their fridge. Slices on a stoop make me extraordinarily happy in a New York way: I was being nostalgic while it was happening, like, "This is the life."
For our third and final playdate of the day, we had another of our daughter's friends over to the house, with her folks. I'd been wanting to make chili, and offered to do so, but — if I'm allowed to break the fourth wall — Oriana, the visiting mom, is a huge fan of this column. She said chili is boring. So we ordered in Vietnamese from Mekong Delta. The restaurant is in one of those neighborhood locations that never works out and keeps changing hands. But Mekong Delta seems to be doing great. We all shared a papaya salad, and I got chicken pho and shrimp summer rolls.
Monday, March 25
It felt like maybe it was one of the last cold mornings before spring kicked in, and even with the pancakes yesterday, I always need to make sure I'm getting enough maple syrup in my diet. Point is, I made oatmeal, and ate it with bananas and blueberries and maple syrup that we buy by the jug when we're up at our friend's farm in Sandwich, New Hampshire. So, yes, for the best maple syrup in the world, I'd head straight for the sugar shack at Booty Farm on Mt. Israel Road.
I really want to state again that my body mass is probably about 80 percent bagel. If you cut me in half, I imagine mostly sesame seeds would pour out — as that's my bagel of choice. So I really can't believe I haven't had one since this diet started — it's the longest stretch since we got back from a year in Malawi (where I broke down and made bagels from scratch).
It was the day before launch. I owed everybody a million things, and was sure I'd be working until the middle of the night. At 2 p.m., I ran over to Mike's Coffee Shop to grab something. Mike's has been our home diner since we moved to Brooklyn from Manhattan around a decade ago. And we love it. It's super homey, and they're super nice, and it has a proper diner-y, pressed-tin ceiling, and a proper neon sign in the window. You always bump into friends there, and the kids are often given lollipops when you pay, whether they need a lollipop or not. Also, the owners are really good about calmly managing the weekend waiting list when it's chaos and the throngs of folks are roaming outside waiting on tables.
I sat in the last booth and I ordered a coffee and a tuna sandwich on wheat toast, with lettuce, tomato, and onion. And a pickle spear! If there's a picture of me up above with a sandwich in front of me, that's the one. If there's a picture of me without it, it's because it's already in my belly.
The last supper. So, a friend was having a dinner party, and I did not go to that dinner party — though, again, I'd be killing it with the food over there. But, the next day was the launch event at Greenlight Bookstore, and I'd start traveling the morning after that, and except for a night here and there, well, I'll be hawking books on the road like a brush salesman for the next few weeks. This was basically the last night I got to be home with my wife and daughter and Calli the dog until tour slows down. Also, I usually come home from tour looking like I've eaten a bag of salt. That is, I'm so thankful to get to do readings and meet readers and shepherd the novel out into the world, but I will be eating a lot from after-hours menus, and CIBO Express airport food, and the day was gray and cold and some comfort food at home sounded nice.
So Rachel started kid dinner, and my daughter and I ran out to the supermarket around the block. We love going to the supermarket, me and her. We were getting ingredients for my friend Kitty's chili recipe. When my wife was in grad school (she's a professor), we lived in Madison, Wisconsin for three years, and our friend Kitty gave us a little book of her very Wisconsin-style dishes, which are great for this kind of weather. At the store, we also got the stuff for a green salad, because it sounded nice and I also wanted to keep my heart from exploding on the road.
At home, while my daughter ate, I got the chili into a giant pot and let it simmer until — as happens in our building — the whole floor smelled like cayenne peppers and onion. For the salad, I just used lemon and olive oil and salt, which is my single favorite dressing. And after our daughter fell asleep, Rach emerged and served up the chili. I chopped up some cilantro and chives for toppings, and we sat down at the table and dug in, with the dog underneath the table at our feet, which is my kind of dinner.