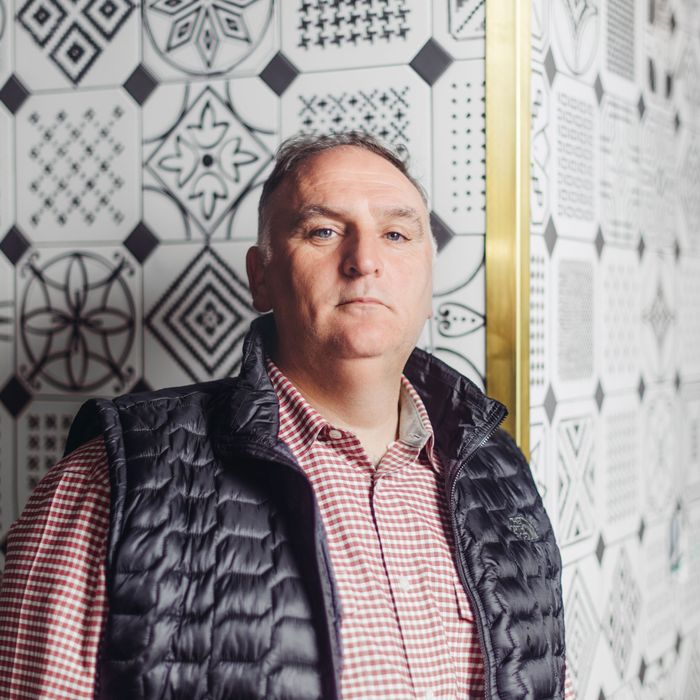 José Andrés, inside Mercado Little Spain, his first New York project.
Photo: M. Cooper
José Andrés said he would text me, even though he didn't have my phone number. The plan was to trail him during what would be, ostensibly, a day off in Washington, D.C., when he would be showing around a team of cooks and friends from Spain. "Plan" is a loose term; we had confirmed no details. Also, he had no way to get a hold of me. But at 10:30 in the morning, I got a series of texts: "Dupont Circle Market around 11:10." And then: "José Andrés." And finally: "If you can."
Agreeing to spend a day with José Andrés, megachef and worldwide humanitarian phenomenon, is a bit like arranging your own consensual kidnapping: You don't know what you're in for, and every stop will be a surprise. On this day, Andrés has planned a series of uninterrupted activities: First, a tasting tour of Dupont Circle farmers market. Then a field trip to Mount Vernon, because why not? Next, a pit stop at Andrés's preferred Maryland crab shack for heaping piles of seafood and never-ending glasses of wine, even though the crab shack does not sell wine. (When you're a visionary, like Andrés, you experience the world not as it is, but as it should be.) Finally, we end up at the Andrés family home for a Super Bowl party.
An hour before kickoff, a small fleet of chefs stands in the kitchen, tweezing anchovies on top of tiny mandarins, in case we're feeling peckish. There is a bowl, the size of a small cat, overflowing with perfect morels. Stacked pan de cristal is so singularly delicate — with a shattering crust and impossibly fluffy innards — that it can only be imported from one baker in Spain. There is a mountain of scallions big enough to … well, I don't even know what someone would do with so many scallions.
The most surprising part of the night, though, comes when the game starts — and José Andrés actually sits down.
"Nobody can keep up with him," says Rick Billings, who is the director of research and development at Andrés's company, ThinkFoodGroup, and who has worked with the chef for nine years. "I've seen people go down hard trying to keep up with him — you're just making a mistake to think you can try."
Again and again, people tell me — warn me? — about the impossibility of keeping up with Andrés. "I always think of him as this giant 12-year-old with the energy of a tornado," Tom Sietsema, the Washington Post food critic, offers, "but he's got the talent and smarts to back it up — he's not just this whirling dervish." Sietsema then recounts an extremely charming story, the punch line of which is: one time, José fell asleep.
It's not that Andrés is overly excitable or manic; if anything, his blue eyes, framed with CoverGirl-commercial lashes, offer a profound sense of calm. It's just that, at any moment, it's possible something could be better, and if that thing could be better, it should be, and the necessary adjustments must be made immediately. "With José," says TFG creativity director Rubén García, "you have to be ready all the time."
This is perhaps why José Andrés currently seems to exist everywhere, simultaneously. Not so long ago, he was what you might call chef-famous. He had "some restaurants" — when I suggest he runs a restaurant empire, he is quick to correct me; it's not an empire, just "some restaurants" — and if you cared about food or cooking or Spain or the restaurant scene in major cities around the United States, you knew about Andrés. Now, however, he is famous-famous, and you can't not know him. He is graciously posing for selfies at the farmers market and at the crab shack. He is in Haiti, providing disaster relief. He is in Puerto Rico, providing disaster relief. He is in Venezuela, providing disaster relief. He is in Washington, feeding federal workers during the latest government shutdown, and on Twitter, mobilizing hundreds of other chefs across the country to do the same. He is on TV, as Nancy Pelosi's guest at the State of the Union. He is on TV again, onstage at the 2019 Academy Awards. It was not outlandish when it came out that he'd been nominated for a Nobel Peace Prize.
What José Andrés has not yet done is open a restaurant in New York City. So naturally, the only thing to do is to open like 15 of them, all at once.
Mercado Little Spain, which will start opening in stages on March 15, as part of the massive Hudson Yards real-estate fantasia, is like someone took all of Spain, and distilled its essence, and then placed that hyperconcentrated version of the country on the far West Side of Manhattan. It is super-Spain. Hyper-Spain. An entire study-abroad semester condensed into 35,000 square feet.
"People use the word 'food court.' I don't know if it's a food court," Andrés tells me when we meet up in New York, taking shelter from the rain in a residential lobby across from what will soon be Little Spain. "Obviously, it's just a place to come and eat and drink and be social together." What he does not say is that, of course, it's more than that, because Andrés's name brings heightened expectations. And — just to make sure the stakes are stratospheric — he's collaborated with his old friends, Ferran and Albert Adrià, for whom Andrés once worked at elBulli, and who are almost definitely the reason that your boyfriend now owns a sous vide machine.
To start, there will be a market, Colmado, for canned Spanish seafood and cookbooks and Spanish dry goods. And a couple of kiosks, for patatas bravas and churros. And also a bar — Bar Celona — with cocktails and snacks. When it's finished, Mercado will encompass every Spanish thing Andrés has ever done, and more. There are things he wants to do there, he tells me, that are so Spanish, they don't even do them in Spain yet. It will have his name on it, and a mural of his face, and at least 40 different kinds of tile. It will have a restaurant, Leña, exclusively dedicated to the open flames of blazing wood, over which "seven, eight paellas" will cook each night. Mercado will have ham-cutters, of course, and they will be the best ham-cutters in the world. Disciples of the pig. "The way we cut ham in Spain is sacred — it's an homage," Andrés assures me. Most ham-cutting? An abomination. "The poor pig doesn't deserve to die twice!" At Mercado, the pigs will be respected in accordance with their service.
There will be xuixos, Spanish pastries that, Andrés tells me, Gwyneth Paltrow loves, and has delivered to her hotel room, which is saying something, because xuixos are fried, cream-stuffed croissants rolled in sugar and Gwyneth Paltrow is herself.
This is not all: There will be empanadas, real Spanish ones, like in Galicia. "I've been working all my life on them," Andrés says, solemnly. "I've been all my life saying, Shit, can I make a concept only of empanadas?" He has, at Mercado. Down the line, there will be a Spanish diner, called, appropriately, the Spanish Diner, with "very humble food, that you would also eat at home," like ham sandwiches and fried eggs, the Spanish version of Blue Plate Specials.
And last but not least there will be a still-top-secret, yet-to-be-announced, no-further-comment-at-this-time, ultra-high-end restaurant, which will be so elite that Andrés cannot even begin to discuss it with me. "There's no way that the Adriàs and Andrés are together and we don't do that," he says.
In some ways, it's a homecoming. In 1990, he arrived in New York straight from elBulli. He's not so big on the story anymore, but the very short version is that he and Ferran Adrià had a meeting about something, there was a misunderstanding involving the correct meeting time and a pay phone, Adrià got upset with Andrés, and "before I knew what's going on, I was in New York." He had an apartment for a while on 89th and Third, and one in Astoria, and then he lived "with some Polish guys who were renting me a room in the hallway." That arrangement didn't last long, not because of the hallway — he looks back fondly on the hallway — but because there were other places to be: Puerto Rico, San Diego, possibly Japan. Instead, he got a call from D.C. and, in the winter of 1993, became the chef at Jaleo.
Andrés will acknowledge that, okay, he didn't invent tapas, "but yes, we were the first tapas restaurant that believed in the small portion, the sharing, and we pushed to the limit so much that we influenced many other restaurants." Sometimes, Andrés asks himself, "If a restaurant like Jaleo didn't open in '93 in Washington, would the crazy sharing tapas become what it became?" As anyone who ate at restaurants in the late-90s and early-aughts will remember, there really was a small-plates explosion — Indian tapas and Japanese tapas and Bulgarian tapas (probably) — and if Andrés had not landed at Jaleo, maybe it is possible that we would have spent the last two decades of restaurant-eating stuck only with large plates.
What's certain is that Jaleo became the template for his expanding footprint, and Andrés's influence would not be limited to a single restaurant. After Jaleo came Zaytinya (Mediterranean small plates), and minibar (avant-garde small plates). Then Oyamel (Mexican small plates) and China Chilcano (Chinese-Peruvian small plates). He opened restaurants in Los Angeles and Miami and Las Vegas and too many others to get into at the moment. There were fancy restaurants and simple restaurants; the nonprofit, hunger-fighting World Central Kitchen; and, in 2015, a vegetable-focused fast-casual concept called Beefsteak, which is named for the tomato and features portraits of deranged, anthropomorphized vegetables on the walls. At present, Andrés's official restaurant tally, per his company, is "more than 30." There are so many projects that, on my way to talk to Andrés about Mercado Little Spain, I receive a press release announcing a different restaurant that he is also opening.
Andrés hopes Mercado will be as influential as Jaleo was two decades ago — more influential, even. "My fantasy is that we'll adapt to where Spanish cooking will be once and for all part of the melting pot in America, like it's supposed to be," he explains. And so far, it isn't. Despite his efforts, and he is not shy about them — this is a chef, after all, who once crusaded for a more accurate paella emoji — Spanish cooking, is "just at the beginning in America. There's way more to do," which, he is quick to point out, is a market opportunity.
There is so much that most Americans don't even know to appreciate about Spain! Did you know, for example, the Spanish invented Chupa Chups? "Everybody always jokes that every time I speak, I have an explanation for every single thing that began in Spain, which would not be far from the truth," Andrés concedes, "but sometimes you have to be chauvinistic to impose yourself." I tell him I did not know about the lollipops, which were very popular in my middle school in the '90s, but he's already moved on. Did I know that the Spanish also invented submarines?
"Every restaurant is like a baby that you have to change diapers, and you have to feed it, and you have to listen to it," Andrés tells me. "This year for me is a very iconic year. I'm becoming 50. It's the kind of year that we all …" he trails off. "You're past your half. I don't know if I live to 100, but probably not."
We're in a gelato shop on a brittle, dreary day in D.C. The chef is due at minibar in an hour, although, at the moment, he is thinking about time on a different scale. "I shouldn't be talking in terms of legacy, because I'm still technically very young," he says, "but something like this takes time, it takes effort."
"At the end," Andrés continues, "chefs, we are animals of restaurants." And then he corrects himself; he's not a chef, he's a cook. "Chef is too formal, too bureaucratic," he philosophizes. "Cook, to me, is more gut, more instinct. You are not afraid to fail."
He has done so many things, but what we talk about in the gelato shop is what he did not do. For example: become a professional actor. He thought he might. He did a lot of theater as a kid. He was in Godspell (as Jesus), and Jesus Christ Superstar (not as Jesus.) He was supposed to be Alan in Equus, but left for the Navy before it opened. "That one is probably one of the regrets I ever had in my life, that I couldn't do it." So he left for the Navy, and became a chef instead, and that was that.
But why worry about that now, really? Besides, it's all theater, isn't it, being a public figure, being a person? "At the end of the day, life is acting," he continues. "We all look happy when sometimes we're sad. We all look surprised when actually we are not. We all say something's very tasty when it's actually dreadful. To a degree, the planet is a drama-comedy of 7 billion people."
The day before, he tells me, he closed a restaurant — a relief kitchen, technically —which he'd been running for federal workers. The team clapped when it was over. "That was a play, to a degree, with a beginning and an end. Everybody participated. To have that number of employees on Pennsylvania Avenue, I think they were unconsciously playing the part of sending the message to power that what they were doing was wrong."
He's proud of that, and of what he's built. "To know I can help activate an entire operation for people in need, that feels good," he says. "To know I have a whole team opening up Jaleo in Orlando, at Disney" — he's opening a Jaleo in Orlando, at Disney — "even if I don't show up, the restaurant is going to be very good." This, Andrés explains, did not happen by chance. "This has been 25 years of very hard work, to get to this point." He says that Anthony Bourdain's unexpected death, too, has been difficult. "It's been a hard year, you know?" For once, I detect what I think might be, I'm pretty sure, an air of deep exhaustion in José Andrés.
But an hour later, at minibar, he is back on, with the famous tornado energy. Andrés is not really cooking the night's dinner, but he is vigorously hosting it, bounding between our table and the kitchen. His wife, Patricia, presides over my table, because the Andrés empire is at its heart a family business. ("I think he needs to have some center, some core in his life," Sietsema had told me, "and she is that core.") This dinner is a cross-continental collaboration between Andrés's kitchen and chef Diego Guerrero of DSTAgE, who's brought his staff from Madrid for the occasion.The teams take turns presenting their dishes: from Guerrero, a squid-breaded squid ball — the breading is more squid — nestled in a seaweed forest, surrounded by a haze of smoke. From Andrés, there is cod milt tempura that is so crisp and pleasantly oceanic that you could forget, even if you knew (which I did not), that "milt" is a more elegant word for "fish sperm sac."
There is also a bean dish that looks like a giant bean, only it isn't a bean. It is an amalgamation of beans and Spanish ham, crafted to approximate the magnificence of a certain Spanish bean that you simply cannot get here. There is a small snail shell filled with snail caviar, served on a bed of lightly polished rocks. There is a chicharrón, made not of pork but freeze-dried soy; there are liquid blimps of sunchoke bathing like synchronized swimmers in pools of hay cheese.
Each dish comes with instructions: Put the whole thing in your mouth. Bite first, broth after. Nibble the herb on the spoon. The effect of all this instruction is not annoyance, but reassurance. Of course we don't know how to eat this food because it is not food we've ever seen before. It is Extreme Food. It's a carnival of food. It's an hours-long question: Did you know food could do this?
Amid it all, Andrés holds court with the authority of a philosopher-king and the impish buoyancy of an oversize child. He doesn't need to be here. He could be at home, sitting, but instead he's at minibar with us. He is a fountain of top-notch opinions, on tasting menus ("If you don't like tasting menus, fine! Don't come here!"); on government ("off the record"); on the travesty of wood-fired "pizza" ovens (precious equipment like that deserves "baby pigs and lambs, not dough!" and besides, only an Italian would bake mozzarella). And he appears delighted to be sharing this exasperation, because it is his job to entertain, and he is a natural one-man show.
As he begins to explain that, yes, okay, he does like pizza — in the next breath, he will go on to praise several local pizza-makers in extreme detail — I think about something he told me earlier, at the gelato shop. "Everybody thinks I have a lot of energy," he'd said. "I feel like I don't have as much as I used to before. But at the same time," he added, "you become older and wiser and don't waste your energy in the things that are not important. I think I'm going to start moving in that direction."