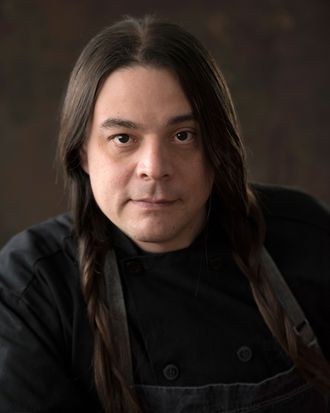 The Sioux Chef's Sean Sherman.
Photo: Heidi Ehalt
For its ninth ever Leadership Awards, the James Beard Foundation will honor an organization and four individuals who are advancing the conversation on sustainability, food justice, and public health. This year honorees include the Pioneer Valley Workers Center Women's Collective, which organizes grassroots campaigns for food workers' rights in western Massachusetts; Cornelius Blanding, executive director of the nonprofit Federation of Southern Cooperatives; Anim Steel, co-founder and executive director of Real Food Generation; Leah Penniman, co-executive director and program manager of the anti-racist Soul Fire Farm; and Sean Sherman, the founder and CEO of the Sioux Chef. Through his company, Sherman has sought to revitalize and promote the indigenous food of the Americas.
This award comes at a particularly exciting and fruitful time for Sherman. Last year, his cookbook The Sioux Chef's Indigenous Kitchen won the James Beard Award for best American book. Through his nonprofit NATIFS, he is now in the process of opening a nonprofit restaurant and training center called the Indigenous Food Lab.
The recipients will be honored on May 5 at the Dalcy in Chicago, during a ceremony hosted by Gail Simmons of Top Chef fame. Congratulations to all.