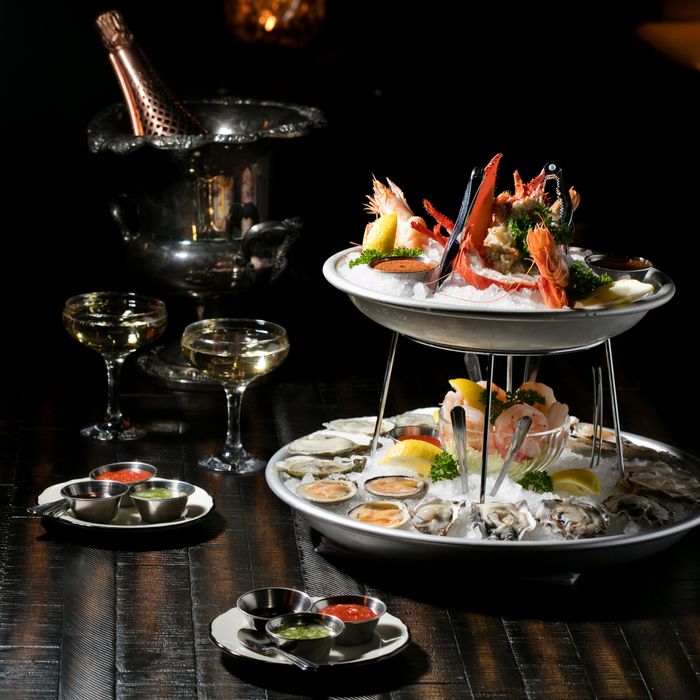 Seafood towers > unlimited breadsticks.
Photo: Melissa Hom
Everyone knows that, in order to pass the prestigious Real New Yorker test, one must swear to do everything in her or his power to avoid Times Square at all costs. This is a tourist-mobbed neighborhood, after all, that dares to house restaurants like the Bubba Gump Shrimp Co., a ridiculous Olive Garden location, and, of course, the city's lone Hard Rock Cafe. There's a reason this is the part of town where Guy Fieri chose to launch his ill-fated, donkey-sauced New York invasion. Yet, over the last year or so, Times Square has seen a string of bar and restaurant openings that make it a very intriguing place to grab a meal, or at least a drink.
For some hardened downtown restaurateurs, the fact that Times Square is populated with national brands is part of the appeal. "Times Square is iconic — we want to try to go into iconic locations. And it is all chains, so there aren't many concepts like us around there," says Kyle Cameron, a co-owner of Los Tacos No. 1. The Chelsea Market–born, California-style taqueria, which pairs some of New York's best tacos with a clean aesthetic, opened its second location on West 42nd Street in the summer of 2017. "We want to open in high-traffic areas; we don't want to open on the LES or whatever."
Chef turned restaurateur John Fraser reshuffled his budding restaurant empire (leaving behind Narcissa in the Standard East Village, for example) in order to open on West 47th Street. The chef recently rolled out four projects in the Edition Times Square, which is right in the glowing, frenzied thick of it. "When you're inside of the hotel, you're like, 'Holy shit this is in Times Square,'" Fraser told Grub when we discussed his new projects. "But it doesn't feel like it. Not the Times Square that I recognize."
Fraser's name is synonymous with a certain style of elevated neighborhood fine dining, not the big-box, high-volume feedlots that most people think of when they consider their pre-theater dining options. The chef's businesses in the Edition include a cabaret called the Paradise Club — for which he collaborated with Bushwick's gonzo party venue House of Yes — and the fine dining, wine-centric spot 701West, where dinner might include octopus carpaccio with a tomatillo mosaic, seaweed-baked maitake mushroom with mustard, and very high-end A3 Japanese wagyu with black-garlic jam. There are no mile-high sundaes of cheap ice cream for dessert, but instead delicate buckwheat puff pastry with vanilla and parsnip cream and salted caramel.
There are even good, quality-minded bars opening up. Aside from the great Rum House, drinking in or near Times Square means mediocre pubs, overcrowded sports bars, and weird theme places. But earlier this year, the civilized Gramercy cocktail bar Dear Irving — roughly as far from Dave & Buster's territory as you can get — expanded to the Aliz Hotel on West 40th Street. And not too far from Times Square is the Polynesian, the 4,900-square-foot tiki temple from the purveyors of gilded downtown cool the Major Food Group.
Of course, international chains are also still interested in Times Square — yet even those tend to be more interesting than run-of-the-mill mall restaurants. This week, the Japanese import Ichiran opened its third location in this city, taking over the former home of Sapporo — which was one of the city's first ramen restaurants — just north of Times Square. It's a far cry from the industrial Bushwick nook where Ichiran's first New York location opened. Times Square, by comparison, offers hundreds of thousands of pedestrians. "Our goal for coming to New York," says Annie Chen, the operations manager for Ichiran USA, "was to open a restaurant in or near Times Square." Chen, who says the company will next expand to Europe, adds, "We're using this as a stepping stone in a way, to get a wider audience to become more familiar with who we are, our food, in order to bring it across the Atlantic."
Like the owners of Ichiran, the owners of 60-year-old Pastrami Queen — they also operate Friedmans Lunch and Friedmans — see the move into Times Square as a way "to test the waters" of their expansion plans. Their newly opened, second-ever location is found a little bit down West 49th Street in the Pearl Hotel. "We decided that this was the best bet. There are a lot of great, thriving businesses in Times Square similar to an old New York joint," says Pastrami Queen manager Jack Turner. "We could've gone to Soho or the Lower East Side. But there's not really a kosher deli in Times Square."
In what you could describe as the ultimate irony, the Bromberg Bros Restaurants — whose group was one of the New Yorkiest of the 2000s — have taken over the space formerly home to Guy Fieri's ill-fated "kitchen and bar." They've converted the 16,000-square-foot space into a giant outpost of their Upper West Side spot the Ribbon, complete with an over-the-top lounge called Blue. There, you can pair bright-blue tequila drinks in fishbowls with caviar service. Speaking with Grub earlier this month, Bruce Bromberg said he's excited by the opportunity to change "the neighborhood a little bit towards a bit more of a local scene and also gives the tourist a little bit more of a New York flavor." It's a sentiment echoed by Turner.
"I think tourists are appreciating more New York–based food now," he says. "Rather than these big chains that are there in Times Square."