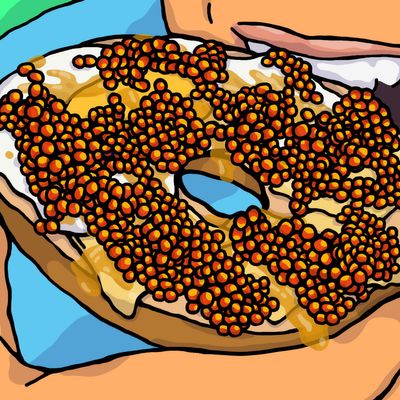 Egg and cheese on a bagel, improved with a Russian-inspired addition of caviar and honey.
Illustration: Alexander Atkinson
Like any New Yorker, my mother loves an egg-and-cheese on a bagel. She eats one for breakfast most mornings. She'll crack an egg into a hot pan, and pop the yolk with the side of her spatula while it fries, coating the firm egg whites with a thin layer of yellow. She covers the bagel's bottom half with cheese — Swiss, gorgonzola, maybe some provolone — and slides the cooked egg on top.
Then she takes the bagel's top half and spreads on a thin layer of honey. After that, a little bit of red caviar, the small eggs shaped like pomegranate seeds. Then she closes the sandwich and takes a bite.
My mom has loved caviar and honey since she was a little girl in Russia; when she arrived in New York more than 20 years ago, she fell in love with the quintessential New York bagel. So she combined them.
My brother was born in New York, and I moved here when I was 6 months old. We have known the city's culture all our lives, and we consider ourselves Americans first and foremost. But we've also been exposed to hybridized meals that are united by the flavors of our home country and those of our parents'. In our case, that means Russian-American meals, but it's a situation that will be familiar to many children of immigrants.
Professor Krishnendu Ray, the chair of NYU's Nutrition and Food Studies department, says this type of melting-pot cooking is noticeably common, as immigrants form what he calls bridges between their native cultures and the new ones they've adopted. This experience is nothing new, of course, and some of America's greatest foods are cross-cultural mash-ups, but for the children who grow up with this kind of food, it can result in entirely unique eating experiences that become as familiar as they are distinct.
Food writer (and Grub Street contributor) Priya Krishna's upcoming cookbook, Indian-ish, is a collection of recipes from Krishna's own mother, who began altering the traditional dishes she'd eaten in India when she came to the United States. "She couldn't find a lot of the ingredients she was used to, like roti and certain spices," Krishna says. "She tells me stories [about] eating her daal with pita and working with olive oil and discovering it worked really beautifully in Indian dishes."
For many children, the dishes can be revelations. The last time my mom made gnocchi, she stirred the dumplings into a vegetable stew that had the distinct flavors of Eastern Europe: dill weed, hints of parsley, onions, and maybe the occasional carrot. (Served with aplomb, as if it's a normal dish that my very American mouth should have craved.) The Russian-Italian-American fusion made my taste buds feel temporarily unmoored, uprooted from their familiar trenches and thrown down a cliff of confusion — until I registered just how well the stew's flavors played off the comforting gnocchi. For my mom, it was no big deal — she was just cooking an unfamiliar ingredient the way she "knows how," she told me — but the final product was something entirely new.
My friend Jason, a first-generation American from a Guyanese family, grew up with his own traditions. "I don't like American meatloaf — I think it's disgusting," he says. "But my mom makes it really well. She uses curry powder to make it. It's a very prominent West Indian spice." He said his family tends to spice meatloaf differently each time they make it, transforming this American meal into something more familiar for them, using curry powder, turmeric, and other spices.
Another friend, Joy Ling, told me about a time her family went to an Italian restaurant for dinner, and her grandparents felt inspired to create their own version of marinara sauce — made out of tomato sauce, garlic, and oyster sauce — to serve with fish, inadvertently fusing together Italian-American and Chinese food.
Ray, from NYU, points out that, while this happens everywhere immigrants might settle, it's a much more frequent occurrence in a city like New York, where 38 percent of residents are foreign-born immigrants, and cross-cultural pollination happens every day.
Ray explains that immigrants who experiment with foods from dual cultures are more likely to believe that the food a person eats is not an identifying factor of their culture; food is more malleable than something like religion, he explains, pointing out that, "If a child changes his religion, that feels like a much bigger betrayal than changing food." Immigrants don't seem to view food differences as a "loss of culture."
And, as it turns out, my mom's caviar-and-honey egg sandwich fits in with these trends in other, more unexpected ways. Breakfast is the most frequently altered meal, Ray tells me. In his studies, he's found that women are usually responsible for meals in immigrant communities, but nowadays are generally part of the workforce and have less time, so traditional breakfast elements become more prone to be modified or replaced. The timing of the meal is also crucial: "Breakfast is a meal that opens the door to the public world. You get out into the world, you go out into it, you work in it." So immigrants are looking toward the community outside of their own, which is why they're more open to trying newer or less familiar flavors with the first meal of the day. "Then you come home; you kind of shut the door behind you, and physically and materially, you want to create a bit of an island of your native culture," Ray says.
This kind of cooking expanded my palate in ways I couldn't recognize at the time. Eating food that's fused from different cultures encouraged me to experiment with ingredients and unfamiliar cuisines in my own cooking and dining. But beyond that, for my family, and for millions of families like mine, food is ultimately just one more way to learn about and participate in American culture. And like those millions of other families, we do it in our own particular way — making our own food life that much richer.