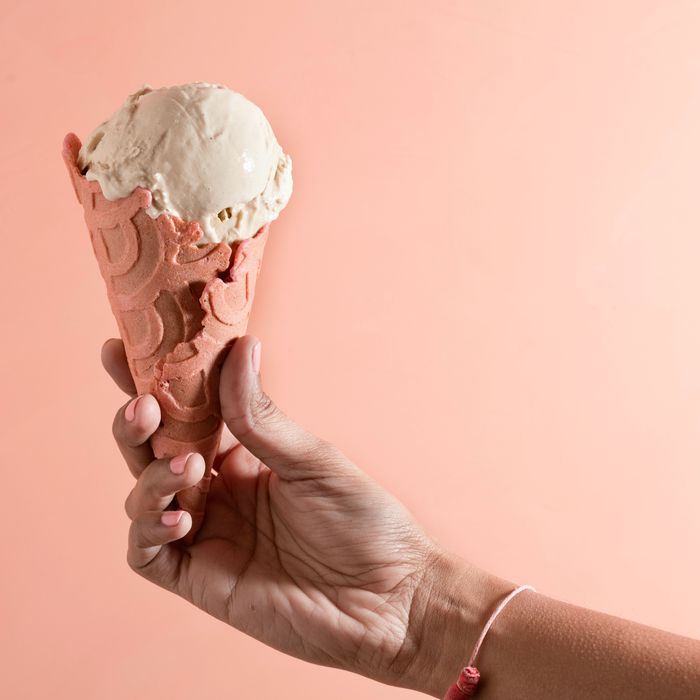 Malai's Turkish coffee ice-cream in a cardamom cone.
Photo: Melissa Hom
Pooja Bavishi had to be told three times that she should open her own ice-cream business. First by her own parents, who ran a textile business for most of her life. Then by her friends, who fell for a ginger and star anise ice-cream she made for Friendsgiving a few years ago. And finally, by one of her business-school professors at NYU.
"I'd been talking about it as a far-off dream," Bavishi says. "I didn't trust myself at that point." But after taking Penn State's three-day crash course in all things ice-cream and perfecting an eggless, Philadelphia–style base, Bavishi went all-in in May 2015, selling ice-creams influenced by her Indian-American upbringing at the city's various food markets, under the Malai Ice Cream banner. ("Malai" figuratively means "cream of the crop" in Gujarati.) After success at markets and in the wholesale realm, Bavishi will finally open a permanent shop on Smith Street in Carroll Gardens tomorrow, March 2.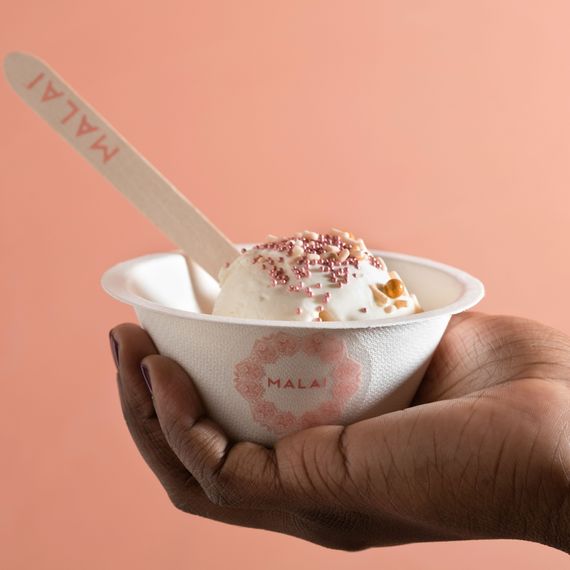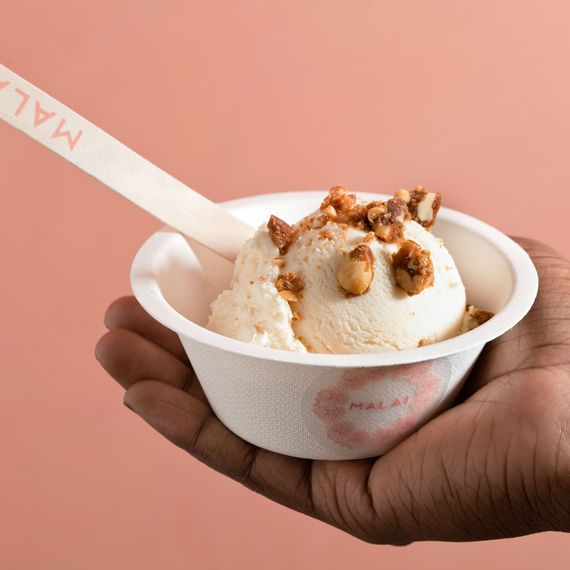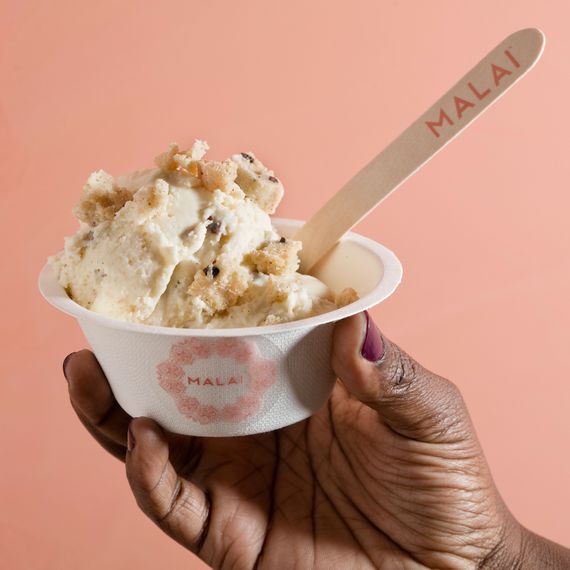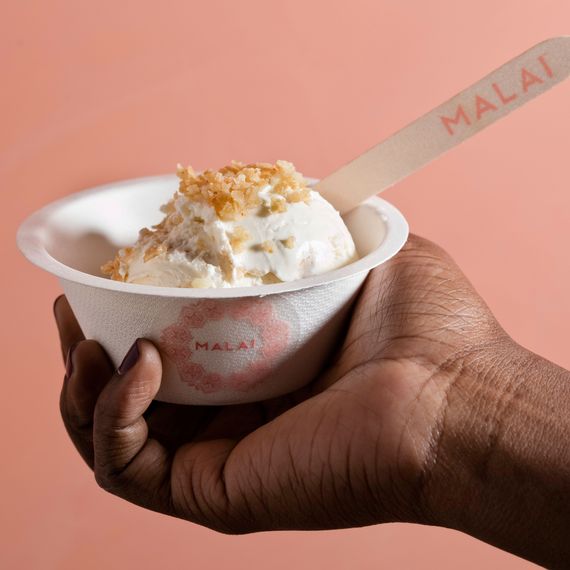 To start, the shop will showcase 12 of the 23 flavors Bavishi has developed over the last 4 years. Some, like Turkish coffee, masala chai, salted brown butter pecan, toasted nutmeg, and sea salt vanilla (inspired by Bavishi's childhood habit of sprinkling table salt on her vanilla ice-cream) will be accessible to most ice-cream lovers. But it's flavors like mango and cream, orange fennel, and rose with cinnamon-roasted almonds and toppings like cocoa-nib cardamom shortbread and ghee peanut brittle with jaggery that show off Bavishi's ability to create impressive flavor combinations inspired by South Asia.
"Rose is everywhere now, but even four years ago, it wasn't at all," Bavishi explains. "Usually you see it paired with pistachios or cardamom. But roses and almonds come from the same family, so that's a natural pairing to me. It's a little more elevated, it's a little bit more Malai, but it's still that really nostalgic taste that I was going for."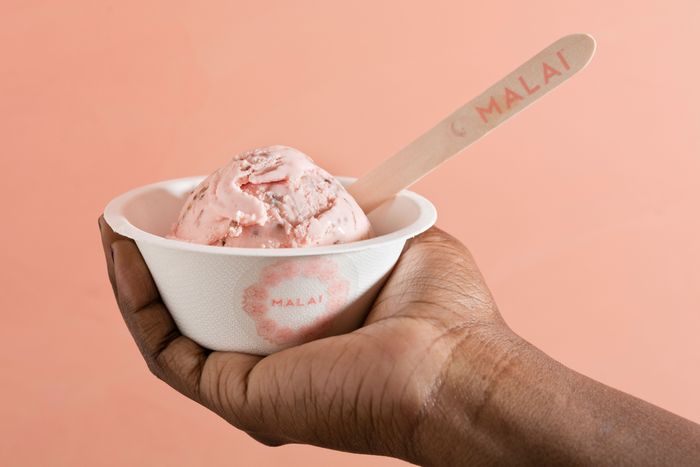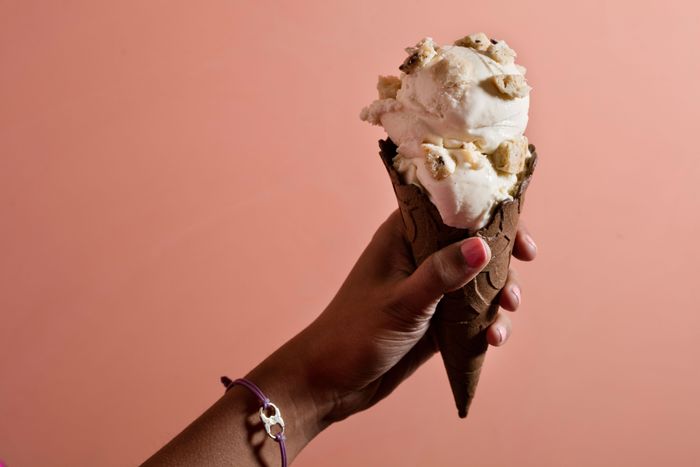 Bavishi will also debut a new flavor each month. For March, she's created sweet roti and ghee, a nod to a tradition among Indian families of adding toasted roti with jaggery and ghee butter to dishes like dal and lentils so that small children will eat them. Bavishi turned that into an ice-cream by infusing the ice-cream base with roti and swirling in a jaggery and ghee crumble throughout. It also happens to go very well with the dark chocolate, cardamom, coconut, and cinnamon cones Malai developed with the Konery.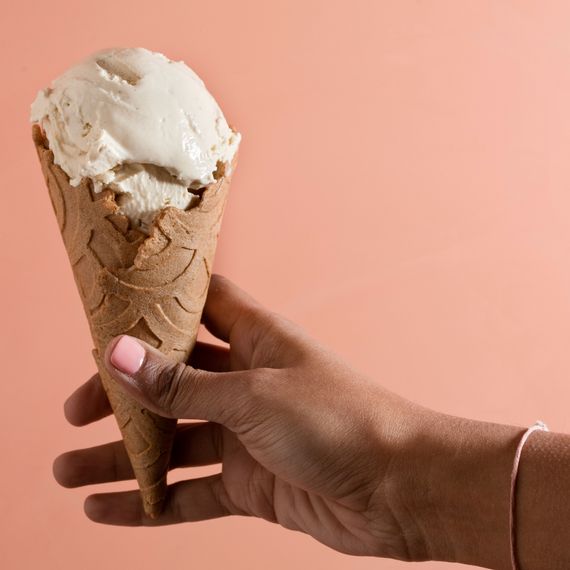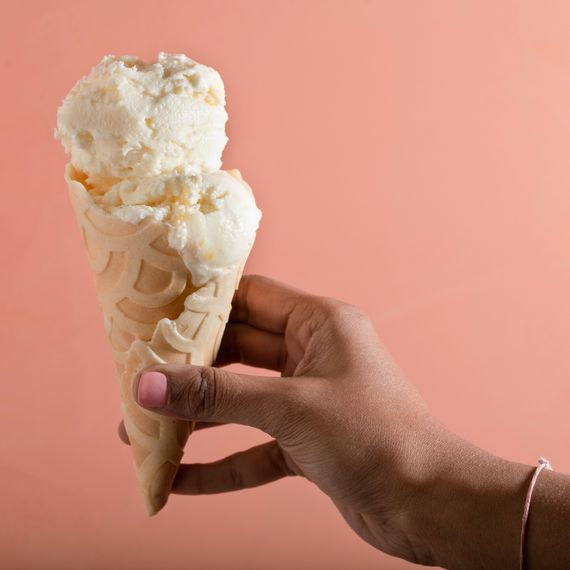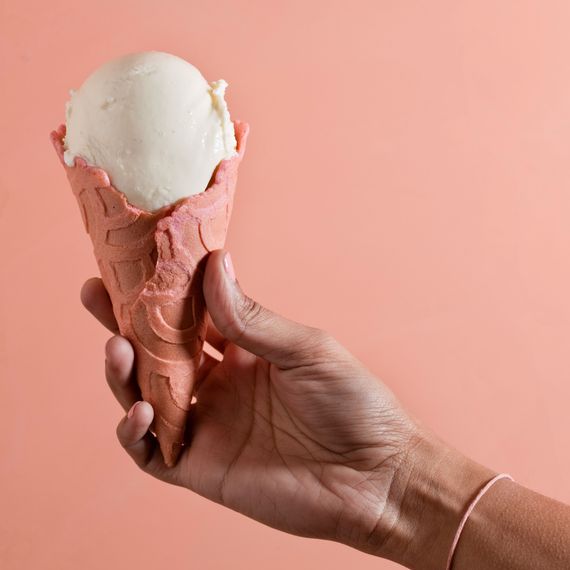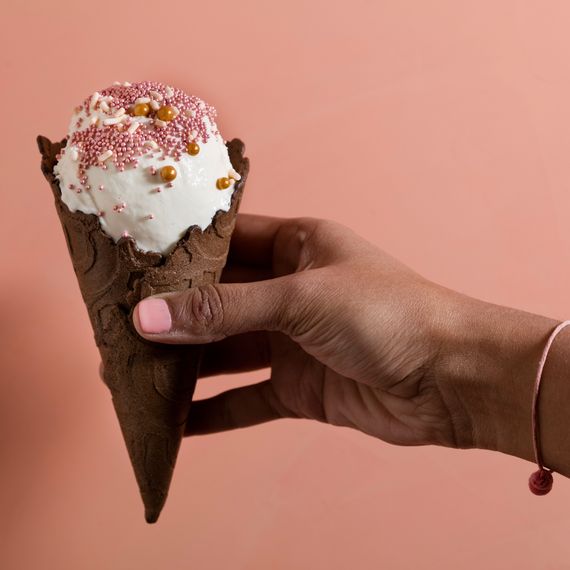 Every flavor of Malai ice-cream is suffused with Bavishi's memories, but she's quick to emphasize that these ice-creams aren't representative of India, but of her own tastes and influences.
"This is about the flavors that I specifically grew up with, not flavors that all Indians grow up with, not flavors that only Indians in India grow up with or Indians in America grow up with," Bavishi says. "But that in and of itself is a connecting point … there isn't anything that connects us more than food and the memories that it brings up."