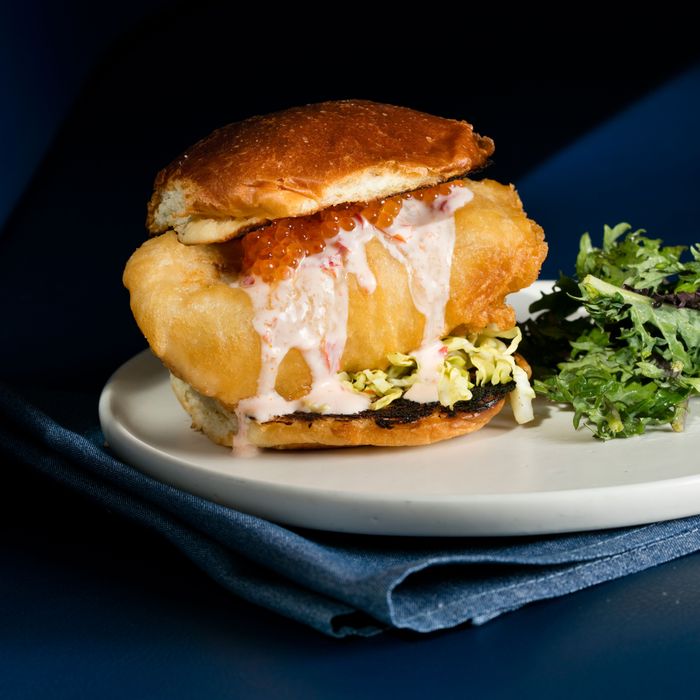 Gloria now serves a very good fish sandwich for lunch.
Photo: Melissa Hom
Every month in New York, there are a bewildering number of new dishes to eat, drinks to imbibe, and food-themed events to attend. Often, the hardest part is just figuring out what's really worth your limited time. So Grub kicks off each month with a curated selection of dishes, drinks, and events that should absolutely be on your agenda. Make your plans now.
1. Eat Cedric Grolet's famous, uncanny trompe l'œil "fruits" in New York for the first time.
The sugar singularity begins April 5. That day, Dominique Ansel — whose Cronut unleashed a thousand stunt pastries — will host Cedric Grolet — whose version of trompe l'œil has inspired a proliferation of pastry "apples" — at Dominique Ansel Bakery. The pair of Frenchmen are inarguably two of this century's most creative pastry chefs, having shaped their field in recent years like tempered chocolate. Through April 7, Grolet will serve his famous "fruits" in New York for the first time. Which means that at long last, after months of feverishly praying to the pastry gods, you'll be able to chase your Cronut with several of Grolet's sculpted fruit.
2. Have a crispy fish sandwich for lunch at Gloria.
A classic fish sandwich — crispy, flaky white fish, a pat of punchy tartare sauce, maybe some crunchy lettuce on a squishy bun — can't easily be improved upon. But this is no knock against other fish sandwiches: For Grub's money, there can never be enough variety in the genre. It seems that the guys behind the pesctarian restaurant Gloria agree, as they're now serving not one but two fish sandwiches (both $14) during the restaurant's recently started lunch service. There's a messy and tasty spin on the classic version, a fat piece of of crispy hake with a light breading that's topped with chili yogurt (a nice and bright alternative to tartare) and garnished luxuriously with trout roe. If you're in the mood for something different, there's also a confit mackerel salad sandwich that's more of a longshoreman's lunch. There are some clever and less traditional lunch options on the menu too, including stracciatella that, with fava beans and mint oil, is tucked under fava and mint leaves like a present. Just don't pass on the puddin' ($8) dessert.
3. Listen to Ruth Reichl speak about her new memoir covering her time at Gourmet.
From 7 p.m. to 9 p.m. on April 1, the great Ruth Reichl will speak with Esquire critic Jeff Gordinier at St. Ann's Church about her new memoir Save Me the Plums. The event is being hosted by the Books Are Magic (tickets are $33.50), and Reichl will talk with Gordinier about the the book, her first time recounting her experiences as the top dog at Gourmet. This isn't the only not-to-miss Books Are Magic event this month. Washington D.C.-chef Kwame Onwuachi's memoir Notes from a Young Black Chef (written with occasional Grub contributor Joshua David Stein) and frank depictions of his experiences in fine dining kitchens are already causing a stir. Onwuachi and Stein will chat at the bookstore on April 11 (RSVP here), from 7:30 p.m. to 8:30 p.m., in a conversation moderated by Bon Appétit's Christina Chaey.
4. Cap off your month with a dinner at Di An Di inspired by Andrea Nguyen's latest book.
Now this is a pairing Grub can get into. The acclaimed cookbook author Andrea Nguyen is headed to Greenpoint's vibrant Di An Di on April 30, for her first dinner with a New York restaurant. Celebrating her new cookbook Vietnamese Food Any Day, the five course meal will be influenced by her recipes and hosted by Nguyen. Along with the meal, you'll get a signed copy of the cookbook and gifts from Red Boat Fish Sauce. Tickets (now $78, having been cut down from the original $100 price tag) are available on April 1 via Resy, and there will be an open bar for the first seating.
5. Ring in spring with a dinner of new dishes at Lalito.
To celebrate the annual thawing, Lalito will host a three course dinner of spring dishes (dinner is $60, reservations can be made here) on April 1. Dinner kicks off with crudo and spring sunchokes, and includes skate escovitch and braised rabbit with bok choy. There are sides like avocado papaya salad and corn esquites, and dessert means quatro leches cake — and to think you've been subsisting on just tres leches all these years! — and queso and guava pastillo.
6. Get a cone or two of Vietnamese cold-brew ice cream.
Speaking of the seasons changing, have you felt it? No, Grub is not talking about the birds chirping or whatever. We're talking about the Mister Softee trucks on the street, the true indicator of spring. To ring in the season, Chinatown soft serve parlor Soft Swerve has brought back its cold-brew Vietnamese coffee flavor ($4.50). A collaboration with the crew behind Madame Vo and Madame Vo BBQ, it's made with coffee brewed from Vietnamese coffee beans and available as a swirl with the shop's matcha flavor — if you really need a pick-me-up.
7. Have Johnny cakes for brunch one morning, and breakfast udon the next.
There are a couple exciting new brunches in town. Matt and Emily Hyland's grilled pizza restaurant Violet, fresh off a review in the New York Times, ended March on a breakfast-y note. Over the weekend, the restaurant started serving a handful of dishes from dinner as well as some news ones for the early afternoon crowd. (Specifically, the 11:30 a.m. to 3 p.m. crowd.) There's grilled chorizo with Johnny cakes and mornay scrambled eggs, the requisite everything-bagel spin in an everything-grilled pizza with smoked salmon on the side, and more. Over in Williamsburg, the all-day Bar Beau is now serving a rather tantalizing dish called breakfast udon from 11 a.m. to 3 p.m.. Those noodles come with red miso, hijiki, Grana Padano, and fried egg — and you can pair with them other dishes like buckwheat pancakes with cashew cream.
8. Sign up for an immersive Iranian cooking class.
The League of Kitchens is a wonderful and inspiring organization, a recreational cooking group that runs immersive classes by female home cooks out of their own homes. Since founding it in 2013, Lisa Gross has gradually added new instructors. And they've just brought on a new instructor, Mab, for their first Persian cooking classes. Her father owned a restaurant, grocery store, and tea company in Iran, and she came to New York as a refugee fleeing persecution for advocating for women's rights in her homeland. There are still tickets available to her April 20 vegetarian class (it costs $175) which includes lunch, the three hour class, dinner, and information on recipes and shopping. On the menu? Herbed Persian frittata, steamed rice with fava beans, a yellow split pea stew, and more.
9. Go to a pop-up from one of Chicago's favorite cocktail bars.
It's a tale of two cocktail bars. Chicago's tiki bar, Lost Lake, will pop up at Miami import Broken Shaker, the tropically inclined bar in the sky. On April 15 from 6 p.m. to 9 p.m., Lost Lake's Paul McGee and Shelby Allison will serve drinks (pricing being determined) like the Feet First in the Deep End (bourbon, Guatemalan rum, Panamanian rum, banana, amaro, and Angostura bitters), a Daiquiri Frappe, and Trader Vic's Fogcutter (rhum agricole, dry gin, Conac, orgeat, curaçao, Amontillado sherry, and lemon).
10. Go to an event for an exciting new Italian cookbook.
The Rome fixer and all-things-Italy writer Katie Parla is in town to promote her second book, Food of the Italian South. She's dropping by Archestratus Books + Food on April 19 for a question and answer session with the fun and passionate Beatrice Ughi of Gustiamo, the excellent Italian importing company from the Bronx. Tickets ($30 here) for the event include a signed copy of Parla's cookbook as well as properly thematic treats.
11. Learn everything you need to know about how to make soba.
Here's your chance to ask all the questions about soba that you were always too afraid to. The Japan Society will host the Japanese chef Shuichi Kotani (of Worldwide-Soba, Inc.) for its April 17 event ($21 for general admission, $17 for Society members), aptly titled Making Soba. Kotanu will divulge details on how to make the best buckwheat noodles, from the importance of humidity to kikuneri (a kneading technique), and demonstrate how to make them himself.