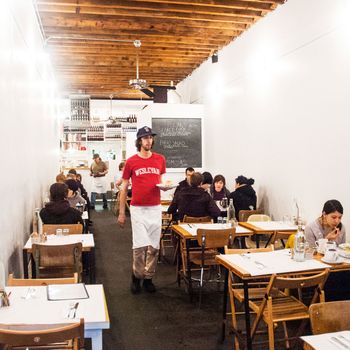 Brooklyn farm-to-table restaurant Egg was named on the list.
Photo: Ryan Monaghan
Restaurants are notorious for not always being the best places to work. The industry has a 72.5 percent turnover rate and a long history of abusive work environments, among other things.
But for every "rule," there is almost always an exception. Today, Food & Wine published its first-ever list of great restaurants to work for, highlighting 19 restaurants that are creating a gold standard for restaurant work culture by providing health care, paying a living wage, creating pipelines for promotion, and more. To lead the effort, the magazine tapped Tracie McMillan, the award-winning investigative reporter best known for her book The American Way of Eating and her 2012 story on the systemic abuse of farm laborers through wage theft.
McMillan is the first to admit that "there are still flaws in this inaugural list," but it's nonetheless a fascinating exercise in determining what the ideal restaurant work environment should look like. Among this year's honorees are Brooklyn farm-to-table restaurant Egg, the trio of restaurants owned by Seattle chef Edouardo Jordan, and chef Gabriela Cámara's Cala in San Francisco. Check out the full list below.