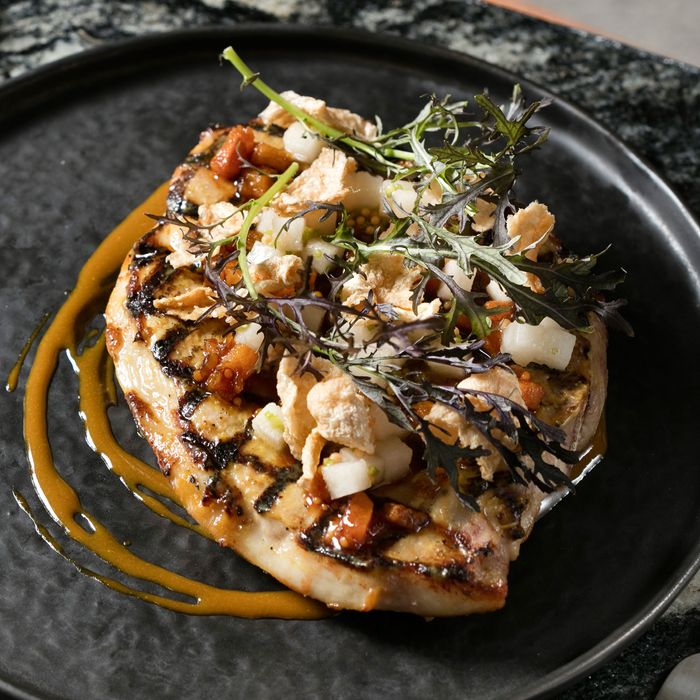 Grilled porcelet with Asian pear and mustard.
Photo: Melissa Hom
If you were to, say, hatch your dream plan to build New York's next great restaurant group, you might fantasize about making your entrance at a place like 70 Pine Street. The 925-foot-tall, 87-year-old building is a landmarked Art Deco statement of a building, standing out even among the huddled towers of the Financial District. Originally the headquarters of Citgo (then Cities Service) and later AIG, the building was purchased in 2012 by developer Rose Associates and converted to luxury apartments. And it's also where the former chef de cuisine of Eleven Madison Park and executive chef of the Nomad James Kent and his partner Jeff Katz will have their first and second restaurant — as well as bar — starting with Crown Shy, which officially opens tonight.
Reached through the building's (landmarked) marble lobby, the 120-seat Crown Shy is a sprawling and dramatic space. The ceilings are warehouse high, the windows are 16 feet tall, and the design is clean and modern. To make the space more intimate, and not just one big box, they divided it with semi-transparent screens. There's a long marble bar separate but visible from the dining room. (There's also a large private dining room located, through a hallway, behind the kitchen.) Influences come from places like the Maison de Verre, which was built in Paris at the same time as 70 Pine Street. But the greatest influence is the downtown New York aesthetic that Kent grew up with, best captured by the contrast of the industrial beams and blond wood tables.
"I grew up here in the '80s and '90s; we would run the streets in Soho and Tribeca, and it was this very influential area for me as a kid," Kent says. "It was also where Chanterelle and Nobu and Montrachet and all these incredible restaurants were really growing in this neighborhood that was abandoned … The idea is to bring that to this space, some kind of elegance and some kind of raw."
In any other situation, Crown Shy would be, well, the crown jewel. But the real prize here is the sky-high space spread out over the 62nd, 63rd, 64th, and 66th floors, which promises sweeping views of the city, outdoor terraces, and, for Kent and Katz, an opportunity that they couldn't expect to come again. That restaurant in the sky won't open until the fall at the earliest, so for now, at least, the two are keeping themselves grounded.
Kent's career is one road map through some of New York's most influential restaurants of the last 30 years. He cooked at places like Bouley and Jean Georges before landing at Eleven Madison Park. Kent wasn't just another cook at EMP, but as its chef de cuisine helped shape the restaurant during the first two years after Daniel Humm and Will Guidara bought it from Danny Meyer. After six years there, he then became executive chef of EMP's acclaimed sister restaurant the Nomad in 2013. Kent didn't cross paths professionally with Katz, who since 2006 has worked at Del Posto. (Following Mario Batali's divestment, Katz and chef Melissa Rodriguez were named managing partners at the restaurant.) The two were introduced by a mutual friend a year-and-half ago, they say, and broke red sauce over chicken parm at Emilio's Ballato.
"We kind of understood that we have very similar points of view and come from similar places in the restaurant world," says Kent. The chef had signed on to 70 Pine Street back in the spring of 2017, and showed Katz around after being connected. "It just seemed like an opportunity someone in my place in my career wouldn't pass up," Katz says. "It would be stupid if I had."
At Crown Shy, as Kent and Katz tell it, they're sewing with threads from throughout their careers. This includes the well from which they've drawn a staff that Katz calls "super, super connected." The team here includes pastry chef Renata Ameni, who worked with Kent at EMP; wine director Luke Boland, who worked at Del Posto; and bar director Jonathan Lind, who was at the Nomad with Kent. It's also evident in the design and the menu, which Kent describes as a break from what he cooked at the Nomad.
"It's rooted in European cuisine, but the goal is not to give us any boundaries," he says. While saying that EMP and the Nomad do inform what he does here, he adds, "There were definitely limits. I want things to be bolder. I want things to be spicier. I want things to be brighter."
Take the snack of Gruyère fritters seasoned with chili and lime, the squash mole that's served with the sea bass entrée, or the chimichurri served with the roasted short rib. That last one is the menu's only real statement dish — it's plated on a custom wooden piece, with a bleached bone as a serving vessel — and one of only four entrées. (Roughly two-thirds of the menu is comprised of smaller dishes.) And when Kent says there are no boundaries, he also means domestically. He's drawing from New England (the charred carrots with razor clam chowder) and California cuisine (the romaine with green goddess dressing).
Ameni takes a similar approach to her desserts, which range from a pineapple pavlova with coconut sorbet to sticky toffee pudding, and the cocktail menu is equally expansive. There are 16 boozy drinks and three thought-out nonalcoholic options from Lind and head bartender Harrison Ginsberg. "There's much more going on here than some rebranded version of a sour and Manhattan," Katz says. He points to the combo of butter-washed rum and plantain in the Captain Kidd, or the togarashi in the mezcal-based Flightplan. There's a similar creativity at work with the non-boozy drinks; consider the Hojito, which pairs herbal, minty hoja santa with lime, herbs, and tonic.
"Without saying it sounding like we're the Cheesecake Factory, there's something for everybody," Katz says. "And there are influences coming from everywhere, but first and foremost the drinks and food should be delicious."
Crown Shy, 70 Pine Street, nr. Pearl St; 212-517-1932