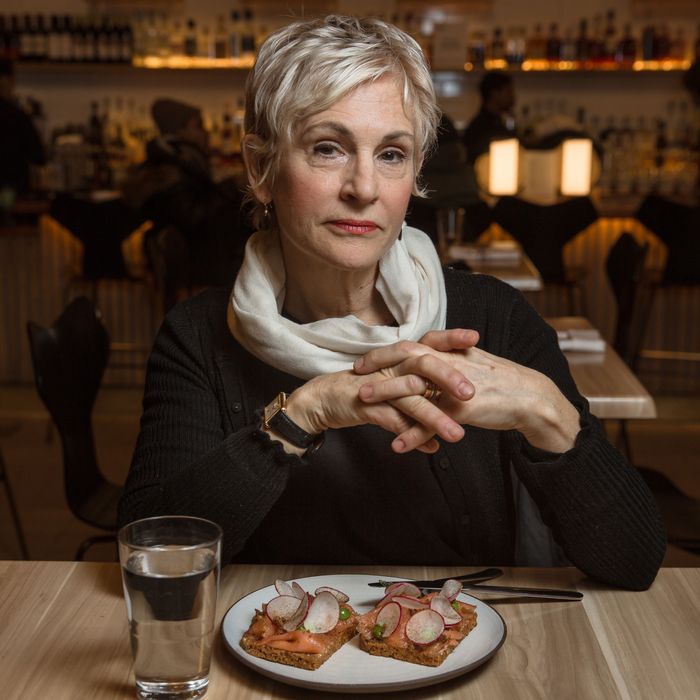 Claudia Fleming at the Great Northern Food Hall.
Photo: Scott Heins
The James Beard Award winning pastry chef and cookbook author Claudia Fleming has been known to say things like, "I just wanted to be a good cook." But when you count the cakes, there arguably hasn't been a more influential New York pastry chef over the last 30 years. Her unfussy, comforting, and seasonal desserts at Gramercy Tavern in the '90s were a break from the high-minded desserts served then; now, it is the style. Since 2005, she's been at the North Fork Table & Inn, which she and her late husband Gerry Hayden bought that year. (She now oversees sweets at her old Gramercy Tavern pal Tom Colicchio's restaurant Small Batch, too.) She still makes it into the city, as she did this week when she popped by her old favorite Orwashers, but spends most of her time on Long Island indulging her love of popcorn and chasing fancy clam pizza with Haribo gummies. Read all about in this week's Grub Street Diet.
Thursday, March 7
Woke up and started my day with two cups of local Aldo's coffee, black. It's a very dark roast, which is not really what's fashionable right now. Lighter roasts are more fashionable, but I find them to be much too acidic for my taste.
The restaurant was closed, it was my day off. So I took the 7 a.m. Jitney to the city to visit my dear friends, Cathy and Jim, who just moved around the corner from the Upper East Side apartment I share with my sister. (It was my mom's apartment for 40 years before she passed; I've been going up to the Upper East Side forever.)
The bus dropped me off at East 42nd Street and 3rd Avenue, so I walked to Grand Central Station, one of my favorite New York landmarks, to catch the subway uptown. I always stop at the Great Northern Food Hall there to grab a snack, either a poppy seed croissant (sweet) or a sesame, ham and cheese croissant (savory). If I have extra time, I'll sit down and have one of the open faced sandwiches. This time, I ate half a poppy seed croissant and had another cup of black coffee.
Jim and I love both jelly donuts, so I stopped at Orwashers, where they fill them to order, and brought a couple to Cathy and Jim's apartment. I've been going to Orwasher's for a long time, and I'm a real doughnut obsessive. Anywhere I can get them, I have to have one. I still have a copy of the Gourmet issue with the doughnut trail in New England; they printed it maybe 20 years ago. I'm telling you, someday I'm going to go on the doughnut trail.
Anyway, Cathy doesn't do sweets so I brought her a pletzel, a cross between a bialy and a flatbread with everything bagel stuff all over it! I bought an extra pletzel to take back to North Fork, and put it in the freezer when I got back to the apartment. I had half a jelly doughnut, a piece of the pletzel, and another black coffee.
After our visit, I went to my apartment and took care of some housekeeping and did a few errands. Then it was it was time to head back East. One of the best things about this neighborhood is Sushi of Gari — for a long time it was the only place to go on the UES. I mean, it's gotten better in the last 10-ish years. I ordered take out to eat on the Jitney: an eel, cucumber, and avocado roll and a spicy tuna, cucumber, shiso, and sesame roll.
I arrived home, opened a bottle of red wine, and popped some Orville popcorn. I eat popcorn five times a week, it's a diet staple. Sometimes in the summer when I can't even think about eating it's my dinner sometimes three times a week.
Friday, March 8
It was the beginning of my workweek. When you work in a restaurant kitchen, there is no such thing as a "meal." I pretty much graze and taste all day and night long.
Had my two cups of Aldo's coffee, black, and then did yoga. After that, I had my post-yoga green juice from the Giving Room.  The one virtuous thing I do a day is my fresh green juice, which just makes me feel like I'm not a complete and utter slug. It's not delicious. It's just all vegetables, lemon, and ginger — and it's hard to get down. I mean, they have many delicious ones, but this one is more like medicine.
Throughout the day, I had things here and there. A piece of the foccacia I baked for the restaurant along with a schmear of green chickpea hummus, then a couple hours later I had a pick at the duck confit legs while they were cleaned along with several homemade cheese crackers. I also had a handful of our potato chips.
Early in the evening, I had a couple forkfuls of our new executive chef Brian Wilson's pasta special, a kabocha squash and ricotta ravioli with hon shimeji mushrooms, celery root, brown butter, and parmesan. Throughout the night, I also picked on French fries and bar nuts, too.
Around 8:30 p.m., I actually sat down with my business partner Mary Mraz and shared a cheeseburger. It was burger night at the restaurant; all summer long, we take the food truck to the winery and serve hamburgers at the winery, outside, on Friday nights. So we just brought it inside for the winter. We serve beef (we get it from this really awesome winery nearby called McCall, where the owner also raises cattle) and black bean burgers. It's super delicious beef. I'm super spoiled now, it's hard to eat anyone else's burger.
Later on, I drank a glass of McCall's pinot noir.
Saturday, March 9
I serve breakfast for the guests who've stayed in one of our four rooms at the inn. So I was up at 6:15 a.m. and had a half-pot of coffee, black, to get me started. Me, though, I don't eat for a long time in the morning.
I always change it up a little. Usually, it's just vegetables and eggs. I make savory bread pudding sometimes, or do vegetable crostatas, quiche, frittatas — stuff like that. I try to keep it meat-free, with bacon on the side.
Around 9:30 a.m., I finally got around to breakfast and ate a cup of leftover oatmeal, a spoonful of yogurt, candied kumquats, and a piece of caraway-golden raisin scone. (That was a flavor I did in tribute to St. Patrick's Day and the traditional Irish soda bread.) They might be my favorite thing in the world.
I love biscuits, I love biscuit dough, I love making scones as light and moist as they can be. I don't know what it is about them. They're always different; the flavors are super easy to change up. I make them savory sometimes, with cheese and bacon, and sometimes I put mushrooms in them. I don't know why I love them so much — they're simple and satisfying — but they're kind of like doughnuts for me.
A couple hours later, I had three healthy forkful of Brian's shrimp and grits. He was playing around with them with the dish for the brunch menu. That was delicious!
Then around lunchtime, I had my green juice from the Giving Room. At 3 p.m., I had four spoonfuls of a new dessert I had made for the restaurant. It was a caramelized white chocolate-tahini semifreddo with blood oranges, candied kumquats, yogurt sabayon, and tahini crisps. We do have a plate of mini-doughnuts, but I can't very well serve a scone for dessert. So, you know, the desserts that I make are definitely more involved and feel more sophisticated than what I eat these days.
For our family meal, we had green curry with basmati rice. I had a coffee- cup-sized portion, and took an end of focaccia for dipping. Around dinner time, I wandered over to the meat station and snacked on ends of strip loin and duck breast.
After service, I drank an ice cold Greenport Harbor  Anti-Freeze ale. I was leaving for the day, and when that time came around I just needed to quench my thirst. I could get a crisp wine down. But usually I pound a beer, frankly.
At home, I had my popcorn and a glass of pinot noir.
Sunday, March 10
This was pretty much a repeat of Saturday. Woke up, drank a half-pot of coffee, black, and around 9:30 a.m. I ate some of the leftovers from the breakfast I made for guests. This time, it was a citrus salad (ruby red grapefruit, blood oranges, and kumquats) and slice of caramelized onion and spinach quiche.
During the afternoon, I had my green juice and ate another salad of greens, quinoa, and sherry vinaigrette. It was less busy at night than on Saturday, though, so I left in the midafternoon to see some friends who were out here for the weekend.
We met up for an early dinner, at 5 p.m., at 1943 Pizza Bar in Greenport. It is my place. When I go out to eat, that's where I go. They serve outstanding wood-fired oven pizza that I'd put up against New York pizza. We shared olives, the arugula salad, and I ate two slices of the clams casino pie, a slice of the margarita pie, and split bottles of French chardonnay and Montepulciano.
Oh my God, the clams casino pizza is so good. It's a white pie with fresh clams, crispy bacon, garlic, and usually it comes with green peppers but I say no to the peppers. It's a super thin and crispy crust, and the topping is soft and succulent and yummy. I love it.
Back home, I had three small biscotti — they, frankly, were grocery store cheap biscotti — and Haribo gummy bears with the last of the pinot noir I'd been drinking. My favorites are gummy bears, licorice, and Swedish fish. I'm really a junk candy junkie.