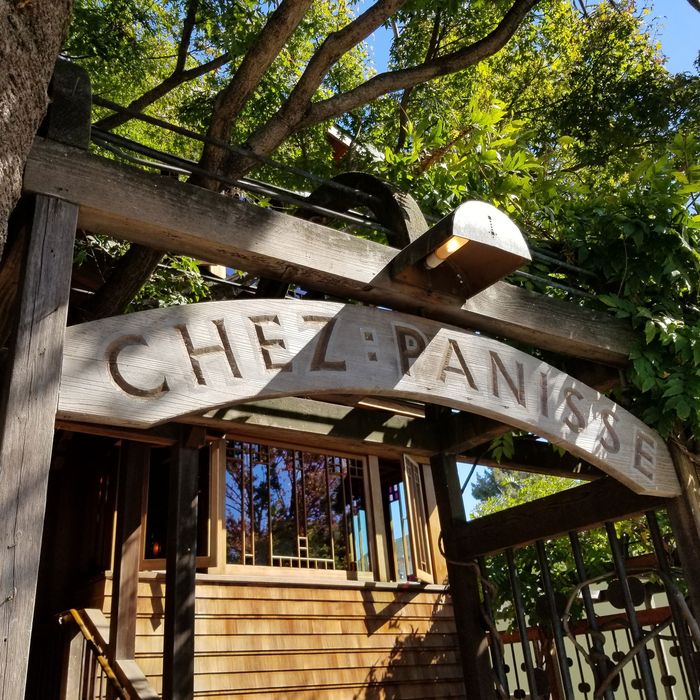 Chez Panisse opened in 1971.
Photo: Gado Images/Getty Images
This week, the San Francisco Chronicle's new critic Soleil Ho introduced herself to her city by dropping not one but five reviews. (Not to mention a couple complimentary stories about anonymity and her personal banned word list!) Among the restaurants reviewed? Alice Waters's celebrated Chez Panisse in Berkeley, cradle of the farm-to-table movement and one of the Bay Area's most important cultural institutions.
While Chez Panisse is nearly half a century old, it's still actively discussed: Ho's predecessor, Michael Bauer, reviewed it for the Chronicle in 2015. He also asked about the restaurant's relevance, concluding that it was still "a revelation about the joy of simple preparation and pristine ingredients." (That was back when Jerome Wang and Cal Peternell ran the show; now, Amy Dencler and Jennifer Sherman jointly hold the title of restaurant chef.)
Ho's review is decidedly more lukewarm than Bauer's. While she writes that "the cultural impact of Waters' work is indisputable and impossible to quantify," Ho finds that the restaurant's "loyalty to the past has become almost too comfortable" and that eating there is a mixed bag. She's "delighted by the weekday prix fixe" but finds "sadly uneven" dishes and the presentation "sort of thoughtless." Of the famous fruit bowl, she writes that it was the one thing "that made me think maybe the whole thing wasn't just bulls***."
The review has garnered some affirmations on Twitter, but it's also caused some chefs to, well, circle the wagons! Benu's Corey Lee came out strong writing on his Instagram that he thinks it's asking the wrong questions. Many of the comments on his post are from other chefs who agree and express varying degrees of anger with one calling it "so naive" and others contributing to the "yes chef" chorus. One person on Twitter even called for the return of Bauer, which suggests at least some people want to stay in the past. How will the Bay Area's chefs, hyped up on all those beet and goat cheese salads they've been eating, react? Will they all just start serving figs on a plate and nothing else until an apology for this affront is issued? Only time will tell.