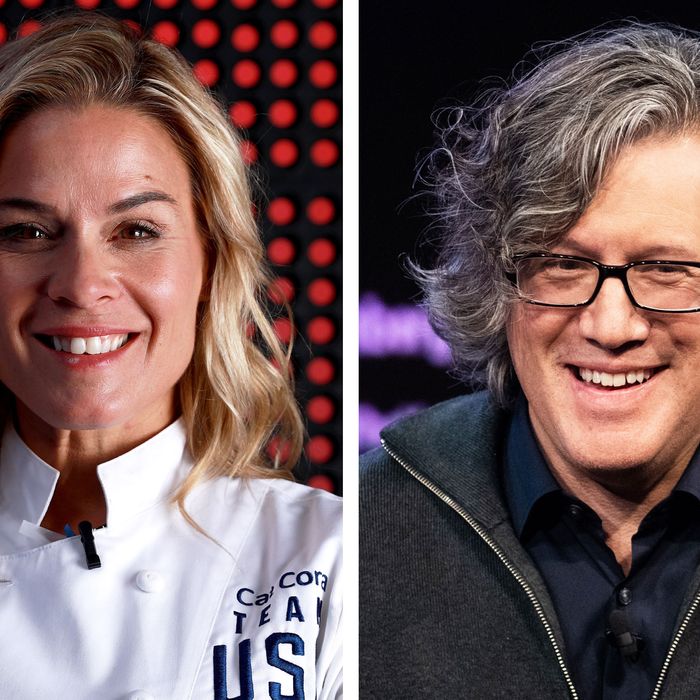 Drama.
Photo: Getty Images
This weekend, the food world was treated to the unexpected surprise of a very spicy, very public food fight. Like turned milk, the drama spilled out over the internet after Food Network person Cat Cora took to Instagram to call out Chicago's Alinea for, apparently, not fulfilling her reservation and rudely turning her away. Except Alinea's co-owner Nick Kokonas said, "Heey, no so fast!" In his own very public response, he claims Cora didn't provide the whole picture. After first sharing a still frame from what he says is footage of Cora flipping off his staff, Kokonas published a lengthy, detailed post on Medium explaining Alinea's side of the story.
In the since-deleted Instagram post, Cora singled out Alinea's GM for "nonchalantly" telling her they couldn't accommodate her, its chef Grant Achatz for not coming out to kiss the ring, and a general lack of hospitality. Claiming she was just there to "support" Achatz, one of the world's famous chefs, she admonished him by writing, "You should take a lesson on this from your mentor and my friend #charlietrotterRIP or even some of our other fine colleagues." She then to tagged a bunch of "fine colleagues" including Anne Sophie Pic, David Chang, José Andrés, and Dominique Crenn. Presumably these chefs would be disgusted by Alinea's treatment of her?
Only, is this what really happened? Put on your detective hat and buckle up! In his Medium post, Kokonas claims that Cora's story is bogus and that she was, simply, being an entitled sort-of-celebrity. After negging her by writing, "I love the original Japanese version of" Iron Chef, Kokonas claims the chef "intentionally arrived 24 hours and 15 minutes late." The restaurateur says Cora made accusations of sexism, said, "Fuck you, fuck Grant, fuck Alinea," on her way out, and threatened to take the incident public through social media and a new show.
According to Kokonas's timeline, Cora's assistant Veronica Van Sant emailed Alinea on the night of February 27 asking for a reservation. Alinea confirmed one the next day for Friday at 5 p.m., sent an invoice, and then … Cora didn't show up. While Van Sant then agreed on Friday to rebook the dinner for 9 p.m., she wrote later that night that the chef couldn't make it at that time. Kokonas says he himself reached out to say there were no earlier slots available, and Van Sant told him to reach out if an earlier table became available. After offering a refund and not getting a response to two emails, Kokonas called Van Sant, who told him Cora wasn't responding and might show up at 5 p.m. anyway. Van Sant asked Kokonas if Achatz could reach out, because the two chefs apparently know each other, but Achatz told Kokonas that wasn't the case. And then Cora showed up at Alinea at 5 p.m. expecting a table.
From Kokonas's perspective, "Cora believed that she deserved a table at Alinea despite no-showing on Friday." He also tsk-tsks her for feeling "so self-important" as to take this public, deciding to "lecture" them on hospitality, and "tagging many of our friends." While Cora's Instagram post has been deleted, Kokonas has kept up his Medium post with "a few redactions" for privacy concerns. Those redactions include, as Twitter user and Chicago resident Ed Fisher points out, an email from Van Sant asking for a Saturday reservation. A screenshot of Cora's post shows a subject line of "Re: Iron Chef Cat Cora Visits This Saturday," and some argue there was some miscommunication on Alinea's part. Which only adds another layer to this drama.
Speaking of layers: In a statement emailed to the Chicago Sun-Times, Cora says that her post was "originally put up to start a conversation about what hospitality means to people." The resulting digital kerfuffle was, apparently, what she wanted, as she says, "We took our post down. We accomplished what we wanted: a conversation."
Indeed.