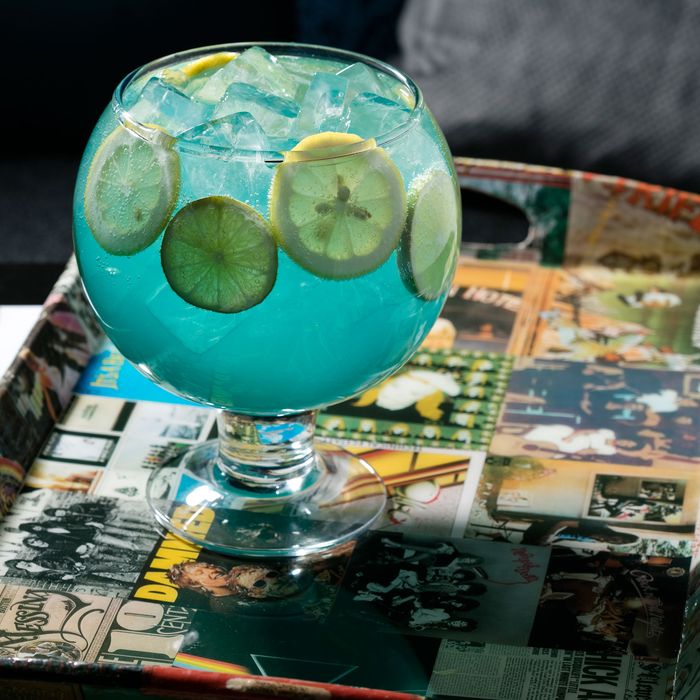 Get some friends to help with this fishbowl of Patrón, blue curaçao, and lime juice.
Photo: Melissa Hom
When Jersey boys and Francophiles Bruce and Eric Bromberg opened Blue Ribbon Brasserie in 1992, they modeled it after the late-night spots they frequented while in culinary school in Paris. The small Sullivan Street space quickly earned its New York merit by combining elegantly executed staples with hours that crept toward daylight, drawing in chefs and insomniacs alike. "We don't always try to be the most creative and inventive guys in the room," Bruce tells Grub Street. "We're interested in creating the best versions of things we love to eat, and things we ate as kids."
You could fit several of the Sullivan Street brasseries into their new venture, the Ribbon, in Times Square, which occupies the massive space formerly occupied by Guy Fieri's American Kitchen and Bar. But while Fieri's incarnation swallowed you up with its size, the Brombergs have decided to divide and conquer; to that end, they've transformed the subterranean level of the space into a lounge called Blue, which officially opened last night. It's their first foray into nightlife, yet it's a natural progression, given the late hours they're accustomed to. It's conceived as a place to grab a drink after a play, a space with 17 seats at the bar to hang at while you wait for your table in the restaurant, or a low-lit hideaway at which to drink Champagne and eat caviar well into the night.
While others would be dubious about opening up in Times Square, Bruce is optimistic. "I think if we can be part of the impetus or catalyst that changes the neighborhood a little bit towards a bit more of a local scene and also gives the tourist a little bit more of a New York flavor — which I think we certainly embody — then I think that's a really exciting prospect for us."
The hallmarks of the Blue Ribbon brand are here, along with an elevated DJ booth, a dance floor, and paintings of NYC luminaries like Biggie and Debbie Harry by artist Alex Yost. Cocktails like the Blueprint (with Campari, sweet vermouth, and Old Overholt), the On the 6 (tequila, grapefruit, agave, and lime juice), and Notorious (gin, lemon juice, apple juice, aquafaba, and a Sangiovese floater) are named after albums, and live music programming is planned for the future.
Of course there's fried chicken, drizzled with truffle honey and one of three savory dishes alongside cauliflower tempura and the throwback Shrimp B-Louie. This being Blue Ribbon, seafood arrives in towers, and caviar has a place of honor, served in its own curtained-off room, hearkening back to a time when the brothers used to buy cheap tins of Romanoff caviar at the A&P. "We would mix it with a bowl of sour cream and put it on some crackers and serve it to our parents and our other brother and anyone who came over," Bruce says. "That was us being really fancy."
At Blue you can can have your fancy kaluga caviar in 30-gram or 100-gram portions, or order the Imperial, 100 grams served with six shots of Stoli Elit, for $400. And as for the future of the Brombergs in nightlife, Bruce explains, "It's about hospitality, it's about good food, it's about mixing and mingling these things that we love together. So I think wherever there's an opportunity to create a cool new experience for people, I'm 100 percent all for doing that."
Blue, 220 West 44th St., nr. Seventh Ave.; 212-944-2474