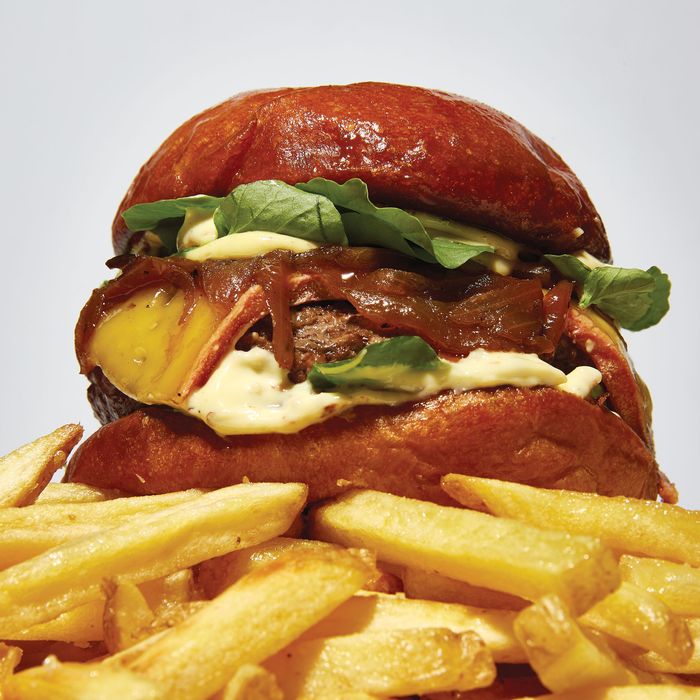 Ranch-to-table meat company Belcampo's 100-day dry-aged grass-fed burger and duck-fat fries.
Photo: Marvin Orellana/New York Magazine
When Thomas Keller "curated" the Time Warner Center's Restaurant Collection 15 years ago, the notion of jaded New Yorkers and gawking tourists riding mall escalators up multiple flights to fine-dining destinations with no street presence seemed outrageous. Now, 30 blocks south and two windblown avenues way west, that development's brand-new sister project, Hudson Yards, makes the Columbus Circle shopping center's culinary ambition look quaint. Between the seven-story Shops and Restaurants complex and José Andrés's 35,000-square-foot Spanish-cuisine theme park next door, on a skyscraper-sprouting stretch of Tenth Avenue from 30th to 33rd Streets, there are 1,600 seats waiting to be filled, and that's not counting all the fast-casual counters and pastry shops and coffee bars and ice-cream stands and the colorful riot of quick-serve kiosks in Andrés's food hall. From familiar "fine-casual" (Sweetgreen, Shake Shack) to terraced duplexes, from extra-aged grass-fed cheeseburgers to roving carts stocked with Champagne, bespoke martinis, and hot popovers, the city's new food hub requires some advanced navigational skills and a big appetite. Here, the most compelling new–to–New York reasons you might consider heading west (and up).
*A version of this article appears in the March 18, 2019, issue of New York Magazine. Subscribe Now!