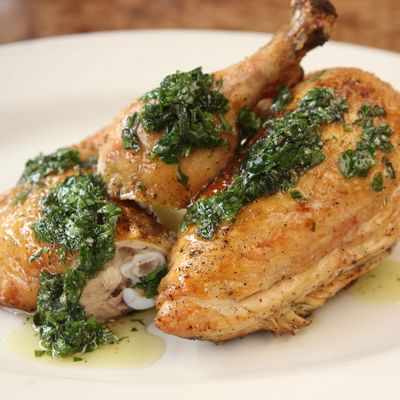 Quite possibly New York's most famous chicken.
Photo: Melissa Hom
Is everyone still high off the good feelings of this morning's James Beard Award nominations? It's always nice when America's restaurant world can rally around its best and brightest talent. But nothing comes easy in the hospitality industry, and reality has a way of harshing even the warmest vibes. Take, for example, this news: Barbuto, Jonathan Waxman's pioneering farm-to-table-y Italian restaurant in the West Village, is soon going to close.
The news doesn't come as a complete shock, since Barbuto's fate has been up in the air for at least a few years now. But it's always managed to avoid permanent closure, lending some credence to the idea that a very charming, popular restaurant run by an extremely talented, famous chef might be able to rise above New York's market forces. Well, forget all that pie-in-the-sky bullshit, because Waxman — who is something of a mainstay at the James Beard awards himself — tells the Times that he now has to be out of the space at the end of May and, when that happens, New York will be a worse place to live as a result.
The space Waxman and company must vacate is just one of the things that makes Barbuto a seminal neighborhood restaurant: Located in a former garage, the restaurant's western and southern walls can be completely opened or closed, making it that rare spot that is perfect for dining when the temperature outside is 80 degrees as well as when it's 8. The airy space's two semi-private dining areas are also noteworthy: One is located in a little alcove behind the bar, while the other is in the kitchen itself, yet it's still more or less part the wide-open dining room.
Of course, the real action is on Waxman's menu, which, when the restaurant opened in 2004, helped define the pared-down, Greenmarket-first approach to Italian cooking that has influenced approximately 100,000 other New York restaurants. Barbuto's most famous dishes are, as you probably already know, its roasted chicken with salsa verde and Waxman's shaved kale salad. (The gnocchi, which are seared and crisped and served with a rotating cast of sauces and ingredients, are a close third.) Yes, the idea of a regularly changing, hyperseasonal menu is now entirely commonplace, but it's fair to say it would not be without Waxman's contributions. The restaurant's easygoing energy and the kitchen's obvious skill are each a perfect match for the space: casual enough to enjoy without too much concentration, but serious enough to get all the little details right.
Waxman tells the Times that he hopes to relocate within the neighborhood, and it's safe to assume that the restaurant's legions of regulars want him to, as well.