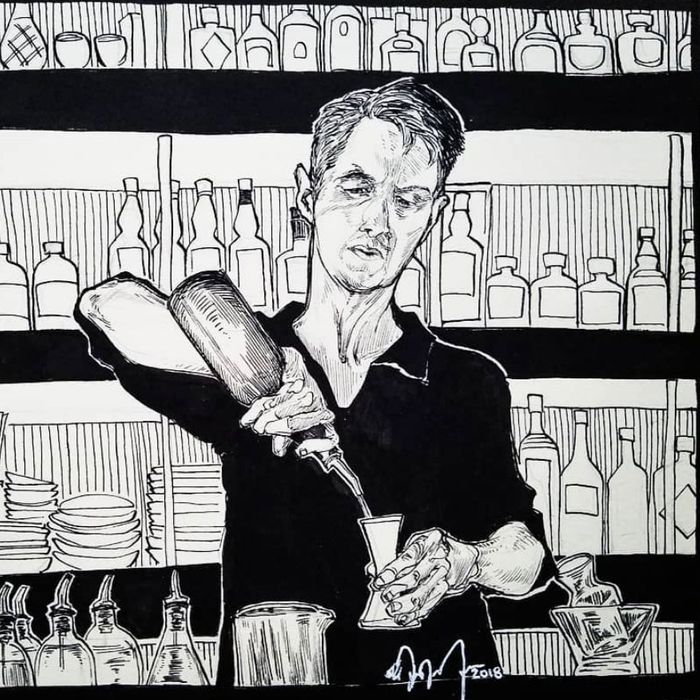 An illustration of Christopher Reed at Bar Goto.
Photo: Daisy Dudley
If you've been known to wile away nights at Bar Goto, you have almost certainly had a conversation or two with Christopher Reed. As gregarious as he is tall, Reed has been the bar's floor server most nights, helping make the Lower East Side spot feel like one of the city's most fun, easygoing bars. What many patrons may not know is that last May, Reed was diagnosed with the neurodegenerative disease ALS, and his condition has rapidly deteriorated since.
In order to help Reed pay his medical bills, Bar Goto's owner, Kenta Goto, and his staff, have started a GoFundMe that has already raised over $30,000. (However, that's only out of a total $250,000 that Reed needs.) On that page, they've included some words from Reed, who somehow manages to be heartwarmingly cheerful and charming despite his situation. He introduces himself as "a chatterbox by nature" and someone who is "lucky, blessed and proud to be a bartender at Bar Goto in New York City." As a result of the condition, he now walks and talks "like I'm drunk," wearing leg braces and walking with a cane. It's likely he'll be in a wheelchair by this May, his doctors tell him, and his life expectancy has been estimated at three more years. However, he says, "I'm going down swinging, but swinging costs a lot of money."
The issue for Reed is that he hasn't had any luck with western medicine (two drugs his doctors gave him only made him feel worse, he says), so he's looking for other solutions. But those solutions aren't covered by insurance, and the bills are racking up. (Along with B12 shots two times a week, he's taking various supplements he's found through his other doctors and others who have lived with ALS long-term.) That Reed can't work as much as he used to, and eventually won't be able to at all, only makes this more financially difficult. In the meantime, he says, he's going to keep working at Bar Goto for as long as he can, and hang out with his wife, their four cats, and loved ones. If you're inclined to donate, you can do so here.
Some of Reed's colleagues in the hospitality industry have taken to social media to show their support: