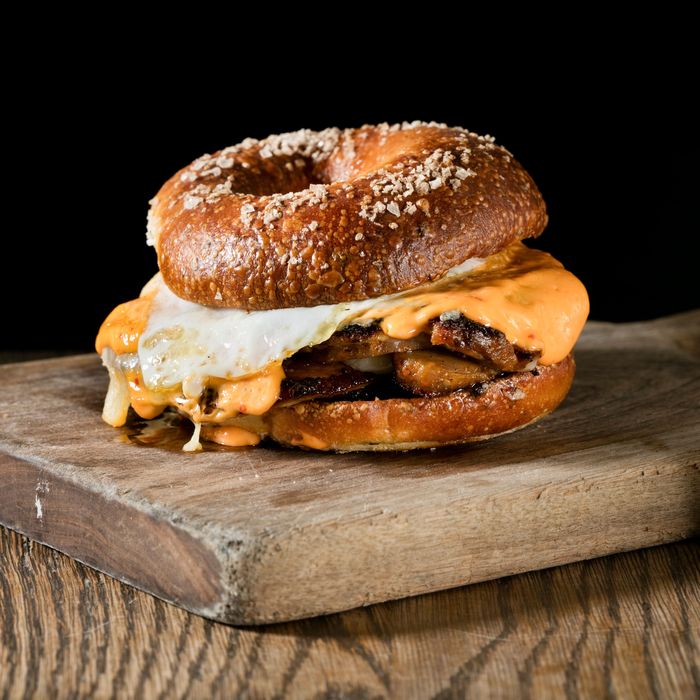 High Street on Hudson's new Jersey Girl sandwich: pork belly, over-easy egg, Jasper Hill Farm cheese, and Calabrian-chile spicy mayo on a salt-and-pepper bagel.
Photo: Melissa Hom
If you're a connoisseur of carbs, you're likely familiar with the work of Melissa Weller. Over the last decade or so, she has served as head baker at Per Se, presided over the backyard wood-fired oven at Roberta's, established her own bagel business at Smorgasburg, and channeled the soul of a babka-baking Jewish grandma at Sadelle's. Now, after spending a few years in the wilds of restaurant consulting here and in Philadelphia — and writing a cookbook to be published next year — Weller has found a home base in the West Village, where she has recently joined Ellen Yin and Eli Kulp as a partner at High Street on Hudson.
The move makes sense, as High Street has always been equal parts bakery and restaurant, known for its breakfast and lunch sandwiches on homemade rolls, its alluring pastry display case, and specialty breads like anadama. Weller has been subtly tweaking all of these things, adding both new baked goods, like a buttermilk-iced cinnamon-cardamom roll and a black-sesame kouign-amann, and new sandwiches like the Jersey Girl (the latter is a highbrow interpretation of that iconic Garden State breakfast, the pork-roll-egg-and-cheese, substituting slow-cooked pork belly for the Taylor ham).
Weller's teammate in refurbishing the menu is Mary Attea, formerly chef de cuisine of Annisa. Over the last few months, Attea has reworked much of High Street's savory fare, collaborating with Weller on dishes like a skillet chicken paired with drippings-soaked bread, and a beef on weck that nods to Attea's hometown of Buffalo.
Breakfast-sandwich fans need not fret: High Street's signature Bodega sandwich can still be found, though Weller has seen fit to adjust the biscuit recipe. Here's a look at some of the new culinary team's recent innovations.