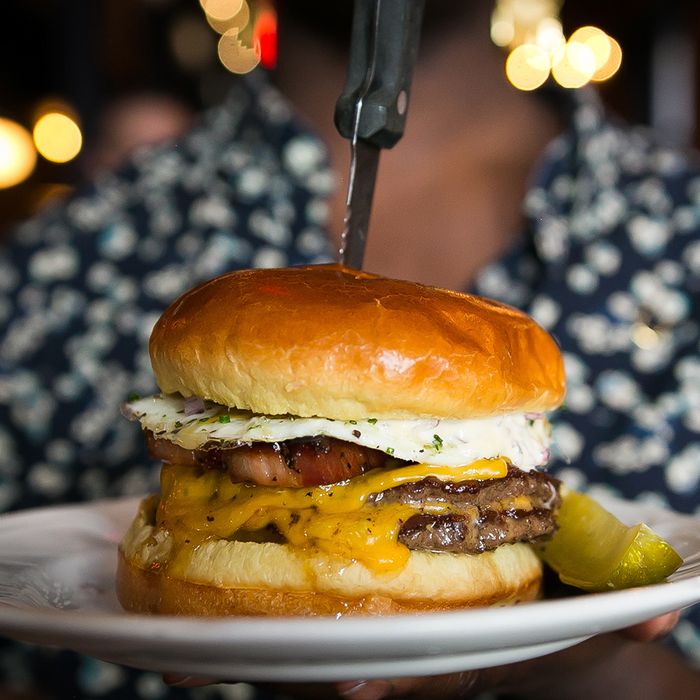 The famous Au Cheval burger.
Photo: Courtesy of Au Cheval
Finally, the hopes and prayers of New York's beef geeks have been answered: Chicago burger destination Au Cheval has at long last opened in Manhattan. The restaurant has arrived two years after owner Brendan Sodikoff and co. announced it, and half a year after it was originally supposed to open. So you are no doubting asking yourself a lot of questions about the Tribeca restaurant (Sodikoff's second in New York, after 4 Charles Prime Rib), such as, "Was it worth the wait?" and, "What's all the hoopla about? I've got burgers all around me!" Please allow Grub to try and answer these and other questions.
First and foremost: Should I really care about another place serving high-end burgers and fancy cocktails?
Probably! The original Au Cheval, in Chicago, is justifiably revered and even if the general idea here feels a little outdated, the execution is so polished that the new Au Cheval is worth your time and attention. Plus: Who doesn't like burgers and well-made Manhattans?
Is that burger really the best in America?
Look, it's not going to change your life, and it rose to prominence at a time when chefed-up burgers were still something of a novelty. That said, the version that's served at the restaurant group's other New York restaurant, 4 Charles Prime Rib, is like if an In-N-Out burger was actually really great, and it's similar to the double cheeseburger served at Au Cheval. At the end of the day, you certainly won't be upset about eating this — even if the $19.50 price tag (plus extra for an egg or bacon on top) feels high.
What if the burger puts me in grave danger of falling asleep?
You're in luck, if you're there before 5 p.m. The New York version of Au Cheval also includes a location of Sawada Coffee, Sodikoff's collaboration with Tokyo barista Hiroshi Sawada. There's counter seating there, too, for you to sip your Black Camo Latte or High-Five Mocha.
I've heard this is a "diner." Is the menu 14 pages long? And how many of those pages are devoted to gyros and gyro-adjacent foods?
Alright, don't lose your mind, but … the menu is only one page long and there is not a single gyro. Au Cheval isn't a classic diner (there's no chrome here, kids), though the diner spirit nevertheless informs things here: There's a whole section of heart attack-inducing egg dishes, like crispy potato hash with heart gravy and foie gras with scrambled eggs and toast, as well as sides of hash browns and bacon. Then there are less conventional diner dishes like General Jane's honey-fried chicken and a fried bologna sandwich.
What's the trophy dish?
Other than the burger, it's definitely the 35-ounce pork porterhouse with foie gras and roasted apples. It's extravagant, it's a statement, and, most importantly, it's "limited availability!" (Always remember the rules of supply and demand!) The real trophy meal, though, will be to chase the burger with the pork porterhouse.
So, uh, are there any vegetables?
Yes, there's a green salad with pickled shallot, herbs, and sherry vinaigrette, as well as a chopped salad with ranch dressing. Other than that, though, you're going to find roughly as many vegetables as you would on a drought-stricken farm. There are, uh, some pickles, and not one but two kinds of fried potatoes! Do eggs count as vegetables?
What if I want to get sauced?
As you might guess, the drinks menu is heavy on certifiably classic cocktails. All the cocktails come with attributions, and your options include an old-fashioned, a Hemingway Punch (a.k.a. Hemingway Daiquiri), and a Bloody Mary. There are a few modern drinks mixed in for good measure, including the Oaxacan old-fashioned (the classic, but with mezcal) and a Pink Vodka Lemonade (with vodka, Lillet Rosé, Aperol, and lemon). Or you could just spend $6 on the house root beer.
How about the vibe?
It's located on one of the few alleys left in downtown Manhattan, a narrow strip that's more concrete ravine than street. They've gone full faux-speakeasy, and the dining room looks like a set for a reboot of Boardwalk Empire, with leather banquettes, brick walls, and a wooden floor.
So, how hard will it be to get in?
Let's see. People have been known to wait hours to get into the Chicago original. And this is a city where people seem to really loving waiting in line, for some reason. It's a good bet a table here will be a tough ticket. (It remains true that it's still basically impossible to just go grab some dinner at 4 Charles.) Granted, New York's Au Cheval will have 85 seats, but there aren't a lot of options around Tribeca late at night and Au Cheval is one of the country's biggest names in burgers. Bring a book or something.
What if I want to go for breakfast, lunch, and diner in one day?
Theoretically, you could, as the restaurant is open daily from 10 a.m. to 3 p.m. and then again starting at 5 p.m. Just make sure you carve out some time for a nap afterwards.
Au Cheval, 33 Cortlandt Alley, nr. Walker St.; 917-710-6039