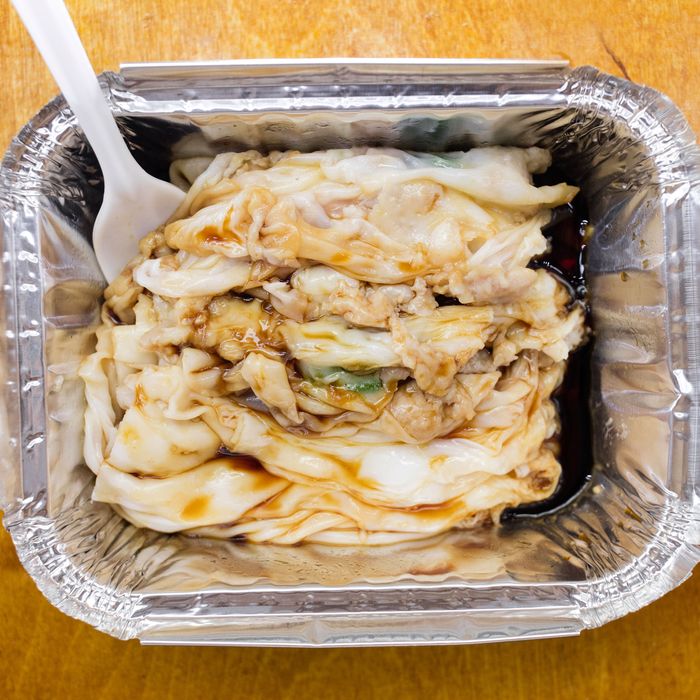 Yi Ji Shi Mo Noodle Corp.'s rice rolls.
Photo: Melissa Hom
If I had things my way, the first thing I'd do every morning after leaving my apartment would be to saddle up at the rice roll cart (the one that doesn't actually exist near my apartment, you know). Steamed and just mildly sweet, rice rolls aren't a food that win you over with their looks. There is something charmingly schlubby about them, it's true. They're blobby and squishy, though glossy even if they're slack and bone-white. But they're also the sort of food you might find yourself obsessing over, even if they don't scream "delicious." And I think about eating them all the time: when I'm imagining my perfect breakfast, when I'm in need of a snack, or when I'm plotting my goals for a dim sum outing — which are always to eat all of the rice rolls available, and to have seconds of the ones wrapped tightly around crullers — a great invention of the starch-on-starch genre.
Well-made rice rolls are as luscious and pleasing to eat as any wide pasta; they're pleasingly chewy, though not so much as, say, Shanghai rice cakes. By nature of their mellow flavor, they're also something you can eat mounds of (seasoning them as much or as little as you like with dark soy sauce, thinned-out peanut sauce, or something spicy). They're also a food you need to eat right away, because they're vanishingly delicious and will turn gloopy in no time.
When I found out last week that a new rice roll specialist had opened in Chinatown, I beelined to Elizabeth Street. Yi Ji Shi Mo Noodle Corp. (also known as Yi Ji Stone Ground Noodle Corp.) occupies a teeny box of a storefront a few steps below street level. There are a couple tables the owners have managed to find room for, but it seems most people come and go with their orders. Last Friday, there was a sizable crowd huddling in the corner waiting for their orders and making the room a real squeeze. It's also notable that — like the Flushing favorite Joe's Steam Rice Roll, which expanded to Canal Street Market and boasts 10,000 followers on Instagram — Yi Ji explicitly advertises that it mills its rice flour on the spot (you know, the sort of thing that in New York is usually proudly noted by your favorite niche pasta shop). In the open kitchen behind the counter, you can observe the mill at work, when it's in operation, and the long trays being loaded with rice flour and toppings for steaming.
In-house rice mill or no, the rice rolls at Yi Ji ($2 to $4) are as good as any you'll find around town. It's true that good rice rolls can be found at some of the dim sum palaces, like Bamboo Garden, but the best ones tend to be at specialists like Joe's, the cart on the east side of Elizabeth and Hester, the cart at Canal and Centre, and Sun Hing Lung Co. And now at Yi Ji, where the rice rolls are soft and even a little melty in your mouth, but chewy enough that they're not a disappearing act. They're lighter and seem even thinner than the ones at Joe's, and there's less emphasis on the toppings.
Going overboard with toppings can drown out what makes rice rolls so good — their texture and simplicity — and these aren't overstuffed with fillings. Almost all the filling options are for single ingredients, though you can get add-ons like corn and egg, and you'll get a small dose of whatever you ask for. (On at least one occasion, a request for several toppings was met with a sort of confused response.)
The fillings are here to compliment the main show. There are plump curry fish balls, corn, coriander and scallion, and roast pork that's the ideal size and pleasantly sweet. Yi Ji isn't a one-trick pony but does keep it simple and breakfast-oriented by otherwise offering only congee ($2.25 to $4) and a satisfying, nutty soy milk ($1). Over time I may possibly get to the congee, though I think that will require getting sick of rice rolls, which sounds unrealistic. At the very least, it will take a very long time.
Yi Ji Shi Mo Noodle Corp., 88 Elizabeth St., nr. Grand St.