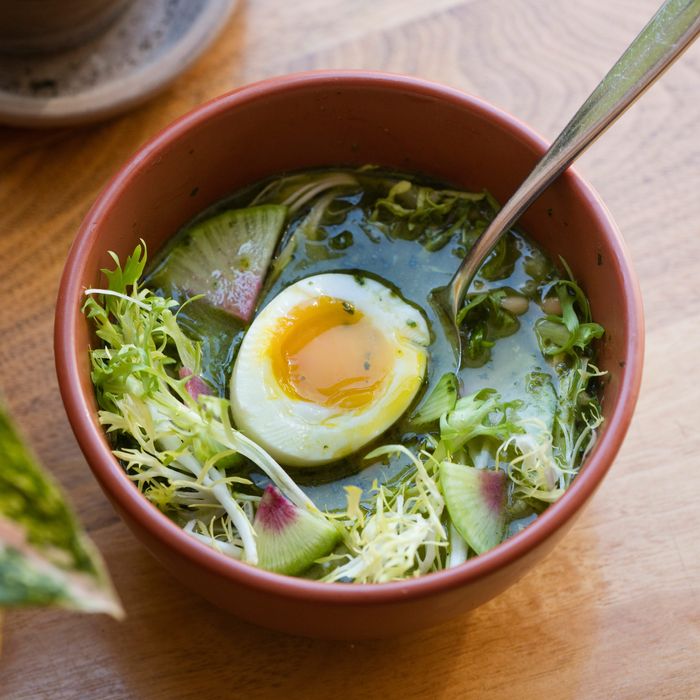 The Green Egg & Ham from Crown Heights restaurant Hunky Dory.
Photo: Melissa Hom
There's just about one month of winter left, which means it's time to break out some broth. Not the trendy "bone broth" (a.k.a. "stock") that was everywhere a couple years back, but the classically warming, soul-fortifying remedy that's been around as long as people have been fighting off colds. Thankfully, restaurants are happy to oblige, with all sorts of variations that will warm your bones until spring arrives. Here's where to find the most exciting broth in New York City right now.
Green egg & ham
Where: Hunky Dory
How Much: $13
At this new Crown Heights café from bartender Claire Sprouse, "green egg & ham" gets a makeover that even Dr. Seuss himself might not recognize. The whole thing revolves around a verdant green-chile broth that includes pumpkin seeds, cilantro, and sage, and is served with ham braised with classic mirepoix, a soft-boiled egg, rice, and white beans.
Seaweed and fungus ramen
Where: Teo
How Much: $15
The menu at this new Bushwick izakaya features three different ramens to choose from, including a duck-leg option and rich pork belly, but it's the so-named "seaweed and fungus" variant that stands out. Chef Joaquin Baca starts by simmering kombu, dried shiitake mushrooms, roasted ginger, garlic, onion, and carrot to make the broth before seasoning with a tare that's made with two types of miso, garlic confit, and sweet onion purée for a sufficiently umami-rich bowl of noodles.
Stew of butter beans and broth
Where: Sofreh
How Much: $18
This Persian dish is all about the rich fragrance. Butter beans are braised in a broth seasoned with citrus and dill, and chef Nasim Alikhani adds basmati rice and a poached egg for even more textural contrast.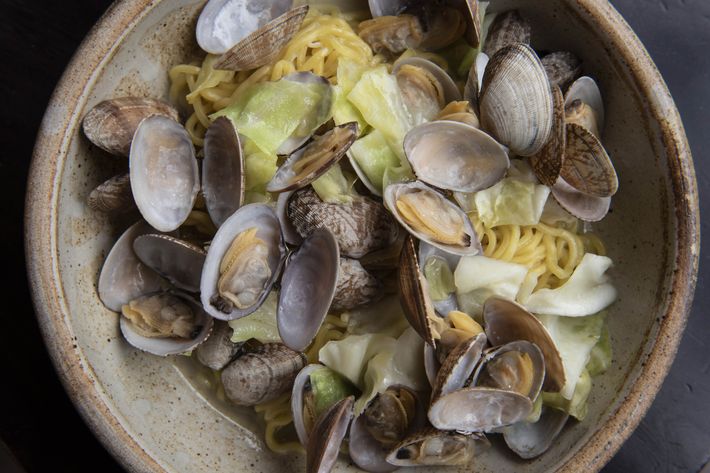 Yuzu dashi vongole
Where: Niche Mazemen
How Much: $18
Mazemen ramen famously contains no broth. So why add this new mazemen specialist to the list? Because a rare exception is made for this dish featuring a shallow dashi broth made of clam juice and yuzu. The finished bowl features thickly cut pieces of cabbage, garlic, kombu, a healthy helping of Italian vongole clams, and thick noodles. Think of it as Japanese-style linguine and clams.
Spicy lemongrass noodle soup
Where: Di An Di
How Much: $15
Excellent pho is finally fairly easy to find in New York City, but vegan pho is a little more rare. At this Greenpoint hot spot, the kitchen staff infuses its broth with floral lemongrass, then adds seared mushrooms, tofu sausage, noodles, and blanched morning-glory stems for a bit of crunch. Sate sauce on the side adds some umami.
Bone broth with ginger and star anise
Where: Sunday in Brooklyn
How Much: $8
Okay, yes, it's called "bone broth," but its comfort level is timeless: The broth itself starts with roasted veal knuckles that are simmered with onions, garlic, herbs, and carrots for 18 hours. From there, the kitchen seasons the rich, deeply fulfilling broth with turmeric, ginger juice, and star anise. It's not quite a meal, but it's definitely a better option than a green juice.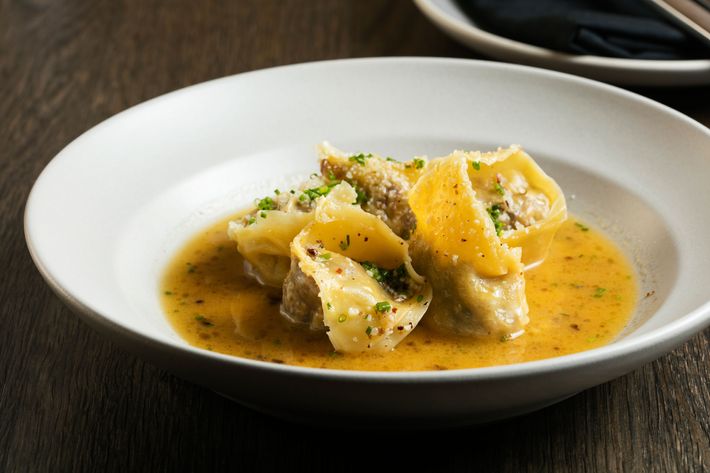 Duck tortellini in dashi brodo
Where: Violet
How Much: $19
This newish sister restaurant to the Emily empire fills seats on the strength of its grilled pizza and thoughtful dishes like duck tortellini that takes more than a few cues from Japan. Delicate wonton wrappers are stuffed with smoked duck and set afloat in dashi that's made by steeping kombu and bonito flakes for 30 minutes before adding umami-rich black vinegar. Chef Matt Hyland finishes the dish with Sichuan pepper oil, Pecorino, and chives.
Black bass with cockles in harissa broth
Where: Miss Ada
How Much: $32
In Fort Greene, chef Tomer Blechman combines a local seafood staple with Middle Eastern influence: Flaky seared black bass is paired with cockles steamed in garlic, wine, and chili flakes. A last-minute dose of spicy harissa adds some fire to the mix.
Pork meatballs in broth
Where: Achilles Heel
How Much: $17
In Greenpoint, Achilles Heel plays up broth's rustic appeal with simple pork meatballs in a pork-based broth that's made with trotters, a dash of ginger, tamari, and sherry vinegar. Farro, mustard greens, and sharp green onions make the dish taste like something your mom might cook if she'd studied at the Culinary Institute of America.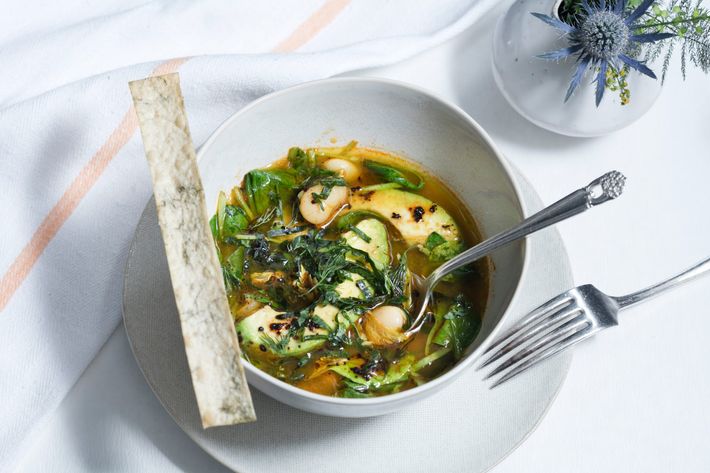 Tatsoi and butter bean in citrus broth
Where: abcV
How Much: $18
The menu at this highly seasonal vegetarian spot changes every few months, so you'll want to make sure to grab this before it departs. The dish begins with a heavily concentrated tomato-based broth seasoned with white wine, lemon, shallots, garlic, and saffron. The kitchen then adds yuzu zest, juice from calamondins (a cross between mandarin oranges and kumquats), and some Turkish Urfa pepper. Butter beans and tatsoi greens add heft to the finished product.
Monkfish à la bouillabaisse
Where: Augustine
How Much: $38
To make the lusty lobster broth for this dish, the kitchen creates an aromatic bouillabaisse broth with lobster shells, fish bones, tomato, fennel, saffron, lime leaves, thyme, and garlic. Meanwhile, mild monkfish is roasted with thyme and garlic before joining shrimp, mussels, and clams in the finished stew, which will satisfy any seafood diehard.