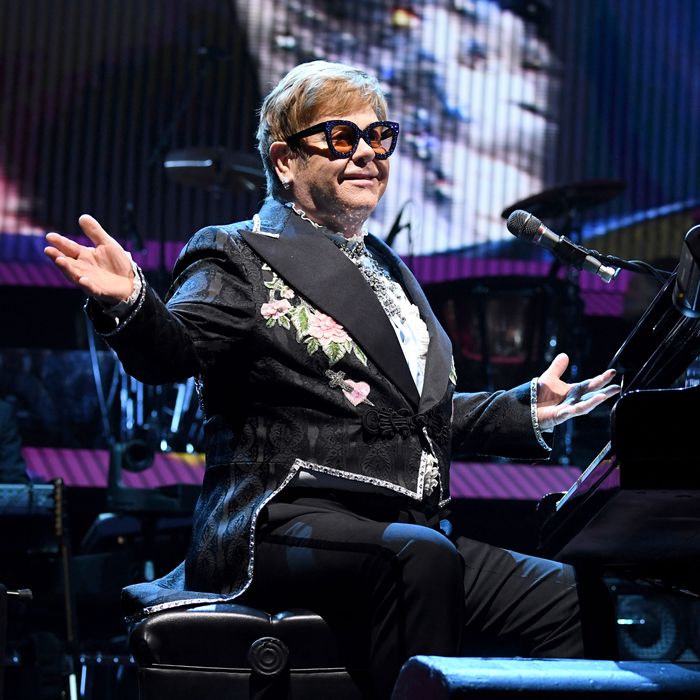 Say goodbye to Sir Elton.
Photo: Kevin Mazur/Getty Images
Events to check out this weekend, February 28 to March 3.
1. Salute the outsiders. 
Nicknamed the "laureate of American lowlife" in 1986 by Time magazine, Charles Bukowski may be gone, but the lowlifes live on, honoring him at the Charles Bukowski Memorial Reading tonight at the gallery at (le) Poisson Rouge. Now in its 12th year, readers like poet George Wallace, playwright/novelist Richard Vetere, and playwright Michael Puzzo will read their favorite passages, with a chance for you to get up on stage too (just keep it under three minutes). And Sunday morning at the 92nd Street Y, Michelle Dean discusses her book Sharp with Meg Wolitzer, focusing on ten women including Dorothy Parker, Hannah Arendt, Susan Sontag, Joan Didion, Nora Ephron, and their literary assertion and impact in a male-dominant New York.
2. See internationally inspired dance.
The choreography and music of Battery Dance aim to reflect the multiplicity of cultural influences in American society. Tonight at the Schimmel Center at Pace University, see a program including the world premiere of The Red Line by choreographer Tadej Brdnik of the Martha Graham dance school, with music by Syrian-born composer and clarinetist Kinan Azmeh, a Grammy-winner and member of Yo-Yo Ma's Silk Road Ensemble. Tickets are $19 to $29.
3. Be inspired by ladies who art.
You may not be able to be Oprah but you can replicate her tastes by purchasing work she curated with Agnes Gund for this Friday's auction at Sotheby's. Titled "By Women, for Tomorrow's Women," the show is comprised exclusively of works by women artists, including Jenny Holzer, Carrie Mae Weems, and Kiki Smith, and headlined by Cuban artist Carmen Herrera's Blanco y Verde, which is estimated to catch a cool $1.5–2 million. This goes down at 9:30 a.m. tomorrow and all Sotheby's auctions are open to the public, but if you'd rather avoid accidentally bidding on something, you could always head to the Guggenheim. The Hilma af Klimt exhibition is still up and if you haven't seen it, it's about time you did.
4. Pick a film festival, any film festival.
This weekend, you get not only single films based on your interests, but whole festivals dedicated to them. Through Sunday at Barnard is the Athena Film Festival, with works by and about women and this year honoring Nina Shaw, one of the founding members of Time's Up, alongside panels on filmmaking and screenings like Lady Parts Justice in the New World Order on Friday, followed by a Q&A with Lizz Winstead and filmmaker Ruth Leitman. Through Sunday at the Teachers College at Columbia University, the African Diaspora International Film Festival focuses on the black American experience with films including The Robeson Effect, about the friendship of actors Danny Glover and Ben Guillory and the founding of their theater company, with a Q&A to follow on Friday. Francophiles might enjoy Rendez-Vous With French Cinema, at the Film Society of Lincoln Center through March 10, with contemporary French works, many with Q&As and all with English subtitles, and drone enthusiasts can see the object of their affections and its cinematographic applications at the New York City Drone Film Festival on Friday and Saturday at the Liberty Science Center, with panels, screenings of movies shot using drones, and classes with hands-on experiences. Try it at your own risk.
5. Sip some talk soup. 
Why just listen to the radio when you can discuss how to to harness the technology for the better? Through Sunday, the On Air Fest contributors including Roxane Gay, Radiolab's Jad Abumrad, Amber Tamblyn, Still Processing's Jenna Wortham, and more converge at the Wythe Hotel for discussions, performances, live podcast tapings, and more, all exploring the future of audio. And get your fill of talking about Warhol at "Andy Warhol After Pop," two days of free discussions of the artist's later works at the New School, in conjunction with the exhibition "Andy Warhol — From A to B and Back Again," at the Whitney. The event is free but registration is required.
6. Visit the most gorgeous venue in New York.
A show at the Appel Room is like the New York you see in the pictures: glitzy and glamorous, with a window-backed stage framing a view of Central Park. This weekend, you can have that New York with your choice of shows as part of Lincoln Center's American Songbook series. Tonight, see the experimental stylings of Son Lux; tomorrow, catch actor and Juilliard grad Oscar Isaac; and on Saturday, enjoy the most New York of them all, the great Martha Plimpton, who pairs songs by Aimee Mann with American presidents. It's very Martha!
7. Steep yer tea.
Drink the good stuff and learn about it, too, at the newly launched tea classes at Luv Tea, the West Village tea salon. The salon's mission is to educate curious tea drinkers about high-grade oolongs, with theirs sourced from the owner's family farms in Taiwan's Alishan region. At the classes, you'll learn everything from the basics of Taiwanese oolong, grading scales, brewing, and how to conduct a tea ceremony, to — at the advanced level — tea roasting and how to make bubble tea from scratch, which is apparently something you can do. Reservations can be made online.
8. Laugh at jokes!
The UCB East venue may have closed but its shows live on at Subculture in the East Village, with favorites on Sunday like the stand-up lineup of "If You Build It," and the everything-goes "We Hope YOU Have Fun," with a lineup including comedian Emmy Blotnick, and Ziwe Fumudoh, writer for Desus & Mero. Also on Sunday, Patton Oswalt at the Beacon Theater. There's no opening act, so show up early for that one.
9. Party for a cause.
Fat Tuesday is next week, but you can start early — and for a good cause — at the Bell House this Sunday at "It's Common Census: A Mardi Gras Bash to Make Every Person Count." Comedians Pat Regan and Christi Chiello host a variety show to benefit Southern Echo, a Mississippi-based nonprofit focused on redrawing voting maps to get everyone fairly represented in the 2020 Census. Play drag bingo, see some burlesque, and dance to the funk tunes of the L-Train Brass Band. Beads and Vieux Carrés optional.
10. Say goodbye to the Rocketman.
He's hobnobbed with movie starlets and princesses, was delightful in Kingsman: The Golden Circle, and for over 50 years has turned us all into tiny dancers. Now it's time for Sir Elton Hercules John to say goodbye, but in true signature style. When he's done with his three-year "Farewell, Yellow Brick Road" tour he'll have played over 300 shows, matching with his sales of over 300 million records. A few of those shows come our way this week, first on Saturday at the Prudential Center in Newark, then next Tuesday and Wednesday at MSG. Friday and Saturday he'll be in Brooklyn at the Barclays Center. Dress to impress, because you know he will.