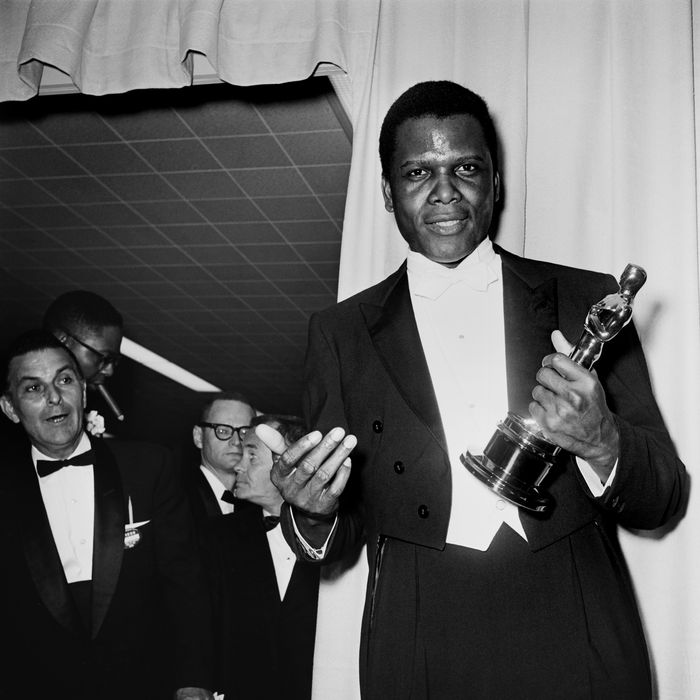 Sidney and his Oscar.
Photo: Archive Photos/Getty Images
Events to check out this weekend, February 21 to 24.
1. Get lit.
What happens when a group of cocktail industry masterminds get together to play with fire? Find out tonight at Existing Conditions when Dale DeGroff, Dave Arnold, Don Lee, and Dave Wondrich demonstrate flaming cocktails rarely seen in public these days, like the New Orleans caffeinated brandy spectacle of the Café Brulot (one description of the cocktail includes the words "ring of fire"), Dave Arnold's Electrified Hot Poker, and, of course, the Blue Blazer. Try a sample of each for the ticket price of $75, which also includes passed appetizers and a Cocktail Kingdom gift bag. And then feel free to try them at home.
2. Fête your senses.
There's more than one way to get lit his weekend. This Saturday you'll find the warehouse space at 99 Scott Street in Brooklyn transformed for Full Spectrum, a joint venture between Brit electronic and techno DJ Max Cooper and producers Caravan Gitane and House of Yes, for the NYC debut of Cooper's audiovisual performance "One Hundred Billion Sparks." In classic HoY style, there'll also be aerialists, live sculptures, and "elixirs" — to which we say, drink at your own risk. And if it's the multisensory you're into, beginning this weekend at BAM is "Teknopolis," a digital exhibition with interactive stations and immersive VR, with two ticket types so you can choose your own trip. That runs through March 10.
3. See some dance.
Wouldn't it be great to just like, sleep for 100 years? The next best thing is watching someone else do it, with elaborate costumes. Let the poetry of the New York City Ballet's Sleeping Beauty take you away (through Sunday). And at the Joyce Theater is Complexions Contemporary Ballet, celebrating its 25th season with three programs, including Star Dust, with music by David Bowie and the premiere of WOKE, set to remixes of Kendrick Lamar, Diplo, Drake, Logic, and more.
4. Go from punk to post-punk.
For an overview of how the language of sexuality fueled the punk movement check out the exhibition "Punk Lust: Raw Provocation 1971–1985" at the Museum of Sex, with over 300 artifacts of lust. And if you'd rather dance, Brit post-punks Gang of Four can help you with that, as they play this Saturday at Asbury Lanes (if you don't feel like heading to the beach you can also catch them on Monday at Music Hall of Williamsburg). Led by co-founder Andy Gill (the only original member), they play in support of the upcoming Happy Now.
5. Play around.
French actress Isabelle Huppert has a few movies out this year but stops off in New York briefly to star in The Mother, a play by Florian Zeller (whose The Father was on Broadway a few years ago). Performances began this week, and you'll want to grab tickets now or else risk a situation like the one with Sea Wall / A Life — two monologues on fatherhood impressively performed by Tom Sturridge and Jake Gyllenhaal at the Public Theater — for which you'll have to hunt for any remaining tickets. And it's too bad the snow's melting, because it would make for the perfect environment for the psychological thriller Switzerland, about the notoriously abrasive novelist Patricia Highsmith and murder.
6. Take some pictures.
Our favorite subject to photograph has always been ourselves; the camera and the portrait were pretty much invented simultaneously. The exhibition "Your Mirror: Portraits From the ICP Collection" at the International Center of Photography analyzes presentation and purpose in portraiture, from deathbed daguerreotypes to FBI wanted posters to the ubiquitous Instagram selfie. Then see the work of a master of the form, Robert Mapplethorpe, in the new retrospective "Implicit Tensions: Mapplethorpe Now," at the Guggenheim. The yearlong exhibition, which comes 30 years after the artist's death, is broken into two parts, with this first one running through July with highlights of Mapplethorpe's work from the Guggenheim's collection, including early Polaroids, collages, portraits of artists, celebrities, and acquaintances, and proto-selfie self-portraits.
7. Laugh at some funny people.
Actors and longtime comedy duo Thomas Middleditch (Silicon Valley) and Ben Schwartz (Parks and Recreation) are going to do improv on the stage of Carnegie Hall this Friday. Has anyone ever tried it before? Who knows, but let's hope they wear tuxes and remember to project so the back can hear. On Saturday at City Winery, the stage will be markedly more intimate for the tenth anniversary of variety show "Cabinet of Wonders," hosted by Wesley Stace with a lineup including Justin Vivian Bond, comedians Jo Firestone and Dave Hill, and actor Michael Shannon, who we really hope brings his guitar.
8. Explore black history today.
In conjunction with HBO's new film O.G., which shines a spotlight the crisis in this country's prison system, "The O.G. Experience," a free pop-up show featuring the work of formerly incarcerated artists and highlighting the criminal justice system's targeting of black communities, runs through Sunday at Studio 525 in Chelsea. This Saturday you can also pick up limited-edition merchandise by black creators at the "Black History is Happening Now" pop-up, produced by Spotify in collaboration with the Smithsonian. Each clothing item by artists like Joy Miessi and Brandan "B-mike" Odums is rooted in black history, with an accompanying playlist. Have your custom pieces and listen to them, too.
9. Learn about pretty flowers.
Did you know that the name "orchid" is derived from the Greek "orkhis," which translates to "testicle?" Greek botanist Theophrastos saw a resemblance between the two, and as such the flower has become a symbol of fertility, virility, and sexuality. This is all to say that this weekend is the start of the orchid show at the New York Botanic Garden, this year celebrating the flowers and cultivation techniques of Singapore. If you're looking to get pregnant, make haste. If you're not, that's cool too.
10. Toast to the Oscars.
Sunday's the big night, do you have your acceptance speech ready? No matter who you're rooting for, there'll be a party for you to hit, dressed to the nines if that's your thing. The Skint will throw a free screening party at Littlefield with a red carpet and popcorn for everyone, Ocean Prime will team up with Rémy Cointreau for themed cocktails and a chance to win a $150 gift certificate if you guess winners correctly on your ballot, Refinery Rooftop hosts a pre-party up high for $25 (which includes two drink tickets), and come ready for jokes to Threes Brewing's free comedy and trivia viewing party.