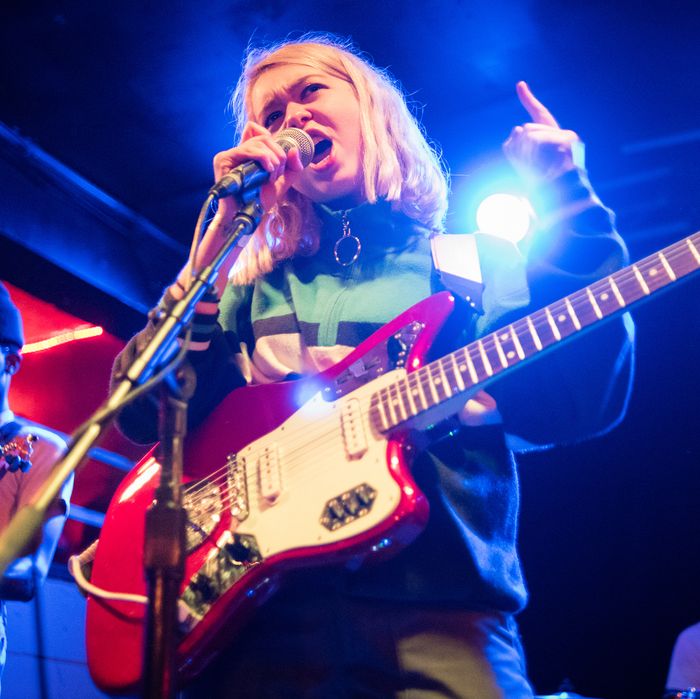 Snail Mail opens for Interpol this Saturday.
Photo: Andre Chung/The Washington Post/Getty Images
Events to check out this weekend, February 14 to 17.
1. Salvage tonight.
Valentine's Day not working out the way you'd hoped? Who needs it. Balm yourself with some schadenfreude at "Mortified," the comedy storytelling show where folks dig out their artifacts of teen angst, from diary entries to home movies, and share them on stage for your entertainment. That happens at Littlefield twice tonight. You can also dance it out at the annual Smiths and Morrissey tribute at the Bell House or skate it out at Flux Factory's free art/fun installation Rinkworm, a pop-up skating rink produced by Springboard Collective. The rink's up through Sunday, but if you show up tonight, bring an item to candy-coat for the "Our Bloody Valentine" party, and some food to share for the Thursday potluck. Orange Is the New Black's Lea Delaria says it best with the title of her show, Fuck Love, at Joe's Pub tonight, or just pick one of these Valentine's Day Movies for Sad People and call it a night.
2. Plan a last-minute date.
But hey, maybe you'd like to celebrate Valentine's Day, you just, um, forgot to plan. Well, you're in luck. It's Off-Broadway Week, with two-for-one tickets to shows like the funny and relationship-appropriate The Other Josh Cohen, the not-so appropriate but very good Strindberg classic Dance of Death, and the buzzed-about If Pretty Hurts Ugly Must Be a Muhfucka. Tonight at the Schimmel Center at Pace University is an evening of standup with Ronny Chieng from Crazy Rich Asians and The Daily Show's Dulcé Sloan. Union Pool has a free art and dance party, presented by JD Samson, there's still some tickets left for Thundercat at the Blue Note, and if you think you're made of magic you can put yourself on the waiting list for Grammy–breakout H.E.R. at Sony Hall, the last in their free "Lost in Music" series.
3. Remember Stonewall.
Celebrate the opening of the NYPL's new Stonewall exhibition with the "Library After Hours: Love & Resistance" event, from 7 to 10 p.m. on Friday at the Stephen A. Schwarzman building. Prepurchase your tickets for $15, which gains you entry at 7 p.m. and 10 percent off at the bar and library shop, or show up after 8 p.m. and pay what you wish for a night including talks, a drag queen story hour — their very first time doing it for adults — trivia with the host of the Making Gay History podcast, and more, including access to the exhibition of rare photos, publications, documents and ephemera, like invitations to Mardi Gras balls and "Phallic Festivals" from the Mattachine Society of New York. Sounds informative.
4. Learn about your booze.
Heard wine terms like "raw," "natty," "biodynamic," and "organic" but have no idea what they mean? This Sunday at Roberta's, wine director Kirk Sutherland hosts a natural wine class to help on just that front. Expand your knowledge with an overview of history and categories and cap it off with some tastings. You'll be sent home with a packet of information, and confidence, booze-fueled or otherwise.
5. Stop, and watch collaborations.
Art-poppers Deerhoof are down with experimentalism. Last year the band released a full album inspired by The Shining. You probably won't hear anything from it this Saturday, but what you will hear is them playing their classic album Friend Opportunity, in collaboration with new percussion contributions from Tigue, as part of the Ecstatic Music Festival, which trades only in new collaborations. And through Sunday at BAM, Budapest's Recirquel Company presents Non Solus ("not alone"), a circus-dance piece in which two figures suspended in midair attempt to become one, to electronic organ versions of Rachmaninoff and Bach.
6. Drink like a founding father.
To really drink like a founding father you'd basically have to give up your liver: James Madison was said to have a pint of whiskey a day, John Adams started every day with cider and once tried to import 500 bottles of Bordeaux tax-free, and during George Washington's lifetime, he became the largest distiller of spirits in America. He and his buddies also racked up a $17,253 bar tab just before the signing of the Constitution, in today's currency, but still impressive! This Presidents Day weekend (with Mr. Washington's birthday on Monday), pay homage to the old chap by sampling an old-timey fave of his, the Hot Ale Flip, at Porterhouse Brew Co., the sister establishment to his actual old haunt Fraunces Tavern. In the colonial preparation, brandy or rum is mixed with molasses or sugar and beer and frothed up with a hot poker right out of the fireplace. Porterhouse's version, which you can get starting on Friday, takes their Irish Red Ale, Lemon Hart & Son 151, and demerara sugar, and heats it table-side with a blowtorched loggerhead. Or you can just have a glass of Madeira, also a Washington fave.
7. Explore Black History.
Black history in the aftermath of Reconstruction is the subject of "Black Citizenship in the Age of Jim Crow," running through March 3 at the New York Historical Society. Learn about the struggle for equality and the long implementation of "separate but equal," examine the magnitude of opposition to the advancement of African-Americans, and the advancement in the face of the opposition, through art, artifacts, photographs, and more. The hurdles will astound you.
8. Rock your weekend.
If you're looking for indie rock this weekend, your decidedly non-indie one-stop shop is MSG this Saturday for Interpol — the boys in black will take the stage in support of last year's Marauder. You'll want to show up for the openers: the guitar-driven ennui of Snail Mail, and Will Toledo's Car Seat Headrest. But before that, on Friday night, go for minimalistic representations of solitude when Animal Collective founding member Panda Bear, a.k.a. Noah Lennox, brings his Buoys tour to Pioneer Works.
9. Get to know Frida.
Last week, "Frida Kahlo: Appearances Can Be Deceiving," the largest U.S. exhibition in ten years devoted to the iconic Mexican artist, opened at the Brooklyn Museum, showcasing clothing and personal effects alongside paintings and drawings, film, and other ephemera that built a fascinating life. Go this afternoon and stay for this evening's free Valentine's Day Salsa Party, which begins with a dance lesson.
10. Get out of town.
Some folks have a long weekend. Are you one of them and you're just now realizing it? Make the most of the extra day by getting out of town, perhaps to Long Island. At the beachside Gurney's Montauk Resort & Seawater Spa this Saturday, you can participate in a mixology class with Montauk Hard Label, plus get cozy outdoors in a heated igloo with the sound of waves as your background. Or if you'd rather stay close to home, the William Vale just launched an outdoor winter spa where you can book treatments like an infrared sauna blanket or a cryo facial. The latter could also be had by, like, going outside.