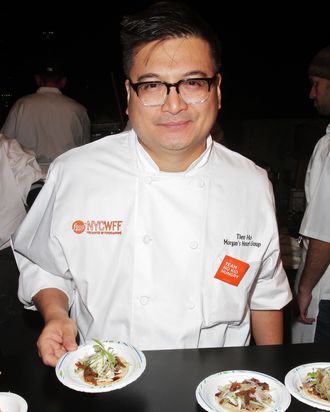 Tien Ho.
Photo: John Parra/Getty Images
Jaded veterans of New York's restaurant scene were no doubt excited to hear that the chef Tien Ho had returned to the city. For those who don't know, Ho was a key player at Momofuku during its early years, first as the chef-partner of the excellent Ssäm Bar and then as the original chef of the now-closed Má Pêche. After a brief detour with Gabe Stulman, Ho worked on concepts for the Morgans Hotel Group and then in 2015 left restaurants to work for Whole Foods. Now, Ho is back in New York as the culinary director of London's Rhubarb Restaurant Group, overseeing its two restaurants and event space in the controversial, planned city-within-a-city Hudson Yards — much to his own surprise.
"When I left New York, I felt like, 'I'd spent 15 years in New York, I'm good. Let's look for the next thing,'" Ho says. "I told myself no more restaurant openings, but I am just a glutton for punishment because it is freaking hard."
Now, Ho is settling back into New York after returning about a month ago. This wasn't what he planned when he left Whole Foods last summer. He had talked about staying in Austin and maybe opening something there. "We felt like we were really trying to plant our roots there," Ho says of that city. "I thought about opening a bar — I don't know if it was a midlife crisis or what. The last thing Austin needs is another bar. If you've been there, you know."
At Momofuku, Ho was a key player in the restaurant group that has, in many ways, been New York's most influential over the last 20 years. Ssäm Bar, for example, has been one of New York's most consistently interesting restaurants since it opened in 2006, and Momofuku's style has been copied so often it became a shorthand years ago now. With Rhubarb, Ho is literally overseeing a restaurant in the sky: one of the two projects is at the top of 30 Hudson Yards, a vertigo-inducing 1,300 feet in the air and complete with its own observation deck. That restaurant won't open until late this year or early next year, but Rhubarb will open Wild Ink, which sounds like it will be an Asian fusion restaurant, on March 15.
After having been away from New York for three years, Ho is not quite ready to say what he thinks about the state of dining in New York in 2019. "I haven't had a chance to really see the city much. You know, it was already changing when I left," Ho says. He does point to the usual stuff — finding good cooks, rent, the struggles of mom and pop restaurants — but it's more about what's changed for him since going corporate with Morgan's.
"I was kind of struggling with it at first because I was like, 'Oh, I want to be a chef with one restaurant,'" Ho explains. "I actually fought it at first. I was like, 'I don't even know what a corporate chef is, that sounds horrible, that sounds just weird. I don't want to do it.'"
While Ho admits he hasn't even had much time to get out ("I'm so busy, zero time. It's been nonstop," he says, chuckling) he's been taking notes for when he can finally get out on the town. He pulls up his list, name-checking Racines, which recently brought on the talented chef Diego Moya; Pinch Chinese, where a Din Tai Fung alum makes the soup dumplings; and Via Carota, the West Village favorite. What's new for Ho, he says, are the "younger chefs coming up and doing their own, young thing" — the constant, vital churn of this city that's no doubt part of what drew him back here.
"So when I started looking again, I narrowed it down to two cities I would live in: New York or L.A., because I'd never actually lived there and I thought, Oh, that'd be a cool new city to figure out for the next adventure," Ho says. "But because of my relationship with this city, it just pulls you back in."