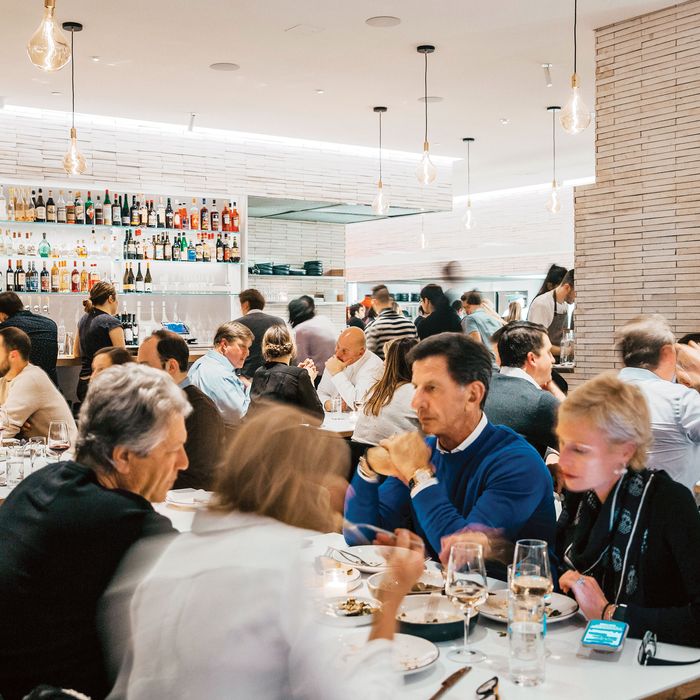 Misi.
Photo: Scott Heins for New York Magazine
Why is it harder to get into a restaurant these days than onto a 4 train at rush hour during an Uber strike? Blame rigged online booking systems, mob-inducing walk-in-only policies, and the vanishing telephone reservationist. If you want to eat dinner in this town, you need a Navy Seal–level contingency plan, one that covers two inevitable scenarios: where to bide your time until the host texts you if you're willing to wait, and an equally delicious backup or two if you're not. Here, then, the first installment of our foolproof, field-tested, fiasco-averting, starvation-preventing guide to navigating New York's impossible-to-get-into restaurants.
Restaurant Impossible: Misi
329 Kent Ave., Williamsburg
Missy Robbins's pasta-centric follow-up to her boffo hit, Lilia.
The wait: An 8 p.m. reservation for a party of four is available in a month or so, but some seats are reserved for walk-ins.
Wait here: Donna
27 Broadway
"Good news," says the Misi hostess. "We have a table for you … in about two hours." Wait for it at tropical-cocktail den Donna over the transportingly unseasonal signature slushie the Brancolada. Not that you have anywhere to be soon, but the Aperol Spritzes are on draft, therefore quick. If you're starving, have a taco al pastor to tide you over.
26 Broadway
For pasta without the wait, stroll four blocks south to chef Al Di Meglio's Barano; get the duo ravioli, the saffron gigli, the ricotta agnolotti, or all three in a $45 pasta tasting.
567 Union Ave.
If it's Missy Robbins's pasta you can't live without, just amble over to her other Williamsburg joint, Lilia, where the walk-in wait the other night was only — what's that, two and a half hours?! — er, forget plan C. On to plan D.
31 Great Jones St.
If you live in Manhattan and want to stay there, head to Vic's in Noho, where Robbins's friend, mentee, former A Voce sous-chef, and pasta savant in her own right, Hillary Sterling, runs one of the best Italian kitchens in town. The rye rigatoni is a knockout and the pizza is vastly underrated.
Restaurant Impossible: Ho Foods (for brunch)
110 E. 7th St.
Richard Ho's Taiwanese-beef-noodle-soup kitchen does a stellar street-food-inspired weekend brunch featuring a righteous cup of savory soy milk and some mighty tasty double-fried crullers.
The wait: The service is snappy, but this no-reservations place is about as big as a rowboat, making waits unpredictable.
81 E. 7th St.
Head west across First Avenue for a cortado at Abraço. Avoid eye contact with any come-hither cinnamon buns, biscuits, or juicy frittatas, lest you spoil your appetite for Taiwanese breakfast crullers.
Plan B: 886
26 St. Marks Pl.
March one block over to 886, another new Taiwanese spot about three times the size of Ho Foods, which serves a mean weekend brunch similar to Ho's but less strictly traditional and way more indulgent. Get the Stef, a fiendishly good breakfast sandwich on Chinese flatbread made with Spam, eggs, American cheese, Skippy peanut butter, and sambal, and you'll see what we mean.
67 Mott St.
Big Wong King down in Chinatown is Cantonese, not Taiwanese, but you can usually zip right in and spoon down a first-rate bowl of congee with crullers on the side.
Restaurant Impossible: Frenchette
241 W. Broadway
Former Keith McNally empire super-chefs Lee Hanson and Riad Nasr's first solo project.
The wait: A tough nut to crack since the second it opened in April, with lengthy walk-in waits in prime time the norm.
1 Lispenard St.
Nearby Nancy Whiskey Pub puts the dive in dive bar and is not the first place you'd think of going to kill time before a casually elegant dinner, but the bartender stirs up a great whacking martini in a glass the size of a fishbowl. Good onion rings, too. You may never leave.
239 W. Broadway
Right next door to Frenchette is Bâtard, one of the city's best "modern European" restaurants with a French-leaning menu, where you can usually snag a walk-in table or barstool, no questions asked. Get the schnitzel or the duck and ask to see the cheese-dome display.
145 W. Broadway
For some McNally DNA and killer fries, the Odeon is a no-brainer backup plan.
99 Bank St.
Outside the nabe, Harold Moore's new Bistro Pierre Lapin is, as a Michelin inspector would say, worth the trip, and also bafflingly un-mobbed.
Everything is good; the ravier, the champignons fricassée, and the pavlova are great.
Restaurant Impossible: Lucali
575 Henry St., Carroll Gardens
Pizza mecca and mother of all impenetrable dining rooms.
The wait: No texting here; line up, put your name on the list, and silently wonder whether any pizza in the universe is worth an hour or two of thumb-twiddling in the freezing cold.
387 Court St.
Two blocks east, Madcap Cafe is a great little restaurant with a roomy bar and a knack for good, strong cocktails with bad, punny names. To wit: the Ruth Bader Gin-sburg and the Livin La Piña Loca.
465 Court St.
For something similar in (Italian-American) spirit within walking distance, there's Franks — Frank Castronovo and Frank Falcinelli's recent revamp of Prime Meats into a wine bar–restaurant. Get some signature meatballs and, if you want something delicious and doughy, if not technically a pizza, the excellent grilled bread with a side of boquerones.
691 Sixth Ave., Greenwood Heights
Hail one of those green taxis and tell the cabbie to take you to Giuseppina's in Greenwood Heights, where Mark Iacono's brother, Chris, runs a moody, candlelit brick-oven pizzeria of his own. It's long on atmosphere, short on menu (get the calzone), and pretty much everything you could ask for in a Lucali-like pizzeria except the wait.
 For more plan-B restaurant recommendations, go to New York's "The Thousand Best Restaurants." 
*A version of this article appears in the February 4, 2019, issue of New York Magazine. Subscribe Now!