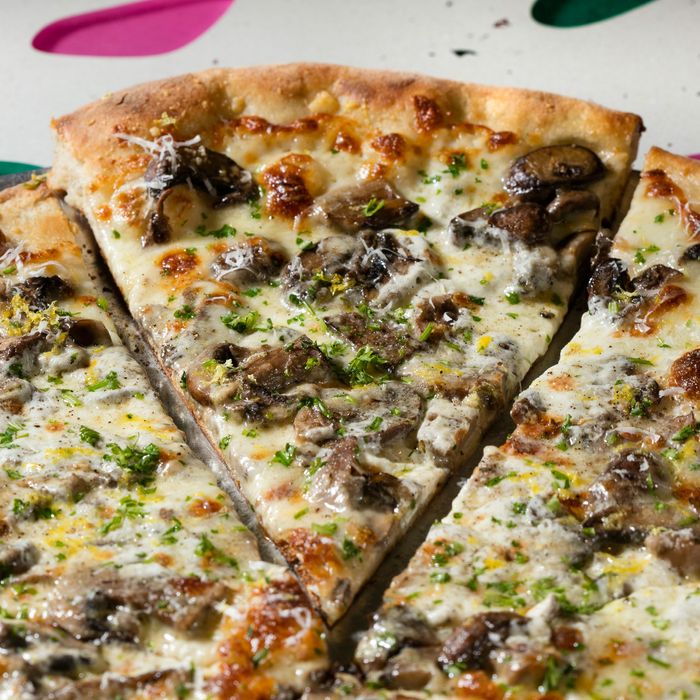 Upside Pizza's Falcowitz.
Photo: Melissa Hom
Every month in New York, there are a bewildering number of new dishes to eat, drinks to imbibe, and food-themed events to attend. Often, the hardest part is just figuring out what's really worth your limited time. So Grub kicks off each month with a curated selection of dishes, drinks, and events that should absolutely be on your agenda. Make your plans now.
1. Check out a new midtown pizzeria with a menu devised by Roberta's original pizza chef.
2018 may have been the year of the slice, but some parts of the city have been pretty much untouched by this pizza revolution. Take the area around Times Square, where the only game in town is an outpost of Joe's Pizza. Sometimes a pizza geek wants options, though. Enter Upside Pizza, which has opened just a block from the neon-lit chaos of Times Square. The owner of the retro-themed space brought on Anthony Falco, the former Roberta's pizzaiolo turned pizza mercenary. As a consultant, he's created a menu of six slices ($3–$5). There's the L&B–style Upside Don, with sauce on top, and the Falcowitz with white wine-lemon-cream sauce, fresh mozzarella, and sautéed mushrooms.
2. Eat KFC — no, not that KFC, we're talking Kerala fried chicken — at Bombay Bread Bar.
You know Kentucky Fried Chicken, you love Korean fried chicken, but what about Kerala fried chicken? New York can always use another KFC. Floyd Cardoz will give New Yorkers one every Sunday and Monday starting February 3 at his Bombay Bread Bar, where he'll have Kerala fried chicken nights. For $38, you'll get a set meal for two. The chicken is marinated in coriander, cumin, ginger, garlic, and lime juice before being coated in rice flour and fried; it's served with sides of Indian mac and cheese and Indian potato salad. You can pair that fried chicken, too, with a kulcha ($14) thought up by Daniel Boulud, the first guest chef to be a part of Cardoz's "kulcha club." Boulud's bread is stuffed with a Basquaise stew with ham, pickled jalapeños, Espelette, and cherry tomatoes.
3. Eat some very good Taiwanese beef noodle soup in a Queens supermarket.
The buzziest restaurant on Queens' Northern Boulevard is Yummy Tummy Asian Bistro, the Singaporean spot you may at this very moment be plotting a visit to. What if you knew there was great soup hiding right down the street? A few hundred feet away is New Age Market, a big and boxy if otherwise unremarkable looking supermarket. But inside, past the fishmonger's eels and the aisles of durian and giant okra, is Nuro Noodles. It's practically shoved into the corner, a cubbyhole of a booth with a kitchen hidden behind it, and the menu is equally small. The latest (and pint-sized) contender in New York's escalating Taiwanese beef noodle soup battle, it serves just two dishes (both $11.95, or available to go for $8.50). There's a traditional beef noodle soup that's rich and bursting at the seams with star anise, and another that's made with tomato (and less aggressively spiced) so it tastes a lot like Bolognese. Both come with bobbing beef shank, as well as ramekins of pickled mustard greens and chili sauce.
4. Drink Evil Twin beers, now that they're finally brewed in Queens.
Nearly three years after Evil Twin announced they'd open a permanent space in Queens, they're brewing in Ridgewood. Before actually opening their bar to the public, though, they're putting on training wheels and running a pop-up tavern at nearby Nowadays. They're serving eight different beers already, and this month they'll start serving limited-run beers every week. Go get yourself some suds.
5. Take Tuesday off and go to a Joe Beef lunch at Frenchette.
Montreal's most boisterous cooking duo, Frederic Morin and David McMillan of Joe Beef, are coming to town. First, on February 4, they'll drop by Books Are Magic (RSVP here) to talk with Bon Appétit's Julia Kramer about their cookbook, Joe Beef: Surviving the Apocalypse. Then, the next day, they'll drop by New York's buzziest restaurant of the moment, Frenchette, for a lunch from 11:30 a.m. to 2:30 a.m. They'll slice ham and serve recipes from their book, which will be available for signing.
6. Attend a dinner of recipes from the Good Fork chef's new Korean cookbook.
Greenpoint's Archestratus Books & Foods will host a dinner inspired by and in celebration of Brooklyn chef-restaurateur Sohui Kim's Korean Home Cooking. The Good Fork and Insa chef will cook a family-style meal (tickets are $50) on February 7. On the menu? Recipes from the cookbook, including banchan-like spicy anchovy stir-fry and mung-bean pancakes; mains including japchae and bulgogi; and a dessert of a spiked sweet rice beverage.
7. Eat stewed pork leg at a Elmhurst's new pork-only Thai restaurant.
As Elmhurst's Thai restaurant scene has expanded, some of its newer restaurants have narrowed their focus. There's the rice-and-three spot Khao Khang, and now Moo Thai, which, like its nearby neighbor Eim Khao Mun Gai, is dedicated almost solely to a single dish. In this case, it's khao moo deng, or roasted red pork and rice. There are three set meals ($8.99 to $10.49): one with just roast pork, another with roast pork and crispy pork belly, and a third with just crispy pork belly. The sauce is pungent and zippy, and the soup that comes with the meal is rounded and savory. But the best dish is not on the menu. Discreetly posted on the wall above the counter is a small flyer advertising the khao ka moo, pork leg braised until messy and tender in a stock with soy sauce, oyster sauce, palm sugar, and spices like star anise. The pork is rich and redolent with warm spices, its skin unresistingly soft. Use the meat to mop up the sauce, which soaks into the rice, and make sure to dip it into the chili-vinegar, which will your zap your tongue.
8. Go to a buzzy new Indian restaurant's even newer brunch.
Gramercy's flashy Indian restaurant GupShup will get in on brunch. On Saturdays and Sundays, from 11:30 a.m. to 3:30 p.m., they'll serve a menu featuring dishes like a Parsi egg akuri ($14), a lamb chapli kabab "burger" ($18), and a Bombay grilled cheese ($12). There's plenty to drink, too, including a Goan Sunrise ($12 or $45 for pitcher) with cucumber, mint, vodka, St.-Germain, and fresh lemon.
9. Eat Yuji Ramen noodles and a Meat Hook burger at Threes Brewing.
Noodle nerds take note. On February 25, from 5 p.m. to 11 p.m., the Meat Hook (at Threes Brewing) will host the first of its Noodle Nights. Every Monday for five weeks, they'll bring in one of the city's finest purveyors of starch ribbons. Kicking things off is the mazemen ramen specialist Yuji Ramen, to be followed throughout March by Suzume, Win Son, Di An Di, and Hanoi House's forthcoming spin-off Hanoi Soup Shop. There'll be two noodle dishes from Yuji, along with Meat Hook burgers to chase them down.
10. Have a soba-flour-crust pizza at downtown Japanese restaurant Sakagura.
From February 5 through the end of March, the East Village's much-liked Sakagura will serve specials highlighting the cuisine of Nagano, Japan. Dishes include a Nihachi-soba mushroom pizza ($19), the crust made from soba flour and the tomato sauce spiked with miso, and a saba zanmai ($32) with mackerel that's cured, cooked in miso, and salt-cured. Keeping the theme, they'll serve three sakes from the region, as well.
11. Go for a different style of gourmet sausage for brunch.
Tired of your usual sausage, egg, and cheese routine? Break out of it at the East Williamsburg restaurant Win Son, where they're now serving xiang tsang or sweet Taiwanese sausage ($7) with Kaoliang wine, garlic, and basil. They're making the sausage together with the Meat Hook, and it's a different but just as delicious sort of sausage than what you'll usually find at fancy butchers.