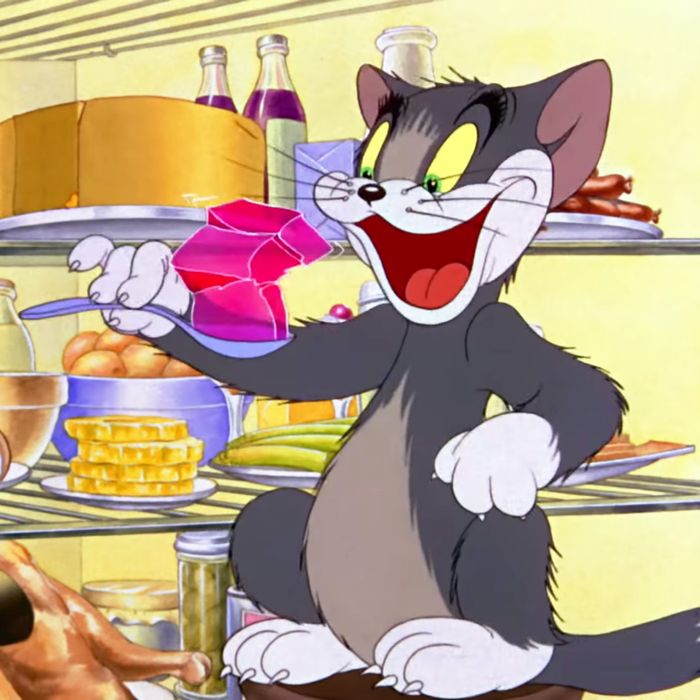 After a month of cultural pressure to abstain, February should be all about excess.
Photo: Warner Bros.
Like most New Yorkers, Denton Callander, a sex researcher at NYU, wants to look good naked. But this year he had a specific and thorny deadline: the annual Mid-Atlantic Leather convention is a weekend-long gay circuit party that began on January 18. So Callander, who wanted to look "shredded" (his word), maintained a ketogenic diet for the month of January.
Afterwards? "The greasiest hamburger ever, eaten in bed at 5 a.m. on Sunday morning — my birthday; a pitcher of Bloody Marys around 10 a.m.; pancakes, fresh sourdough, eggs, and a birthday cake at noon; a bottle of champagne; several large pizzas for an afternoon snack; another birthday cake for dinner; ending with a late-night supper of a Reuben sandwich with fries and a chocolate milkshake," he recounts with obvious glee. "The only reason to withhold anything from yourself is the sheer delight of indulging in it later."
Check your calendar: It is February, and it is best the month of the year to embrace wanton hedonism. January is the cabin fever of months, and a time when most of us swear off something good; March offers at least some hope that spring will soon arrive. But February is the doldrums of winter, a month when self-care can, and should, take priority. (Some etymologists link the word "February" to the Latin word for "fever," and that resonates emotionally, if not historically.) Call it the February Crush: 28 days that more or less demand excess after a month of cultural pressure to abstain.
Samantha Paull lives in Washington Heights and adopted a Whole 30 diet for January. When she realized the crunchiest thing she'd be able to eat were baby carrots, nachos became a fixation — specifically the chicken tinga nachos from her local Rincón Mexicana ("I think they put avocado in the sour cream and it's just beautiful"). She fantasized about nacho strategy ("top or edge, for sure, not the soggy excuse for a middle") and dodged the GrubHub email reminders prodding her to rekindle her relationship with her stomach's true love. By the time the Super Bowl rolled around this past week, Paull had lost ten pounds and "had every intention to eat that back on in a night."
Lucas Womack, a bartender from Ridgewood, also did Whole 30. "Something about it made me want to rebel really badly. I have a side of me that wants to wreck anything cleansing," he says. "This time I wanted cake, any cake. Maybe because I was watching the Great British Bake-Off, which is a celebration of everything I didn't want to do."
I went vegetarian for January and weighed two options against each other to celebrate the end of my relatively healthy month: either the sumptuous roast watermelon at Ducks Eatery as a vegetarian capstone, or the insane umami orgy of slow-cooked octopus and bone marrow fusilli along with the off-menu beggar's chicken (which must be ordered 24 hours in advance, and involves an entire roast chicken wrapped in lotus leaves that's baked inside bread) at August Gatherings in Chinatown. The orgy won. That it was an early Lunar New Year feast with a Taiwanese friend was, in all honesty, the flimsiest of excuses.
For those of us who live in New York, ignoring the city's bounty of culinary indulgence is like ignoring Central Park — it's inherent to the experience of living here. Those indulgences can arrive in forms that are as casual as a slice of pizza from Koronet or a frozen s'more at Dominique Ansel Bakery. They can be as crazily sybaritic as the tuna rib at Mifune or the coral reef of shaved foie gras at The Pool. The pastrami at Katz's inspired an entire gallery of artwork and the beef-brisket pizza at Zero Otto Nove is a beacon second only to the Statue of Liberty. At the end of the day — last call, specifically — if there is a point to enduring the city's constant inconveniences without also getting to try "The Plate" at Daddy-O, we would rather not know what that is.
Spectacle can be its own spice. Sometimes it's in the presentation, as with The Aviary's towering chicharrón, ROKC's tomato cocktail in a conch shell, or the Tibetan pork ribs delivered to your table at Da Xi in a giant birdcage. The point is, it's all a matter of taste — the only limit is your own imagination.
Callander — he of the greasy bed burgers and Bloody Mary pitchers — was raised in Canada and schooled in Australia. He only recently moved to New York, and he already adores "the grotesque relationship Americans have with food." He notes that, "The most absurd dish I can imagine exists on a menu somewhere and a waiter will serve it to me without blinking." On the day we spoke, he said, he'd eaten a mid-afternoon bowl of cheese fettuccine and homemade lemon chiffon pie. "Not to toot my own horn, but few have pushed the limits of gluttony as far as I have. It's by far my favorite sin."
Yet there should be nothing sinful feeling about the February Crush. This is not petty hedonism, and don't let anyone glut-shame you into thinking so. Whether or not you have a valentine, this particular Crush isn't just right — it's entirely necessary.