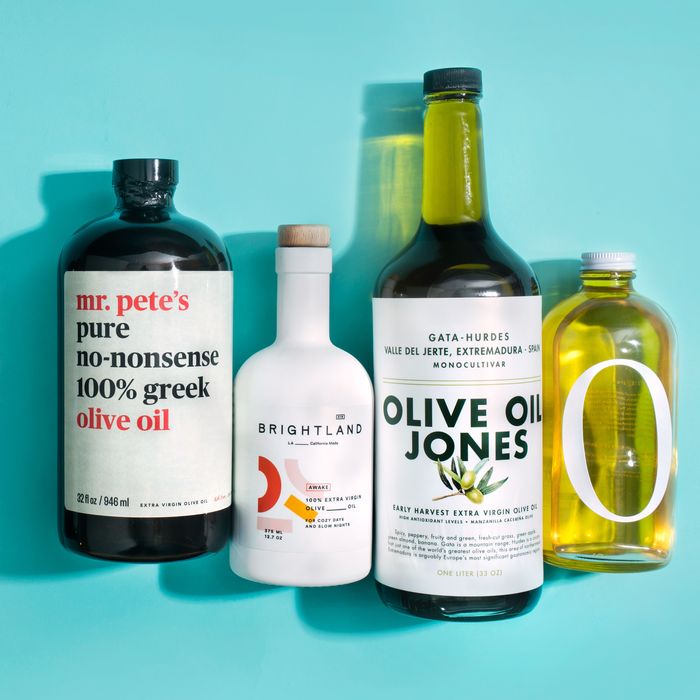 They look great, but do they
taste
great? Five experts looked into it.
Photo: Melissa Hom
As with all things in life, it is now possible to buy olive oil that's optimized for Instagram. New companies with an emphasis on high-design bottles have flooded the market with oils that, yes, can be added to a vinaigrette, but that will also look great sitting on your countertop. While these bottles are undoubtedly pretty, Grub Street wanted to know if the olive oils inside were actually any good. So we rounded up a panel of experts — chef Jeremiah Stone from Wildair and Contra; Curtis Cord, an olive-oil expert and editor of Olive Oil Times; our restaurant critic Adam Platt; as well as Donna Lennard and Danny Rubin from New York's Il Buco — for a blind tasting. (We also snuck in two widely available supermarket brands, both as a control and to see how these more expensive newcomers can stand up to the mass-market stalwarts.)
Our panel ranked each oil across four categories (aroma and intensity; bitterness/pepperiness; texture; fruitiness and sweetness), awarding zero to five points for each. At the end, we tallied the scores to determine the winners. Here's how everyone stacked up:
No. 1
Photo: Melissa Hom
Aroma/Intensity: 17; Bitterness/Pepperiness: 19; Texture: 15.5; Fruitiness/Sweetness: 6
Total: 57.5 points
Within Brightland's tasteful, colorful bottle is a surprisingly serious olive oil. Cord, the olive-oil expert, was especially taken with Brightland's "nice, fruity aroma" in an oil that still managed to be "quite bitter and pungent." (The rest of the panel was put off by that bitterness, but nevertheless ranked this bottle in first or second place.)
No. 2
Photo: Melissa Hom
Aroma/Intensity: 12; Bitterness/Pepperiness: 14; Texture: 13; Fruitiness/Sweetness: 11
Total: 50 points
Until quite recently, the founder of Olive Oil Jones, Steve Jenkins, was considered one of the city's foremost cheese experts. But he's found a new love in olive oil that just so happens to be putting out a very respectable product. Cord noted that this particular oil was "a little tired with some fustiness, but nicely bitter and had a pleasant mouthfeel," while Stone thought the texture was "buttery and rich." This was also one of the only brands with any kind of pepperiness, or the kick, that comes with many a great olive oil.
No. 3
Photo: Melissa Hom
Aroma/Intensity: 11; Bitterness/Pepperiness: 9.5; Texture: 7.5; Fruitiness/Sweetness: 6.5
Total: 34.5 points
As one of the two supermarket brands we added to the blind test, California Olive Ranch lived up to its reputation as a solid go-to olive oil: Rubin wrote that it had "cinnamon notes, a grassy aroma, [and] a spicy finish," though he found that the texture was "flat and fatty." Cord, meanwhile, described the texture as "greasy" and "low-quality," though he still gave it points as compared to the string of zeros he assigned to the lower-ranked brands.
No. 4
Photo: Melissa Hom
Aroma/Intensity: 8; Bitterness/Pepperiness: 3.5; Texture: 6; Fruitiness/Sweetness: 3
Total: 20.5 points
This widely available, possibly compromised product seems to have gotten the marks you'd expect from a mass-market brand: Lennard of Il Buco described it as "bitter" with "no fruit," while Cord of Olive Oil Times felt that it did have a slightly fruity taste, albeit one of spoiled fruit. "Blah," Platt wrote, "but not as bad as some of the other disasters."
No. 5
Photo: Melissa Hom
Aroma/Intensity: 2; Bitterness/Pepperiness: 3; Texture: 3; Fruitiness/Sweetness: 3
Total: 11 points
This Brooklyn-based company specializes in Greek olives harvested in Laconia, in southern Greece, where the co-founders' father grew up. The oil's low-key, but stylish, label has landed it on at least one list of the "prettiest olive oils you'll want on display." Unfortunately, the oil inside didn't impress our panel: All five judges thought this particular product tasted "rancid," with Il Buco's Rubin comparing it to "wet leaves" and "dirty water." Platt, meanwhile, described that taste as "rotten bananas with some paraffin oil."
No. 6
Photo: Melissa Hom
Aroma/Intensity: 2; Bitterness/Pepperiness: 2; Texture: 1.5; Fruitiness/Sweetness: 1
Total: 6.5 points
Bringing up the rear was this olive oil, sold by a Brooklyn brand specializing in a "'carefully sourced' collection of essential ingredients for your kitchen and home. Unfortunately, three of our five experts gave this oil zeroes across the board. Cord wrote that its taste "bore no resemblance to olives," while chef Stone found its aroma to be almost chemical in nature with a "gunky" texture.